Women's Euros tickets touts warning
Ticket touts selling in breach of UEFA terms and conditions can be cancelled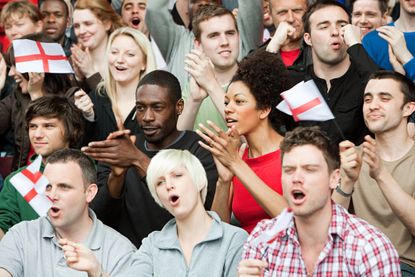 (Image credit: Getty images)
Ticket touts warning after the Lionesses emphatic semi-final victory over Sweden on Tuesday, demand is set to surge for the Women's Euro 2022 final on Sunday.
If you don't already have tickets, you might find your options are limited. Tickets were sold out before the competition even began, but a final batch was released on Wednesday for fans and supporters.
However, UEFA terms and conditions strictly outlaw the resale of tickets via unofficial sellers and if you buy your ticket from the wrong place, you could be turned away at the turnstiles.
Personal finance editor at The Money Edit, Adam French said: "Tickets for Sunday's final at Wembley are in hot demand. But the risk is clear, you could pay £100s for unofficial resale tickets and not get in."
"For fans, it's not worth the risk. If you cannot get official tickets you're better off watching the match at home."
Adam is a personal finance, consumer rights and scams expert. His work has appeared in the HuffPost, Which?, i paper and This is Money, plus various TV and radio including BBC Rip Off Britain, LBC, 5 News, Steph's Packed lunch and Newsround to name a few.
Here, we look at the options for ticketless fans and explain the risks if you are tempted to turn to a tout.
Can tickets be transferred to another person?
If you've missed out on the chance to buy a ticket for the final, then the only legitimate option is finding a friend or colleague with tickets who can't attend if they are willing to transfer the tickets to you. There are a few fan forums where this is happening at the moment.
People who managed to purchase tickets were given two options for redeeming them. They can access the tickets through a dedicated mobile phone app (UEFA Mobile Tickets), or alternatively opt to print the tickets at home.
Ticket transfers must occur before 10.59am on match day. At that point the tickets 'activate' and are no longer transferable.
Don't forget that you will need to have photographic identification when you arrive at the match. According to UEFA's T&Cs it reserves the right to conduct additional checks where it feel it's appropriate
Can I buy tickets from ticket resale outlets?
Print out tickets have QR codes on them that confirm the ticket and seat allocation is legitimate. It goes without saying that a tout can easily sell you a duplicate print out of a genuine ticket, or a complete fake.
So under no circumstances should you ever purchase tickets on the street.
but , there are a large number of listings online for tickets for the final through resale websites. Given that ticket ownership can be reassigned or transferred, or downloadable tickets could in theory be sold, it may be possible to buy a (rather expensive) ticket for the final.
But, every purchase of a resale ticket is fraught with risk. UEFA specify that tickets bought through resale sites will not be valid.
Women's Euro 2022 ticket touts prohibited
An UEFA spokesperson told the Money Edit: "All tickets to the UEFA Women's EURO 2022 final are issued by UEFA and are subject to strict terms and conditions which prohibit their unauthorised advertisement, resale or transfer.
"As such, any tickets which are offered for sale by third parties on the internet (including on social media, marketplaces and secondary ticketing platforms) are advertised in breach of the ticket terms and conditions.
"UEFA actively enforces its ticketing terms and conditions, including by monitoring the internet, and will take action (including cancelling tickets) where unauthorised advertisements are identified."
Sadly, even Money Edit's top tip for people protecting your purchases won't help with resale rip-offs. If you pay for goods or services by credit card, you can sometimes reclaim money from the card provider for missing or misrepresented goods under section 75 of the Consumer Credit Act. However the rules do not apply if you've paid via a third party.
The BBC has led the coverage of the Women's Euro 2022 competition, and the game will be broadcast on BBC One, with coverage starting at 4pm. It will also be available to stream on iPlayer.
Look After My Bills Newsletter
Get the best money-saving tips, tricks and deals sent straight to your inbox every week. Make sense of your money in partnership with The Money Edit.
Martyn James is consumer rights campaigner, expert broadcaster and journalist with over two decades of experience. He originally worked in financial services but expanded his expertise over the years to cover everything from banks to builders.
As a broadcaster and presenter, he has been an expert/presenter on BBC One's Rip Off Britain for 12 seasons. He regularly appears on all the national television channels and is a guest and expert for Morning Live, Steph's Packed Lunch and The One Show, as well as commentating on breaking stories for the news channels and bulletins. As a journalist, he has written for all the national newspapers and his comments and guides regularly feature in the news.
Martyn is a great believer in honest journalism, so while he's an expert in all things consumer rights, he freely admits he's a rubbish cook and terrible organiser. He enjoys unapologetic pop music and dad dancing whenever he's not working.