Wales sees strongest house growth - adding £31,000 to the average house price
Wales has seen the strongest annual growth in the whole of the UK. Meanwhile Scotland has seen the weakest annual growth - yet the average property price still tips £200,000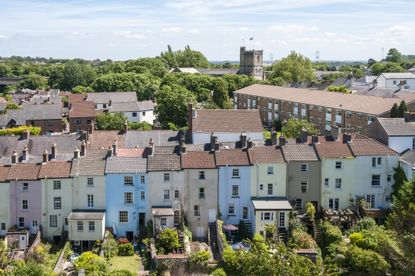 (Image credit: Getty Images)
Wales saw the strongest annual growth in the UK with house prices rising 16.1%, according to the Halifax price index.
This means an extra £31,246 has been added to property prices there over the last year with the average home in Wales now costing £224,858. The figures are in contrast to many asking if property prices will stall due to the cost of living crisis and whether it's a good time to buy a new home.
On the other end of the scale, Scotland saw the weakest annual growth out of all the nations in the UK with house prices rising just 9.4% in the same period. A Scottish home is now valued at an average of £204,362 - significantly less than the UK average house price of £294,260.
In Northern Ireland annual growth rates of 12.5% puts a price tag on a typical home at £185,505.
Meanwhile, the South West of England has continued to see a strong rate of annual growth, up by 14.5%, with an average property in the region now costing £313,003.
London put in a slow performance with 8.8% annual house price growth, yet this marks its highest level in more than six years making it something of a comeback for the capital. Its performance adds £44,669 over the last year to take the average price to a record £554,718.
Nicholas Finn, Managing Director of Garrington Property Finders. "Things are slightly different in London. Prices in the capital have put in a more gentle performance over the past two years and it's more a case of 'slow and steady wins the race'. A sharp slowdown is not as likely here as elsewhere with a thirst for larger properties providing a lot of momentum."
How can I find the right mortgage for me?
As lenders continue to increase their mortgage rates, look at our best mortgage deals that we regularly update. You can also seek guidance from comparison websites like Go Compare (opens in new tab). There's also the potential new trend of ultra-long mortgages of up to 50 years due to the rapid rise of property prices and mortgage rates.
Other ways to find the right mortgage for you include:
Use our simple mortgage calculator to work out exactly how much you can borrow.
Katie is staff writer at The Money Edit. She was the former staff writer at The Times and The Sunday Times. Her experience includes writing about personal finance, culture, travel and interviews celebrities. Her investigative work on financial abuse resulted in a number of mortgage prisoners being set free - and a nomination for the Best Personal Finance Story of the Year in the Headlinemoney awards 2021.