How to save on train tickets
Knowing how to save on train tickets could save you hundreds of pounds per year on your commute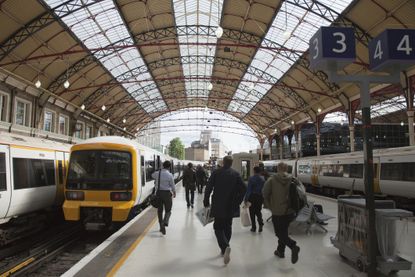 (Image credit: Getty images)
It's essential to know how to save on train tickets in the face of rising rail prices.
As train ticket prices rise and talks of return train tickets being scrapped, trips on a train are set to become more pricey than they already are.
And depending on where you are travelling to and from, it's now even worth considering if a flight is cheaper than taking a train.
Here, we reveal the many different ways you can cut the cost of train tickets.
8 ways to save on train tickets
Whether it's the type of ticket you purchase or what time you book, there are ways to save on train tickets. Here's how.
1. Get a Railcard
If you're a regular commuter on the train, it's worth checking if a Railcard (opens in new tab) is worth it and the savings it brings. These are the Railcards you can choose from.
Note, 'your saving' is based on an off-peak return ticket from Birmingham International to London Euston, booked a month in advance.
Swipe to scroll horizontally
| Railcard | Price for 1 or 3 years | Details | Your saving with Railcard per off-peak return ticket | Average annual saving |
| --- | --- | --- | --- | --- |
| 16-17 Saver | £30 | 16 and 17-year-olds get 50% off standard Anytime, Off-Peak, Advance and Season tickets | Normal price: £71.20, Discounted price: £35.60 | - |
| 16-25 Railcard | £30 for one year or £70 for 3 years | Those aged 16-25 years get a third off their journey | Normal price: £78, Discounted price: £52.74 | Up to £;159 |
| Senior Railcard | £30 for one year or £70 for 3 years | Those aged 60 and over get a third off their journey | Normal price: £78, Discounted price: £51.74 | Up to £76 |
| Disabled persons railcard | £20 for one year or £54 for 3 years | Those who meet the disabled eligibility criteria get a third off the journey for themselves and a companion | Normal price: £78, Discounted price: £51.74 | Up to £91 |
| Two together Railcard | £30 per year | For you and one other person that you travel with the most get a discounted price with this Railcard | Normal price: £156, Discounted price: £78 (price for 2 tickets) | Up to £153 |
| Family & Friends Railcard | £30 for 1 year or £70 for 3 years | A third off train tickets for adults and 60% off for kids. This Railcard covers up to four people and four kids travelling together | Normal price: £468, Discounted price: £265.99 (price for 4 adults and 4 kids) | Up to £150 |
This is just to give you an idea of how much you can save, but depending on what type of ticket you buy and the time of your commute can affect the price.
2. Opt for a single advanced ticket
If you know the specific train you need to get on, book a single advanced ticket to save money.
For example, the same journey (Birmingham to London Euston) costs £78 for an off-peak day card, but if you opt for two single advanced tickets it brings the price down to £53, saving you £25 per return journey.
But note, a single advanced ticket is strict on its rules. You can only use the tickets on that specific timed train. If you do get on a different-timed train but it's the same journey, you risk paying an extortionate price or a fee for getting on the wrong train.
The good news is even if you have a Railcard, you can opt for the single advanced tickets and save further. For example, the same journey with a 16-25 Railcard costs £35.95 for two advanced singles, bringing the price down from £52.74 and saving you £16.79 per return journey.
3. Single ticket vs return ticket
The government is still set to release the full details for return tickets to be scrapped, so until then it's worth knowing that return tickets tend to be cheaper, but this isn't always the case.
Trainline suggests that travellers check both, how much two single advanced tickets cost and a return, as sometimes the single tickets work out cheaper.
This of course depends on your travel route, and note again that if you do opt for two single advanced tickets, you are restricted to those specific trains.
4. Split fares
If your commute requires a stop or two, it's worth considering split fares. This is when you book all of your connecting train tickets separately as advanced singles to cut the price of your commute.
For example, to get from Leicester to Leeds you have to make a change along the way. So, two single advanced tickets from Leicester to Leeds return (booked a month in advance) costs £51.80.
But if you were to buy your tickets separately for each journey. So from Leicester to Sheffield and then Sheffield to Leeds and vice versa, the same full journey return would cost you £32.70, saving you £19.10.
The only downside is it is a little time-consuming to book all tickets individually and figure out timings so you have enough time to make your next train.
But if you download the free Trainline app (opens in new tab) (available on Apple and Andriod), most tickets will always show a 'split save' option which does all the hard work for you.
It just means if you book on Trainline you pay a 99p Admin fee. Or you could use the app to work out your travel plan and then book it elsewhere.
5. The best time to book train tickets
According to MoneySavingExpert (opens in new tab), the best time to book your train tickets is around 12 weeks in advance, to bag a good price.
This depends on the train operator- Network Rail usually releases their timetable 12 weeks in advance, but other train operators could release dates a little later, say 10 to 11 weeks in advance.
So it's worth checking if you know the way in advance that you will be travelling by train. For those that find out you're travelling via train after 12 weeks in advance, then your best bet is to book tickets as soon as possible before fare prices rise day after day.
6. Sales, sales, sales
Who doesn't love a good sale? Different train operators usually have sales on but the time varies.
In the past, we've seen NorthernRail (opens in new tab) do a flash sale where short journeys cost 50p for a single ticket- a bargain. EMR (opens in new tab) sales tend to be at the beginning of the new year and offer 50% off journeys.
A great way to know when the sales are coming around is to download the Trainline app (opens in new tab) and set your alerts so you are notified in advance when sales are about to start. That way you can get to the start of the queue online and bag a cheaper price.
7. Megatrain
Through Megatrain you can bag train tickets for as low as £1 plus a £1 booking fee but unfortunately, this isn't available across a wide range of routes in the UK.
You have to be travelling with EMR from London to East Midlands Parkway and then hop on a Megabus from there to get to other areas within East Midlands (for example Nottingham, Loughborough or Leicester).
You can use the Megabus journey planner (opens in new tab)to see if the Megatrain runs on your desired route around the East Midlands area.
8. Season tickets
Purchasing a season ticket is a winner if you're guaranteed to travel a lot over a month or a year. Here's a comparison of some journeys and how much they cost if you bought an annual season ticket instead of a monthly one.
Swipe to scroll horizontally
| Journey | Ticket cost monthly | Ticket cost annually | Saving over a year |
| --- | --- | --- | --- |
| Greenock West to Glasgow Central | £181.70 | £1,892 | £288.40 |
| Crystal Palace to Oxford Circus | £173.60 | £1,808 | £275.20 |
| Colchester to Liverpool Street | £553.40 | £5,764 | £876.80 |
| Hazel Grove (Greater Manchester) to Manchester Piccadilly | £111.40 | £1,160 | £176.80 |
If the cost of an annual ticket is too pricey and isn't something you can factor into your budget, you could consider the following:
Ask your employer if they offer an interest-free loan or low interest for your season ticket (assuming you're using the train to commute to work). It's also worth asking how this works, as it's common for them to take repayments off your net salary in instalments.
See if you can get a 0% purchase credit card and pay off the balance within the interest-free period. For example, the top 0% offer is up to 22 months with Barclaycard. Use our eligibility calculator (opens in new tab) via our sister site Gocompare which will indicate whether you could get the full 22 months or if it is more likely that you could get just 12 months at 0%.
Related articles
Vaishali graduated in journalism from Leeds University. She has gained experience writing local stories around Leeds and Leicester, which includes writing for a university publication and Leicester Mercury.
She has also done some marketing and copywriting for businesses.
When she is not writing about personal finance, Vaishali likes to travel and she's a foodie.