Ryanair extends seat sale for 24 hours - you'll need to be quick to bag a bargain flight
Ryanair has extended its seat sale for one more day, giving passengers 15% off thousands of seats. We have all the details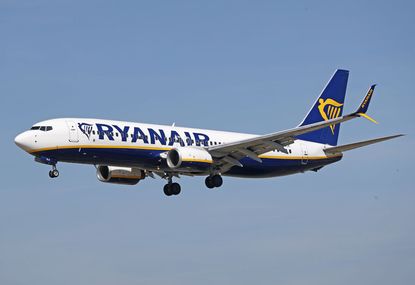 (Image credit: NurPhoto)
Budget airline Ryanair is offering 15% off thousands of seats for today only. You can bag a return flight for just under £25, but there's a catch - here's everything you need to know.
With the April bill hikes and cost of living crisis, you're probably wondering how to book a cheap holiday and how can you save money on holiday.
Well, the Ryanair seat sale has come just in time, but it is only around today (6 April) and will end at midnight, so you will need to be quick.
Here's everything you need to know.
How to book a flight in the Ryanair 15% off seat sale
The budget airline is offering 15% off 350,000 seats and this offer will end at 11.59pm on 6 April (today), but there is a catch.
The discount is only applied to flights between 17 April to 30 April, so if you're looking to book a really last-minute holiday, this is your calling. If you were thinking of snapping up a discounted ticket for Ryanair flights in the summer, then I'm afraid you won't get the 15% off.
To book, you can go on the Ryanair website or the Ryanair app. On the website, there is a flash sale countdown showing how many hours and minutes until the 15% discount finishes, so it's hard to miss.
When you get onto the flash sale page, you can choose your departure airport such as Gatwick or Bournemouth, and then pick a date and destination to see the prices.
The 15% discount is only on selected flights. Dates in purple are "promo flight prices" while those in blue are normal priced flights.
If you end up booking a return flight where one is a promo price and the other is full price, you can try inputting the following code at checkout and see if the 15% discount gets applied to all flights: FS15OFFP
Here are a few bargain return flights we found in the sale, but the price could change depending on demand. Note, this price is only for seats. Luggage and any extras will cost more.
Birmingham to Barcelona Girona, Spain - 21 April to 28 April (7 nights) return flight as a value fare costs £22.08.
London Luton to Faro, Portugal - 25 April to 27 April (2 nights) return flight as a value fare costs £32.67.
Manchester to Milan Bergamo, Italy - 23 April to 26 April (3 nights) return flight as a value fare costs £29.58.
Also note, flight times on your chosen date can impact price changes.
What to be aware of when booking with Ryanair
Here are a couple of things to flag when booking with Ryanair.
Your flight price only includes your seat. After picking your seat, you still have to pick a "fare type", which will determine how much baggage you can take and whether you can reserve your seats in advance.
If you choose the "value fare" you pay nothing extra except for the price of your seats, and this includes one small bag that must fit under the seat in front of you.
A "regular fare" can cost around £20 more per person; this includes priority boarding, a 10kg overhead cabin bag and one small bag under the seat, plus you can reserve your seat.
There is also the option to opt for a "plus fare" (around £35 per person extra), or "flexi fare", which can cost more than £70 and includes check-in luggage and other perks.
So, if you're on a budget, then you could get away with a value fare if you're going for around two nights. (Don't forget about the 100ml liquid hand luggage limit.)
Don't get caught out by poor currency rates. If your outbound flight is from elsewhere and not in the UK, you could get ripped off with Ryanair's dynamic currency. This can be avoided by unticking the box that states "opt out of Dynamic Currency".
Read more
Vaishali graduated in journalism from Leeds University. She has gained experience writing local stories around Leeds and Leicester, which includes writing for a university publication and Leicester Mercury.
She has also done some marketing and copywriting for businesses.
When she is not writing about personal finance, Vaishali likes to travel and she's a foodie.