What is a Global Health Insurance Card (GHIC) and why should I pack one for my holiday?
The Global Health Insurance Card is replacing the European Health Insurance Card (EHIC). We explain how it works and why you should get one.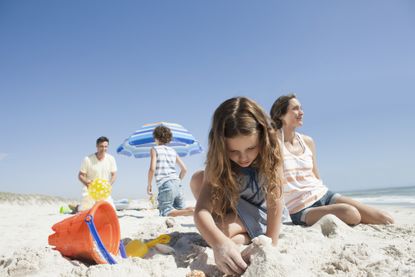 (Image credit: Getty images)
If you're planning to travel across the EU or Switzerland, a Global Health Insurance Card (GHIC) could give you free or reduced medical treatment in an emergency.
We explain who can get one, how to apply, and why it's a must-have for your next trip.
A GHIC Card, previously known as the European Health Insurance Card (EHIC), entitles you to free or discounted state medical care across the EU and Switzerland.
The card is available to all UK residents for free, but you do have to apply for it.
Using this card can save you having to make a claim on your travel insurance, though it is not a substitute for essential travel cover as it won't extend to any other benefits or protection.
A travel insurance policy will not only cover you for medical treatment, but also the cost of family staying with you if you're hospitalised, as well as lost or stolen baggage, passports, money and even costs associated with missing your flight.
The GHIC replaces the EHIC card, though if you still have a valid EHIC, you don't need to worry about getting a GHIC just yet.
Both cards last five years, but according to MoneySavingExpert more than five million EHICs are due to expire this year. If your EHIC is within six months of expiring, this is the time to apply for a GHIC, especially if you've got a trip planned.
If you're not sure when your current EHIC, or your GHIC, runs out, you can check its expiry date – which is on the bottom right-hand corner of the card.
Who needs a GHIC?
There's no legal requirement to have a GHIC, but if you're a UK national taking a trip to Europe, and don't have a valid EHIC, it's worth applying for a GHIC.
It's also worth checking whether your travel insurer insists you have one as part of the policy terms and conditions.
If you're travelling as a family or group, each person needs a GHIC and parents can apply on behalf of their children.
What is the benefit of a GHIC?
It entitles you to the same level of state medical care as the locals in the country you're in. So if treatment is free, that's what you'll get, or if the locals have to pay some of the cost, you will too.
GHICs do carry a warning printed on them, saying "this card may not cover the full cost of treatment abroad" and "make sure you have travel insurance".
However, if you need medical treatment abroad, a GHIC card could save you money compared with making a claim on your travel policy.
This is because there is no excess to pay when using your GHIC, and some insurers, including LV=, will waive the policy excess "if a GHIC has been used to reduce the cost of the claim".
Depending on your policy excess, this could save you around £50 to £100.
Where can I use my GHIC?
You can use your GHIC across the EU and Switzerland. These countries are:
Austria
Belgium
Bulgaria
Croatia
Cyprus
Czech Republic
Denmark
Estonia
Finland
France
Germany
Greece
Hungary
Ireland
Italy
Latvia
Lithuania
Luxembourg
Malta
Netherlands
Poland
Portugal
Romania
Slovakia
Slovenia
Spain
Sweden
Switzerland
What isn't covered by a GHIC?
While state medical care is covered, in the event of a serious emergency, you may not get a choice over which hospital you're taken to.
This means you could end up in a private (more expensive) hospital, which won't be covered under the terms of either your EHIC or GHIC.
This is where travel insurance can be invaluable, as it pays out for medical claims. Some policies have limits of up to £10m, along with covering extra costs like rearranging flights home, repatriation if you need an air ambulance, or your family staying on with you.
A GHIC won't cover you for anything other than medical care, which means if your passport, bags or money are lost or stolen, you can't claim a penny for any loss.
How can I get a GHIC?
Getting a GHIC is free, so beware of "copycat" websites that can charge fees of around £20.
You should only apply on the official website where you'll be asked to submit some details, including your name, address, date of birth and National Insurance number.
If you're travelling as a family, or group, you'll all need your own GHIC. While you need to be 16 to apply for your own GHIC, parents can apply for younger children, and have them listed as a dependant as part of the application process.
Once you've applied for a card, it can take up to 20 days to arrive. If it doesn't arrive before your trip, you can apply for a Provisional Replacement Certificate (PRC) by calling the NHS Overseas Healthcare Service on 0191 218 1999.
Read next
Katie is staff writer at The Money Edit. She was the former staff writer at The Times and The Sunday Times. Her experience includes writing about personal finance, culture, travel and interviews celebrities. Her investigative work on financial abuse resulted in a number of mortgage prisoners being set free - and a nomination for the Best Personal Finance Story of the Year in the Headlinemoney awards 2021.