9 great free days out and entertainment for the kids at Easter
Keep the kids busy for less — our guide to free days out and cheap entertainment that won't break the bank.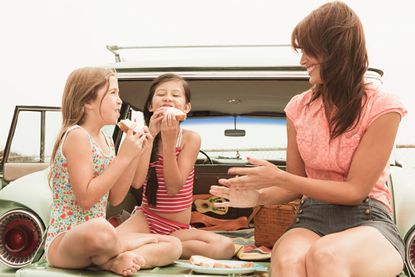 (Image credit: Getty)
Keeping the kids busy over the Easter holidays can be costly. Here are some free days out and cheap entertainment that won't break the bank.
Easter holidays are a chance to get out and take advantage of longer days and better weather (hopefully!), but packing in a few day trips can prove expensive.
With most households strapped for cash in the current cost of living crisis, it can be hard finding fun activities to keep children of all ages amused without constantly dipping into your purse. Here are nine ways to enjoy some Easter days out and still have change for ice creams.
1. Sports and craft sessions
A range of free school holiday activities is available to school-aged children who get benefits-related free school meals. Locally run schemes can mean free fun and food along with sports and craft activities.
Hertfordshire County Council have a scheme where you can ask your child's school for a booking code to secure their place on the HAPpy Activity camp website (opens in new tab). Once on you can choose from a range of locations and free activities. There are thousands of free places available.
Lots of other councils, including Cambridgeshire County Council, run the free Holidays Activities and Food (HAF) scheme (opens in new tab) for school children up to age 11. If you're eligible you can get vouchers and booking details from your child's school. And if you haven't come across schemes like this it's worth asking your child's school about them or contacting your local council.
2. Visit a lifeboat station
Most RNLI lifeboat stations (opens in new tab) open their doors for free visits and in some cases, they do this all year round. There are over 200 lifeboat stations around the coast of the UK and Ireland so plenty to visit – especially if you live nearby or are visiting family or friends in the area.
Bembridge lifeboat station on the Isle of Wight opens every day from 11am – 4pm during school holidays, (as well as some other times of the year).
Cromer lifeboat station on the Norfolk coast opens from 9am – 4.30pm on weekdays, 11am – 3pm on Saturdays and 9am – 1pm on Sundays.
And if the kids want to spend their pocket money in the gift shop – it's money well spent as you're supporting an amazing cause.
3. Go to a museum
Enjoy a family day out at one of the many free museums across the UK. Lots of the big museums are free.
If you're in London you can take your pick – the Natural History Museum, Science Museum and British Museum are always popular. Remember, although entry is free, you may still need to book tickets in advance and some exhibitions will have a separate entry fee. The National Museum of Scotland, in Edinburgh, is always worth a visit along with the Imperial War Museum North in Manchester. And in Wales, as well as the National Museum in Cardiff, you could even give your children a lesson in coal mining at the Big Pit National Coal Museum in Blaenavon.
4. Free tennis coaching
With this activity, you don't even need your own equipment as everything is usually provided – from racquets to balls. Pop your postcode into the LTA Big Tennis weekend (opens in new tab) website to find your nearest free events and how to book a place.
Events are held in parks, tennis clubs and community centres with plenty during April including free coaching, games and competitions.
5. Free nature trails
The suggestion of 'going for a walk' may not exactly get cheers of enthusiasm from your kids (depending on their ages) but if you find something to do along the way, they may even end up enjoying it.
The Woodland Trust is a conservation charity with one thousand areas of woodland across the UK and many have both long and short trails to follow. You can find your nearest Trust (opens in new tab)using the 'find woods' postcode tool.
At Heartwood Forest (opens in new tab) near Sandridge in Hertfordshire, you can follow the Magical Meander trail to see the woodland characters. This is a 1.5-mile trail that takes about one hour.
6. Visit your local library
Many local libraries run a number of fun, organised activities for children during school holidays. And even if they don't, popping along is a good excuse to get the kids out of the house, use the free WiFi and borrow some books for free.
There may be different services depending on where you live. Libraries Unlimited (opens in new tab) runs many library services across Devon, including mobile libraries. They often have a range of free events.
7. Free days out on the train
Take the train to get free "2-for-1" tickets on days out to (opens in new tab) places like Sea Life Brighton (opens in new tab), or the Blackpool Tower Dungeon (opens in new tab).
How to claim your 2-for-1 ticket:
Choose your attraction on the website, download a voucher, and when you buy one full-price admission ticket, you can get another for free by showing your train ticket.
8. Treat the kids to a free lunch
If you're a Tesco (opens in new tab) shopper you can exchange Clubcard vouchers for three times their value and get vouchers for restaurants including Pizza Express, Zizzi and Bella Italia.
It means a free family lunch out – though if you're looking to go during the Easter holidays it's probably worth booking ahead. In most cases, you can't "double discount" so you can't usually expect to use Tesco vouchers as well as any other 2-for-1 deals or discounts you may have.
9. Messy play at garden centres
If you want to let your kids get creative without the worry of the mess they might make – find out if your local garden centre is running any activities.
Frosts garden centres (opens in new tab), for example, are holding 'messy play' events. Sessions cost £4.99 a ticket (which includes an adult space) and kids can go painting crazy and get as messy as they like. Sessions do need to be booked in advance and availability is likely to vary according to the individual location.
Read more
Sue Hayward is a personal finance and consumer journalist, broadcaster and author who regularly chats on TV and Radio on ways to get more power for your pound. Sue's written for a wide range of publications including the Guardian, i Paper, Good Housekeeping, Lovemoney and My Weekly. Cats, cheese and travel are Sue's passions away from her desk!