How to save money on your holiday car hire
Keeping holiday hire costs low means you'll have more money to spend on enjoying your trip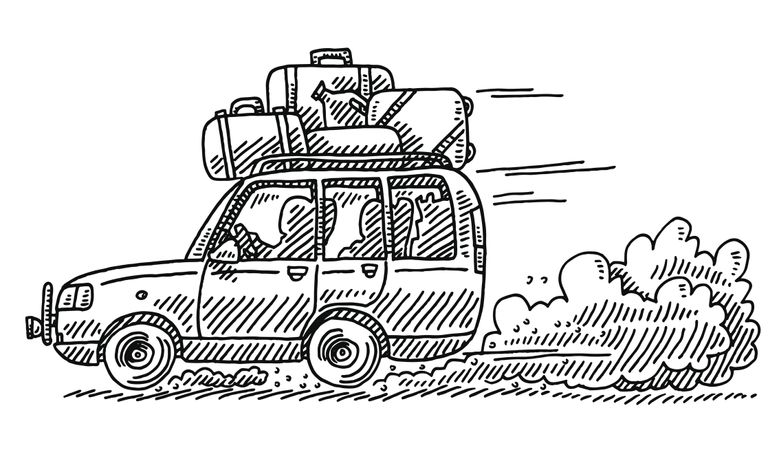 (Image credit: getty images)
The key to saving money on holiday car hire is preparation. Without it, hiring a car can be a fraught experience – one littered with pitfalls and surprise charges.
Too often weary travellers at car hire counters give in to a hard-sell for expensive extras, just so they can get the keys and be on their way.
Planning before you go can save you hundreds of pounds. In some cases, it's the difference between being able to rent a car or not at all.
Knowing what to expect can save you from a false economy too, because the cheapest quote isn't always the one that saves you money.
Here are the major takeaways for anyone searching for cheaper car hire.
Book early
This is one of the simplest ways to save money. Generally – the longer you leave it, the higher the price. Your preferred vehicle type might be out-of-stock too, leaving a poorer choice of more expensive or unsuitable cars.
Free cancellation, which is built into some quotes, is good for people who fear their travel plans might change.
It might add slightly to the overall cost. But if you come to rely on that flexibility, it's better than paying a cancellation fee or getting no refund at all.
People worried they have left it too late should still book before they go, rather than accept their fate with a walk-up rate on arrival.
Compare quotes
Companies frequently advertise percentage-based discounts on car hire – but the claims are largely meaningless. One brand's discount could still be dearer than a rival's standard prices.
The only way to ensure value for money is to compare quotes.
Use a comparison website to get a sense of what is cheap or expensive, and to filter quotes based on what you need and want. When you select a winner, double check the deal on the company's own website matches what was initially quoted on the comparison website (for both price and inclusions).
Compare businesses on service too. A low-cost rental can evolve into the opposite if a brand is infamous for bad practice.
Complaints about car hire companies are common across the board. But an internet search might flag companies with a lot of routine complaints about their service.
Using a customer reviews website like Trustpilot is a good way to learn about common car hire pitfalls, as well as people's opinions of individual companies.
(MORE: Which is the best holiday car hire company?)
Think outside of the airport
The airport is an obvious starting point for car hire – but often you pay a premium for that convenience. Car rental hubs outside of airport terminal buildings can be cheaper. Many offer a free shuttle bus to transport you the short distance.
Nearby city or town-based options could save you money too. When comparing deals enter a general pick-up location, rather than a specific airport, for example.
Insure your needs, not your fears
Insurance is the seatbelt for your bank balance if something goes wrong during a rental period.
Car hire will come with basic insurance as standard, covering the bare minimum.
But customers who end up in a scrape or accident could face significant costs for a vehicle's repair. That's even the case when a car hire company shares responsibility. Customers are usually liable to pay an initial 'excess fee' before the company takes on any surplus cost. This fee will leave some customers feeling as if 'excess' is simply short for 'excessive' – with fees ranging from a few hundred pounds to £3,000.
However, it's all too easy to be bamboozled at the car hire counter and give in to pressurised selling of top-up insurance.
You overpay by a sizeable margin if you nod along and sign up to whatever the agent at the desk is selling.
To navigate this conundrum, compare and purchase standalone car hire excess insurance before you travel.
It's usually far cheaper and covers a broad range of potential mishaps.
A rental company may still take a deposit from your credit card (which needs to be under the same name as the driver on the car hire booking). It will keep this deposit if something goes wrong. However, the insurance company will then reimburse you when you make a claim.
Annual excess insurance cover could save you even more money if you need to rent a car more than once a year.
Check distance and fuel
Many car hire policies come with a 'full-to-full' rule. This means you're given the car with a full tank of fuel, and you need to return it the same way. You only pay for what you use.
However, refuelling at the airport on your return means premium prices. Another option is to refuel to the max at a petrol station away from the airport, then top up any final amount at the airport's filling station if you still need to.
Some rental deals might instead ask for the car tank to be returned empty.
For many that means either returning the car with leftover fuel and no refund, or running a risk by driving on an empty tank. Look for the fuel policy when you search for deals to avoid feeling cheated.
Similarly, check the mileage rules. There's no need to pay for unlimited mileage if you're not driving far. On the flip side, if you're planning to cover a lot of ground, you will pay extra per mile if you exceed a set threshold.
Opt-out of expensive extras
Adding an extra driver, a car seat, and a satellite navigation gadget can add hundreds of pounds to the overall cost of car hire – a typical rate for each is around £10 a day.
If you're in a couple or group, consider whether one person can drive to save money. A sole driver should be over the age of 26 – thereby dodging a 'young driver fee'.
Bringing a child's car seat from home can save you a fair sum of money. Airlines often allow one in hold, on top of normal luggage allowance. There is a risk of it being damaged on a flight – though this isn't an issue for rentals at home in the UK.
In some holiday destinations it's possible to rent a car seat from a separate business to the car hire company, which trims costs.
As for finding your way around, instead of renting a satnav from the rental desk, save a packet by downloading maps onto your mobile. These can be used offline so you're not using internet data on your phone.
Another optional extra is an upgrade on vehicle type. It might not sound like much when prices are quoted 'per day', but if you don't need it then don't pay extra for it.
Swerve penalties
The benefits of saving money on car hire will soon be lost if you fall foul of the rules.
These could be rules of the road in a foreign land – triggering a fine – or car hire rules neglected in the small print, resulting in charges.
You will likely be asked to sign a record of previous damage to the car before you drive away. But perform your own check and take photos first.
This will support your case if a company tries to charge you for pre-existing scratches or bumps.
Out-of-hours fees can also dent a good deal. These apply when you pick up or return a vehicle outside of the company's core office opening hours.
Sometimes these fees are included in a car hire quote, which is useful for anyone travelling very early or late in the day.
Finally, turning up late for a pick-up or drop-off could mean further charges. Inform a hire company as soon as you can about any travel delays.
Prepping now saves money and hassle later – meaning you can relax on holiday. Bon Voyage!