Holiday car hire: everything you need to know
Navigating holiday car hire needn't be painful. Follow this expert advice before you travel for peace of mind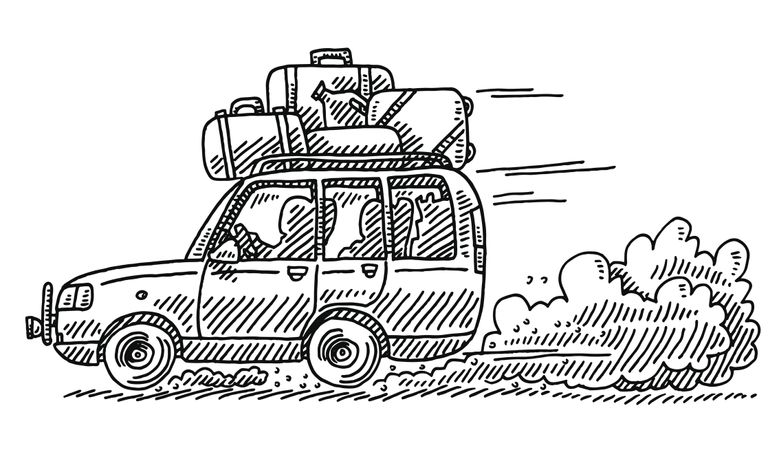 (Image credit: getty images)
Holiday car hire is convenient. It means no struggling around town with heavy bags or waiting for public transport. Travellers simply load a car and venture where they want to go, when they want to go.
You can travel to places only accessible by car and, depending on its use, car hire is often more economical than travelling by bus or train.
However, there are pitfalls to swot up on so you can successfully sidestep them.
The Money Edit explains all you need to know about hiring a car on holiday.
When is the best time to book your holiday car hire?
As early as possible. Six months before travel is ideal. Not everyone plans foreign travel six months in advance, so think about car hire at the same time as booking a holiday.
Generally, the earlier you book the keener the price. You are also more likely to get the category of car you want. For example, a compact vehicle suitable for zipping around a city. Leave it late and high demand might mean all those cars are reserved, and you're left with a choice of bigger, more impractical vehicles. Or if you're taking the family – you probably won't want a small two-door car, when a standard five-door with room for luggage in the boot is more suitable.
Cheap prices are possible when booking late – with last minute offers outside of peak travel dates. But it is a risky strategy and should only be attempted by travellers who have alternative means of travel.
How much does it cost to hire a car for your holiday?
It is possible to hire a holiday car in Europe for as low as around £10 a day. In a busy tourist spot it's reasonable to expect to pay above £30 a day. Price varies according to factors such as: location – such as the airport or a town; the destination; the country; how far in advance you book; category of vehicle you choose, such as compact or luxury; number of cars available; any extras you need, such as car seats, sat navs and additional drivers; and the rental company you book with.
You tend to get better value for money if you rent a car for a few days to a week, without any cap on the distance you travel – known as 'unlimited mileage'. If there is a mileage allowance, you pay a surplus for any additional miles driven during the rental period.
(MORE: How to save money on your holiday car hire)
How do I find the best deal?
Book early and compare quotes. Use a car hire comparison website to find a broad spectrum of prices then compare them to offers from a travel agent, or hotel or flight booking website.
To get the best deal overall, you also need to inspect the policy detail.
Prices on comparison websites may be for deals stripped back to their most basic. When other essentials are added, the starting price inflates.
Look at specifics such as mileage allowance and fuel policy. The latter could require you to buy a tank of fuel upfront at the rental company's prices. Or you may have a full-to-full deal, meaning you receive a full tank of fuel and must return it the same way.
Your rental will be cheaper if you keep costly extras to a minimum – for example, bring you own car seat from home for an infant. You can also download maps onto your phone to use offline instead of renting a sat nav from the car hire company.
When you have narrowed down your choice of car hire company, check if it has a free loyalty programme with additional perks. For example, Hertz's Gold Plus Rewards scheme offers a free additional driver for a spouse or civil partner.
What happens if I have an accident in my rental car?
The car hire company should pick up the bill for damage to the body of the car. But only after the driver pays an initial sum, known as the 'excess'.
When renting a car, make sure the company offers a 'collision damage waiver' as standard, along with theft-protection and third-party liability for any damage to someone else's property.
This is the basic level of insurance – but the excess can be high, ranging from a few hundred pounds to a few thousand.
Car hire companies will try to sell additional insurance that reduces the excess to a lower sum or even zero pounds, as well as covering things like tyres and the windshield. Expect this to be a pricey add-on.
Another option is to buy car hire excess insurance separately before you travel. If you have a prang and are charged the excess fee, these policies reimburse you. They typically cover tyre and windscreen damage too.
What problems might I encounter with my car hire?
Even if you buy standalone excess insurance, the person handing over your keys at the check-in counter will likely push you to buy the company's add-on insurance. Some people wearily give in, even if they don't want it or are already covered by another policy.
Drivers will need enough money on their credit cards for a security deposit – and the name on the plastic needs to match the named driver on the rental policy.
Deposits are sometimes 'ring-fenced'. The sum is not debited from the card as a payment, but it cannot be spent by the customer either.
It is released after the vehicle is returned. But some companies take a deposit as a payment, then refund it if the car is returned in one piece. Customers are subject to currency fluctuations on that sum during the rental period.
A car hire company might deduct a portion of the security deposit – or even the whole sum – for scratches or damages. This could easily top £1,000.
Companies using poor practice have been known to lay blame on customers for dents or scratches that were pre-existing. Therefore, it's important for drivers to photograph their hire cars and make an official note of any imperfections before signing the paperwork and driving away.
Anyone claiming on standalone excess insurance will still need to pay the car hire company for damage, and then claim the money back later from the insurance company.
Are there any hidden charges I should look out for?
Yes. If you agree to a car upgrade when you arrive on holiday you will pay for it. Unless the company doesn't have your original preferred vehicle, in which case it might upgrade you for free. You could be charged for damage that isn't covered by insurance, and administrative fees if you incur any toll road charges or speeding fines, for example.
Cancellation fees may apply if it is too close to the pick-up time, and late or early drop offs can also trigger additional charges.
There are surplus fees for younger drivers and for extras such as a child's car seat.
What should I look for in a holiday car hire company?
A good reputation. With millions of vehicles hired out each year, there is always a broad range of gripes about all car hire companies. They are commonplace on internet review websites.
When researching, look to see if there are repeated complaints about the same car hire company, for the same issues, in the same location. This will indicate whether problems are scattered or systemic.
Beyond a cheap price, look for policies that come with flexible cancellation, in case plans change, and an excess fee that isn't exorbitant in the event of a collision. It's also worth looking for valuable perks – such as a free additional driver on the policy.
(MORE: Which is the best holiday car hire company?)
How can I complain about my car hire company?
If you have a complaint and are unable to reach a solution with the car hire company itself, you could seek help from a dispute resolution service. The European Car Rental Conciliation Service is a free service that aims to settle disagreements between rental companies and unhappy customers.
Participating members include Europcar, Enterprise, Avis, Budget, Hertz and Sixt.
What documents do I need to hire a holiday car and drive abroad?
You need a valid, up-to-date driving licence. Depending on the destination, you may also need an international driving permit, which can be bought at the Post Office.
When hiring a car, you may be asked for a 'check code' that shows your driving record. You can get this online before you depart the UK. It is valid for 21 days and can only be used once.
For official and up to date information about driving abroad visit gov.uk/driving-abroad. You can also find specific rules for the country you are visiting.
Laura Shannon is a freelance award-winning consumer and money journalist with more than a decade of experience in her field.
Laura is also a money mentor for Citizens Advice in South Warwickshire.
Previously she has written for Metro, The Times and The Mail on Sunday, where she was personal finance correspondent for eight years.
She is passionate about helping people to save money and manage it more effectively.