British Airways extends Covid flight vouchers by 12 months
Passengers who accepted British Airways vouchers for a disrupted flight due to Covid can now use their voucher until September 2024 - here's everything you need to know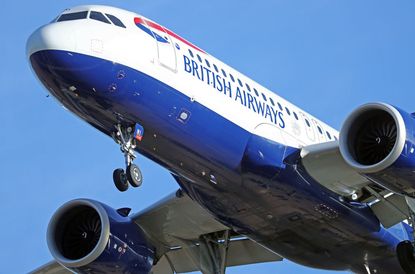 (Image credit: NurPhoto)
British Airways has extended its vouchers for passengers affected by the Covid pandemic for a third time - what does this mean for you and can you swap your voucher for a refund?
It's important to know your rights if your flight has been disrupted, either by flight delays or cancellations as you could get your money back.
When the Covid pandemic affected British Airways flights, customers were given a voucher to use at a later date.
The expiry date on these vouchers has now been extended to September 2024. Here's everything you need to know.
British Airways voucher extension until September 2024
Covid-19 caused flight disruptions to most airlines. Many, like British Airways, gave their customers a voucher to use at a later date instead of a refund.
The BA vouchers were originally set to expire on 30 April 2022. The deadline was later extended to 30 April 2023, and then again to 30 September 2023.
The airline has now decided to extend the use of vouchers by another year, so passengers can use them by 30 September 2024.
This means you have to book your new flight and fly to your chosen destination (and returned home) by 30 September 2024.
If you have a British Airways voucher that hasn't been used yet, this will be extended automatically so you don't need to do anything.
But, if you've used part of a voucher and have remaining credit on it, you will be issued a new voucher with the leftover credit with a new expiry date of 30 September 2024.
MoneySavingExpert previously reported that British Airways issued 3.3 million flight vouchers for Covid delays and cancellations, with many yet to be used by customers.
To redeem your voucher, you'll need to make a booking on the BA website and enter your voucher's redemption code. You can either use the full value on a single booking, or use some of it to pay for a less expensive booking (in which case you'll receive another voucher for the difference).
Are you entitled to a cash refund?
Some customers might be eligible for a cash refund. If you booked a flight with British Airways and were due to travel between 9 March 2020 and 19 November 2020 and the flight was cancelled, you can swap your voucher for a cash refund.
The catch is, to be eligible for a refund you would have needed to accept your voucher after your flight was cancelled.
So, if you accepted your voucher before your flight was cancelled, you are not entitled to a cash refund.
What you can do though is redeem your voucher and travel with BA before 30 September 2024.
Flights cancelled after 19 November 2020 are not able to exchange their voucher for a refund as BA says these customers were offered the choice of a cash refund or voucher at the time.
You can claim your refund using British Airways's online refund form. Refunds will take about 30 days to reach the original form of payment you used to make the booking.
If you booked a British Airways flight through a travel agent or tour operator, you will need to contact them directly for any vouchers or refunds.
British Airways Holidays customers should have already received a refund automatically. If you haven't received this, you can contact BA Holidays.
Read next
Vaishali graduated in journalism from Leeds University. She has gained experience writing local stories around Leeds and Leicester, which includes writing for a university publication and Leicester Mercury.
She has also done some marketing and copywriting for businesses.
When she is not writing about personal finance, Vaishali likes to travel and she's a foodie.