Cheap airport parking: the ultimate guide to cheap airport parking fees
Looking for cheap airport parking? We've got you covered with this expert advice to finding the best deals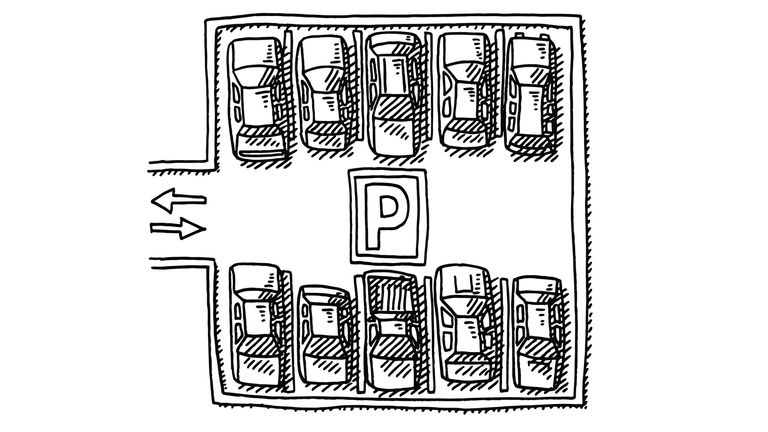 (Image credit: getty images)
If your holiday is booked and your itinerary is sorted, the next step is to organise how you're going to get to the airport and, if you're driving, where you're going to park.
Airport parking can be expensive, but luckily there are ways to cut those costs by booking in advance and exploring your options carefully.
Airport parking and coronavirus
One lesson the Coronavirus pandemic has taught us is that it's crucial to know what your cancellation rights are if you can no longer go on holiday. So, whether you've yet to book your airport parking or you booked it months ago, here's what you need to know.
Should I book ahead for cheap airport parking?
If you've yet to book airport parking, the biggest point to stress here is flexibility. When comparing your options, always look for parking that allows you to cancel your booking free of charge. As part of this, make sure you check whether there are any exclusions – particularly those related to Coronavirus.
It's also well worth running a search online for customer reviews to see whether there have been any issues with customers claiming cancellation refunds in the past.
What should I do if I've booked airport parking and I need to cancel?
If you've previously booked parking and you need to cancel, check whether your booking allows you to move it to a new date at no extra cost – many will.
Bristol Airport, for example, allows you to cancel your car park booking up to 48 hours prior to your scheduled departure time. Cancellations made after this point will be charged £5.
Gatwick, Birmingham, Newcastle, Belfast airports all allow you to cancel your booking up to 24 hours in advance, as does Edinburgh Airport, providing you have a flexible booking.
Bookings for Heathrow Airport car park can be cancelled even later, and you'll only need to give up to two hours' notice. Manchester and East Midlands airports only require an hour's notice.
If the paperwork isn't clear about whether you can cancel, get in touch with the firm you've booked with to see if they will cancel or move your booking as a gesture of goodwill.
(MORE: Airparks versus NCP: which is better?)
Does my travel insurance cover airport parking?
If you're not able to cancel your airport parking fee-free, it's worth checking whether your travel insurance policy covers such cancellations instead.
Generally, you'll find travel insurance policies won't cover you for extras such as parking, and those that do often exclude cancellations relating to Covid-19. But it's still worth investigating.
Best airport parking deals
Each airport has several different car parks to choose from and those furthest away from the terminal will usually be your cheapest option. This means you'll need to weigh up what's more important to you – the overall price or the speed at which you can get to the terminal.
Prices can vary considerably depending on the airport in question and which car park you choose. Below, we've looked at the best prices for parking at the above airports between 24 and 31 July 2021.
Belfast Airport
£39.99 (normally £65) | Long stay
The main car park and long stay or short stay car parks are all within a one to six-minute walk of the terminal (short stay is closest). Alternatively, the Park and Fly option offers low-cost off-site parking with a two-minute shuttle journey. (This is currently closed due to Covid-19.)
Birmingham Airport
£29.49 | Car Park 7 | 5-10 min shuttle ride
There are several options at Birmingham Airport. Valet parking (where someone parks your car for you) and Car Parks 1, 2 and 3 are only a one-minute walk to the terminal. Car Park 4 is a three to five-minute walk, while Car Park 5 is a five to 10-minute walk.
Car Park 7 is the cheapest option but it's also a five to 10-minute shuttle ride.
Bristol Airport
£48.99 | Long stay
Choose from long stay, short stay, multi storey or Meet and Greet – all of which you can walk from in one to four minutes. From summer 2021, you can also choose the Silver Zone car park for safer parking. Bus transfers from this zone take seven to nine minutes.
East Midlands Airport
£54.99 | Long stay | 5-min bus ride
Choose from Meet and Greet, short stay, mid stay or long stay. Meet and Greet is the closest to the terminal (a one to two-minute walk), while the short and mid stay car parks take around one to seven minutes to walk. The long stay car park is a five-minute bus ride.
Edinburgh Airport
£18.99 | Plane Parking | Short bus ride
Here, FastPark, multi storey and Terminal parking are your closest options to the terminal. Mid stay parking is just a 10-minute walk away, while long stay and Plane Parking (the budget option) require a short bus ride. There's also a 'drive up and park' option for those who haven't prebooked.
Gatwick Airport
£49 | Long stay | Bus ride to terminal
At Gatwick you have a choice of short stay, long stay, premium or valet parking. Premium parking is the closest to the airport – it takes two minutes to walk. Short stay and valet parking are a five-minute walk and long stay is a bus ride away.
Heathrow Airport
£81.20 | Long stay | Bus ride to terminal
Choose from short stay, long stay, valet parking or Meet and Greet. Long stay parking is the cheapest, but also requires a five to 18-minute bus ride to the terminal.
Manchester Airport
£71.99 | Drop and Go | 5-min bus ride
You can choose from Meet and Greet, mid stay, multi storey or Drop and Go parking (for longer trips of one to two weeks). Drop and Go is the furthest from the airport and requires a five-minute bus journey. All other options are walkable in one to eight minutes.
Newcastle Airport
£47.99 | Long stay | max. 5-min walk to terminal
Choose from long stay, short stay, Premium Fast Track or Premium Meet and Greet. All options are walkable in one to five minutes.
Can I get discounts for airport parking?
Yes – if you book your parking space in advance, you'll often be given a chunky discount. If not, you may be able to find a voucher code online which will reduce the price.
Best price comparison sites for airport parking
As with all purchases, it pays to shop around and use a comparison site to ensure you're getting the best deal. Booking via a comparison site will often be cheaper than booking with the company direct.
Sites to check out include:
You might also want to look at airport parking providers:
(MORE: APH versus Purple Parking: which is better?)
Cheaper alternatives to airport parking
When considering where to park, there's no need to only stick with official airport parking firms. There are several other options that are worth exploring to see if they could save you money.
Are there private spaces near the airport?
Websites such as Your Parking Space, Park Let and Just Park allow residents living near an airport to rent out their driveway or spare land to others. Because overheads are low, this can often work out to be much cheaper than paying for official airport parking and so it's well worth considering. The downside is that security will be more limited compared to an official airport car park.
Research the area for other parking options
It's also worth investigating whether there are other places you can park close to the airport. By using a map of the area and online resources you should be able to find out if there is a train station or other long stay car park in the area that could be cheaper.
Consider hotel parking packages
If you've booked an early flight or you live a long way from the airport, many airport hotels will offer packages that include parking for the duration of your trip. Packages can be reasonably priced and may even work out cheaper than paying for parking on its own.
Just make sure you check whether you'll need to pay for transfers to the terminal as you'll need to factor this into the overall cost.
Rachel Wait is a freelance journalist. She has been writing about personal finance and consumer affairs for over a decade, covering everything from credit cards and mortgages to pensions and insurance. She has written for a range of websites and national newspapers, including Mail on Sunday, the Observer, Forbes and the Spectator.
Rachel is keen on helping consumers understand their finances.