How to remortgage in 2023: 1.4m households face big hikes
If your mortgage is up for renewal this year it's crucial to have a plan as 1.4m households renewing deals face significant increases. We explain what you can do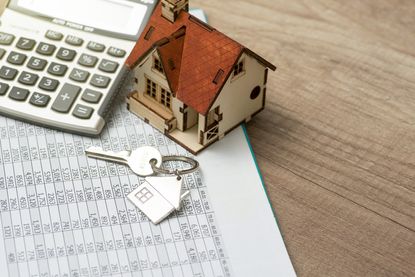 (Image credit: Getty images)
Look After My Bills Newsletter
Get the best money-saving tips, tricks and deals sent straight to your inbox every week. Make sense of your money in partnership with The Money Edit.
Thank you for signing up to The Money Edit. You will receive a verification email shortly.
There was a problem. Please refresh the page and try again.
More than 1.4 million households face a significant rise in mortgage costs when they come to remortgage this year as low-rate fixed deals come to an end.
The majority of fixed-rate mortgages (57%) which are coming up for renewal in 2023 were fixed at interest rates below 2%, according to the Office for National Statistics (ONS).
It means many borrowers could face monthly bills of hundreds of pounds more because average two-year fixed rates are now at 5.75% and five-year fixes are now at 5.57%.
If you have a £100,000 mortgage, the monthly cost will jump by £220 if the interest rate climbs from 2% to 6%, for example.
On a £300,000 mortgage with the same increase in rate, the monthly cost will increase by £661.
Higher fixed rate deals have emerged after a turbulent period for the mortgage market last year, sparked by then-Prime minister Liz Truss' mini-Budget in September. The average two-year fixed mortgage rate peaked at 6.65% on 20 October, while the average five-year fixed rate was at 6.51% on the same day.
Private renters are also facing an increase in housing costs, with rental price growth at 4% in the 12 months to November 2022 - its highest rate in the UK since records began in 2016, the ONS reports.
The survey also revealed the proportion of people finding it somewhat difficult or very difficult to afford their rent or mortgage payments edged up towards the end of last year, from 27% in September to 31% in December.
Additionally, 45% of adults with mortgages reported being very or somewhat worried about the changes in mortgage interest rates in December.
A spokesman for the trade association UK Finance said: "Lenders stand ready to help customers who might be struggling with their mortgage payments, with a range of tailored support available."
We explain what help your lender can offer if you need to remortgage in 2023.
What to do if you need to remortgage in 2023
The usual guidance to find the right mortgage for you includes:
Speak to a mortgage broker who can search the whole market and secure exclusive deals rather than one who is restricted to a small number of lenders. Check what fee they charge first.
Improve your credit score to improve your chances of getting a better rate - this may involve limiting your spending in the months before remortgaging to make any loan application look more affordable.
If you're self-employed, get all your paperwork together for a smooth-as-possible application.
Check out our regularly updated best mortgage deals.
Use our mortgage calculator to work out exactly how much you can borrow.
You can also seek guidance from comparison websites like Go Compare
But there are also ways to temporarily lower your mortgage bill. These come with a price tag and essentially cost you in the longer term - but may be suitable for you in the shorter term while you navigate the cost of living crisis:
Ask your lender about the possibility of a payment holiday for a number of months.
Extend your term. Mortgages are usually set at 25 years. If you increase this to 35 years this will lower your monthly mortgage payments - though you will pay interest for longer so it will cost you more overall in the long term.
Switch to an interest-only mortgage. Again this saves you money in the short term but adds to your loan in the long-term
Read more on mortgages
Look After My Bills Newsletter
Get the best money-saving tips, tricks and deals sent straight to your inbox every week. Make sense of your money in partnership with The Money Edit.
Katie is staff writer at The Money Edit. She was the former staff writer at The Times and The Sunday Times. Her experience includes writing about personal finance, culture, travel and interviews celebrities. Her investigative work on financial abuse resulted in a number of mortgage prisoners being set free - and a nomination for the Best Personal Finance Story of the Year in the Headlinemoney awards 2021.