UK house prices: will house prices crash due to mortgage rate hikes?
What's really going on with UK house prices? We explain the latest house price trends, mortgage deals and if now is a good time to buy or sell a home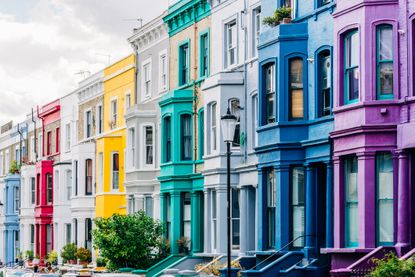 (Image credit: Getty images)
UK house prices aren't immune to the impact of mortgage deals being pulled and repriced by lenders plus rising interest rates. Are house prices set to fall?
Until the mini-Budget on 23 September, rising mortgage rates and a possible house price crash were already making headlines on a regular basis. Yet despite the cost of living crisis and worries about ever-increasing energy bills, the property market had appeared buoyant: more homes were sold in the UK in August than in any other month in 2022, according to data from the Treasury.
But it's now clear events since the mini-Budget have wreaked havoc on the mortgage marketplace. After the pound fell to record levels and interest rates on government bonds rose dramatically, high street banks and building societies and lesser-known lenders started suspending hundreds of mortgage deals over uncertainty where interest rates were heading. Around 1,200 mortgage products have been withdrawn, and more than 20 providers have withdrawn their entire fixed-rate mortgage range.
It remains to be seen what effect stamp duty changes, also announced in the mini-Budget, will have. As it's a permanent change, rather than a temporary holiday like the one during the pandemic, homebuyers don't have to rush to buy immediately.
The change, allowing for no tax to be paid on properties up to value of £250,000 and increasing the threshold for first-time buyers to £425,000, could give property prices a boost or be made irrelevant by increasing mortgage costs.
Throw in mixed predictions that the UK will enter a recession (opens in new tab) and you may well ask: what will it mean for house prices?
Here we explain current property prices, what mortgage deals are available and if now is a good time to buy a home.
What is the average UK house price?
Each month, Nationwide, Halifax and Zoopla release figures on the growth of average house prices.
Property expert Henry Pryor (opens in new tab) explains how we should view these house price estimates: "Every index says house prices are rising despite common sense suggesting that they must soften - but indices don't lie. They also don't tell the future. They tell us what buyers and sellers were doing up to six months ago - and like the weather it feels things are a little cooler than they were."
Is now a good time to buy a property?
Buying a home is likely to be the biggest financial commitment of your life. Potential homebuyers need to go into the buying process with their eyes wide open to current conditions in the property market.
If you're a homebuyer, you need to be aware that:
Lenders are now increasing the cost of deals, with the typical two-year fixed rate now at 5.97% and a typical five-year fixed deal at 5.75%, as of 4 October, according to data analyst Moneyfacts.
The normal rules of lending are changing: It is very unusual for the interest rate on the cheapest 10-year fix (currently 5.44% as of 4 October) to be lower than almost any two-year fix on the market.
Many lenders are pulling mortgage deals while they reassess what is affordable. More lenders may follow and even change their affordability tests. It may mean less choice in mortgage deals for homebuyers and become even more expensive to either get a mortgage or remortgage.
While a cut to stamp duty may appear appealing - first-time buyers can save a maximum of £6,250 on the purchase of their home - it may actually become irrelevant due to increasingly expensive mortgage deals.
Economists' consensus is that the bank rate will peak at around 3.5% next year, though there is also talk of it hitting 5.8% (opens in new tab). It means that mortgage rates would be so high that large numbers of buyers and homeowners could fail to meet lenders' affordability criteria to borrow or remortgage
Lenders have been focusing on less risky homebuyers for a while now, because of the difficult economic outlook
To buy or not to buy? If you need and can afford to buy a home now, you might have the financial resilience to submit yourself to the challenging conditions we've cited.
Finance expert Martin Lewis said on breakfast television on 3 October that while it was hard to predict what will happen with the property market due to there being "so many variables", first-time buyers needed to be fully prepared. "If you've got a decent deposit, and you've found a house that you love, and you've got a mortgage that is affordable for you, and you're going to stay in that property for a long time, get on with it, buy your house. If you're doing this because 'this isn't the house that I want, but I feel I should do it before everything goes wrong and it all goes belly up', don't buy your house."
Will house prices fall in 2022?
It's not certain that house prices will fall in 2022 but the current economic outlook would suggest it is increasingly likely.
The cost of living crisis, rising mortgage rates and a recession will hit people's ability to move home as will banks becoming more risk averse to lending to homebuyers.
We asked property experts if they think house prices will fall.
Yes, says Ray Boulger, senior mortgage technical manager at John Charcol, he told BBC Radio 4's Today programme on Wednesday. "I think we can expect to see a significant fall in house prices, perhaps around 10% next year," said
"The key factor in house prices is how much people can afford on their monthly mortgage. The biggest issue is the monthly cost. With the cost shooting up so far a lot of people thinking of buying are going to rethink those plans. They may not buy at all. If they are going to buy they will buy at a lower level."
Yes, says Henry Pryor. "House prices were already flatlining according to Nationwide so there were expectations that they would slip. I think they may come back by 5%-10% but there is no evidence (yet) that they will crash. Right now, it's nervous times for many - not helped by those convinced that prices are going to plummet but this is only likely to happen if buyers go on strike and there still seems to be demand, it's just unclear at the moment how much they can borrow."
Yes, in the short-term, says Karen Noye, mortgage expert at Quilter. "Rates of 6% could prove disastrous for the property market as people simply won't be able to afford their mortgage payments if they have overstretched themselves. This could cause a wave of properties to come to market just when demand is drying up. House prices will naturally come down if this happens. However, we are still suffering a severe lack of stock in the market and an ever increasing population of renters wanting to buy so house prices may not see a severe crash but a downturn is very likely in the short term."
Yes, says Gabriella Dickens, a senior UK economist at Pantheon Macroeconomics, said: "Looking ahead, we expect house prices to fall outright in the second half of the year, given the size of the rise in mortgage rates."
Maybe says Andrew Montlake, managing director of Coreco: "It's beyond reason that annual house price growth is still comfortably in double digits and that prices rose in August. But with more rate rises on the cards and the cost of living crisis set to crescendo, the property market will soon come back down to earth. Higher mortgage rates and the immense pressure on household finances will almost certainly start to temper demand in the months ahead. Even then, the abject lack of good quality, affordable housing will support prices even as we go through an unprecedented cost of living crisis."
Though not in London, he adds. "There's life in London yet and the capital may see further house price growth if the remote working trend goes into reverse as people focus on retaining their jobs during the dark economic days ahead. House prices in the capital, as the engine room of the UK economy, could bizarrely benefit from a recession, as the regions go into reverse."
House prices will rise if we look even further ahead, says Aneisha Beveridge, head of research at Estate Agents Hamptons, which forecasts house sales across Britain to rise from around 1.1 million next year to 1.2 million in 2024. "We forecast that house price growth by the end of the year (in 2025) will be 3% across Great Britain, reflecting a rise in households' real incomes." The prime areas to experience strong price growth are central London, followed by the East of England and the South East over the next four years, Hamptons say. They put it down to the new way of working, where more flexibility to work from home ties prices in with regions.
How can I find the right mortgage for me?
As lenders continue to increase their mortgage rates, check out our regularly updated best mortgage deals.
You can also seek guidance from comparison websites like Go Compare (opens in new tab). There's also the potential new trend of ultra-long mortgages of up to 50 years due to the rapid rise of property prices and mortgage rates.
Other ways to find the right mortgage for you include:
Speak to a mortgage broker who is able to search the whole market and access exclusive deals rather than one who is restricted to a small number of lenders. Do check what fee they charge first.
Improve your chances of getting a better rate by improving your credit score if necessary and limiting your spending in the months beforehand to make any loan application look more affordable. If self-employed, gather all your paperwork for a smooth application.
Use our simple mortgage calculator to work out exactly how much you can borrow.
Katie is staff writer at The Money Edit. She was the former staff writer at The Times and The Sunday Times. Her experience includes writing about personal finance, culture, travel and interviews celebrities. Her investigative work on financial abuse resulted in a number of mortgage prisoners being set free - and a nomination for the Best Personal Finance Story of the Year in the Headlinemoney awards 2021.