UK house prices latest: house prices are falling
UK house prices are falling - but how much further will they drop? Katie Binns explains the latest house price trends, mortgage deals and if now is a good time to buy or sell a home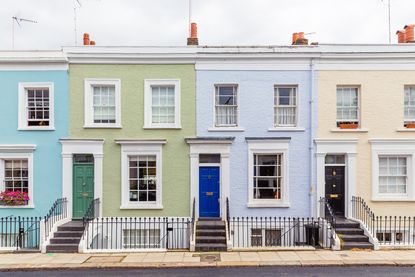 (Image credit: Getty images)
Average UK house prices increased for the first time in eight months in April after seven months of consecutive falls, according to Nationwide, with the average property now £260,441.
But with monthly growth of just 0.5%, it mirrors Rightmove's latest house price index that showed property prices rose by just 0.2% last month. The property website says this is notably lower than the average increase of 1.2% for this time of year.
It's the latest indication that sellers are being slightly more realistic with asking prices in the face of the cost of living crisis and higher mortgage rates.
Tim Bannister, Rightmove's director of property said: "The current unexpectedly stable conditions may tempt more sellers to enter the market who had been considering a move in the last few years but had been put off by its frenetic pace.
"Buyers may have struggled to find a home that suited their needs in the stock-constrained market of recent years and will now find more choice available. Those who have now decided to make a move should not wait around too long to make an enquiry if they see the right home for sale, as not only is the number of sales agreed now back to pre-pandemic levels, but homes are also on average selling twelve days more quickly than at this time in 2019."
But, as ever, there are surprises that show it's a mixed picture for homebuyers: asking prices for typical first-time buyer homes have hit a new record high of £225,000.
Zoopla forecasts UK house prices will likely fall by 5% this year while the Office for Budget Responsibility (OBR) predicts that they will fall by 9% over the next two years.
Overall, it sounds like some positive news for a lot of potential buyers. Here we explain current property prices, what mortgage deals are available and if now is a good time to buy a home.
UK house prices latest
House sales and prices
It's a mixed picture for homebuyers.
The latest base rate rise by the Bank of England from 4% to 4.25% will theoretically translate into higher mortgage rates: lenders tend to pass on the latest increases in the base rate to customers taking out new fixed deals.
Yet some home loan rates have actually fallen, with HSBC, Virgin Money, Lloyds and Yorkshire Building Society now offering sub 4% mortgage deals and average two-year fix deals are down to 5.25% (as of 24 April) after having peaked at more than 6.6% at the end of October, for example.
However, some property experts say mortgage offers below 4% could soon disappear.
In other good news, the choice of mortgage products now exceeds the number available on the day of the mini-budget in September 2022: Moneyfacts counted 5,279 deals on 24 April - significantly more than the 3,961 deals that were available on 23 September. This suggests the mortgage market has recovered from the chaos unleashed by the mini-budget.
There are also efforts to help first-time buyers secure home loans with small deposits, with the Treasury planning to extend its mortgage guarantee scheme. The scheme, which has helped 21,000 first-time buyers so far, allows lenders to buy an insurance policy from the government for mortgage loans taken out by homebuyers with a deposit of less than 10%.
And in an attempt to help those who want to get a mortgage for a property with cladding, Barclays, HSBC, Lloyds, Nationwide, NatWest and Santander have opened mortgage applications to medium to high-rise homes with cladding.
In other good news for buyers, around one million homes across the UK have now had all the gains in value made during the coronavirus pandemic wiped out in recent months, according to Zoopla.
Overall, house prices are expected to fall over the next few months: buyers will find it more difficult to borrow money or they will decide higher mortgage rates are simply too expensive. This will force sellers to list their properties at lower prices.
Two-thirds of economists expect house prices to fall by more than 4%, with most warning of near-double-digit declines, according to a survey by The Times. This would make 2023 the worst year for the housing market since 2009.
What is the average UK house price?
Each month, Nationwide, Halifax, Zoopla and Rightmove release figures on the growth of average UK house prices. The Office for National Statistics (ONS) also reports on property prices using official house sales data.
Property expert Henry Pryor explains how we should view these house price estimates: "The indices don't lie, but they also don't tell the future. They tell us what buyers and sellers were doing up to six months ago - and like the weather, it feels like things are a little cooler than they were."
Is now a good time to buy a property?
Buying a home is likely to be the biggest financial commitment of your life. Potential homebuyers need to go into the buying process with their eyes wide open to current conditions in the property market.
Myron Jobson, senior personal finance analyst at Interactive Investor, says: "It's worth remembering that even though house price inflation has come down, it doesn't mean that prices are falling. It just means that home prices aren't rising as fast."
If you're a homebuyer, you need to be aware that:
Sellers are being forced to cut asking prices by an average of £14,000 in order to sell their properties, according to Zoopla
Lenders are now decreasing mortgage rates after they peaked on 20 October but deals are still expensive, with the typical two-year fixed rate 5.25%, a typical five-year now 4.96% and the average 10-year fix now 4.97% as of 24 April, according to data analyst Moneyfacts
Some deals have actually dropped below 4%, with Virgin Money, Lloyds, HSBC and Yorkshire Building Society offering such rates - yet some experts say these deals could soon disappear
As ever the size of your deposit affects the rate you can get: the average mortgage rate for a 15% deposit five-year fixed mortgage is now 4.65%, according to Zoopla, having edged down from October's 5.89%
The Bank of England expects inflation and interest rates will peak this year - to 4.5% - before falling to below 2% by 2026. It means short-term fixes may be the way to go rather than fixing for more than five years
Lenders tighten affordability tests during difficult economic times as they factor in higher energy and food prices and reduced disposable income. It means lenders are cutting the maximum they will lend a prospective homebuyer or homeowner looking to remortgage
Banks are limiting the number of first-time buyer mortgages: Mortgages requiring a 5% deposit numbered 283 on September 23 (the day of the mini-Budget) - it is now 209 (as of 24 April)
Asking prices for typical first-time buyer homes have also hit a new record high of £225,000, according to Rightmove
TSB has also stopped lending to borrowers in new-build homes with 10% deposits, mainly first-time buyers, amid concerns of potential price falls of up to 10%
Tracker mortgages have become more popular amid high fixed rates: About 10% of new mortgages in January were taken out on a variable rate, according to UK Finance, compared to just 2% in October. If you think rates will come down, then the short-term pain of paying a higher rate could be worth the long-term win of a cheaper fixed deal. Most trackers do not have early repayment charges, so you can switch deals easily without penalty
Negative equity - when a home is worth less than what you borrowed to pay for it - is possible. It means if you have a mortgage loan for more than 90% of the value of your home and prices fall by 10% or more, this could wipe out the value of your deposit and leave you in negative equity. Around 90,000 first-time buyers who bought homes in 2020 and 2021 are at risk of this, according to research by The Telegraph. It means it's a good idea to buy with as big a deposit as possible
Off-market sales have become mainstream
To buy or not to buy? If you need and can afford to buy a home now, you might have the financial resilience to submit yourself to the challenging conditions we've cited.
Finance expert Martin Lewis says that while there are "so many variables", buyers need to be fully prepared. "If you've got a decent deposit, and you've found a house that you love, and you've got a mortgage that is affordable for you, and you're going to stay in that property for a long time, get on with it, buy your house."
If you're unsure, you may be better off waiting. Alice Haine, personal finance analyst at Bestinvest, says: "Overstretching yourself and taking on a high loan-to-value mortgage now could be a very risky move. The last thing anyone wants to deal with is negative equity, where the house is worth less than their home loan, particularly during a recession when job security is in peril."
Tim Bannister from Rightmove thinks sellers taking a certain approach will help buyers too: "Homeowners who are coming to market in the upcoming spring season should use their agent's expertise and get the price right the first time, which can really help to find the right buyer more quickly."
First-time buyers still have it hard: even if house prices fell by 18%, nearly three-quarters of 25-to-34-year-old non-home-owning families would have neither the savings nor the earnings to be able to buy a house, according to the Resolution Foundation.
Will house prices fall in 2023?
There is no agreement between industry experts on how far house prices will fall in 2023, or for how long.
Zoopla expects property prices to fall by 5% in 2023
Estate agency Knight Frank predicts house prices will fall 5% in each of the next two years
NatWest Group forecasts that house prices will drop by 7% in 2023
Halifax expects property prices to fall 8% in 2023
The Office for Budget Responsibility (OBR) predicts that property prices will fall by 9% over the next two years
Savills predicts that property prices will fall by 10%, then rise again after a year
Credit Suisse forecasts a drop of between 10% and 15% in 2023
Lloyds bank predicts house prices will likely fall 9% over the 12 months but in the worst-case scenario, prices could fall up to 18%.
We asked property experts if they think house prices will fall.
Yes - but double-digit drops that some are predicting are unrealistic, says Marc von Grundherr, director of London lettings and estate agent, Benham and Reeves. "A further increase to interest rates will certainly spur a continued cooling in current property values but it's extremely unlikely we will see the deep freeze that many may lead us to believe. At most, we can expect a 5% drop during the first six months of the year, at which point stability will return and house prices will start to level out."
A double-digit fall is not out of the question, says Chris Hodgkinson, managing director of House Buyer Bureau. "While there's no need to buckle up for a house price crash, we can confidently expect property values to decline quite significantly over the coming year, with a double-digit decline unlikely, but certainly not out of the question. Those entering the market to sell will still be able to find a buyer due to the shortage of stock available. But while a continued imbalance between supply and demand will allow them to sell, they will no longer hold the power where negotiations are concerned and will find the hefty premiums secured during the pandemic market boom are no longer on the table."
Yes, perhaps around 10%, says Ray Boulger, senior mortgage technical manager at the mortgage broker John Charcol: "I think we can expect to see a significant fall in house prices, perhaps around 10% next year. The key factor is how much people can afford on their monthly mortgage. With the cost shooting up so far a lot of people thinking of buying are going to rethink those plans. They may not buy at all. If they are going to buy, they will buy at a lower level."
Yes, at a faster rate than they already are, says Jamie Lennox, director at Norwich-based mortgage broker, Dimora Mortgages: "The cuts to the capital gains allowance threshold [in the Autumn Statement] could be the final nail in the coffin for small buy-to-let owners. They're already facing rising rates and the reality is that they can't borrow enough on a remortgage to switch lenders. This could lead to a huge sell-off from landlords that could lead to house prices dropping at a faster rate than they already are."
House price falls are not that alarming if you think about it, says Nathan Emerson, chief executive at the professional body Propertymark. "If you dig under the surface, prices are really not as alarming as they seem. Although house prices are coming down, they are still between 19% to 20% higher than in March 2020. This means that even with a further 10% drop next year being predicted, most homeowners will still have gained a 10% rise in the value of their property since before the pandemic."
How can I find the right mortgage for me?
As lenders continue to decrease their mortgage rates, check out our regularly updated best mortgage deals. You can also seek guidance from comparison websites like Go Compare.
There are also ways to temporarily lower your mortgage bill too.
Ask your lender about the possibility of a payment holiday for some months. It will cost you in the longer term but may be suitable for you in the shorter term while you navigate the cost of living crisis.
Extend your term. Mortgages are usually set at 25 years. If you increase this to 35 years this will lower your monthly mortgage payments - but it will cost you more overall in the long term as you will be paying interest for longer.
Switch to an interest-only mortgage. Again this saves you money in the short term but adds to your loan in the long-term.
Other ways to find the right mortgage for you include:
Speak to a mortgage broker who is able to search the whole market and access exclusive deals rather than one who is restricted to a small number of lenders. Do check what fee they charge first.
Improve your chances of getting a better rate by improving your credit score if necessary and limiting your spending in the months beforehand to make any loan application look more affordable. If self-employed, gather all your paperwork for a smooth application.
Use our simple mortgage calculator to work out exactly how much you can borrow.
Read next
Look After My Bills Newsletter
Get the best money-saving tips, tricks and deals sent straight to your inbox every week. Make sense of your money in partnership with The Money Edit.
Katie is staff writer at The Money Edit. She was the former staff writer at The Times and The Sunday Times. Her experience includes writing about personal finance, culture, travel and interviews celebrities. Her investigative work on financial abuse resulted in a number of mortgage prisoners being set free - and a nomination for the Best Personal Finance Story of the Year in the Headlinemoney awards 2021.