Spray foam insulation: is it a good idea or will I struggle to remortgage or sell my home?
Around 250,000 households have bought spray foam insulation in recent years. We explain the risks for your roof and plans to remortgage or sell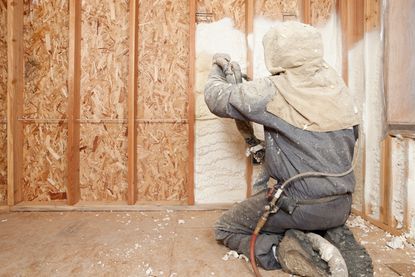 (Image credit: Getty images)
The huge spike in energy costs has led some homeowners to invest in spray foam insulation to limit heat escaping from their property and reduce bills.
Spray foam has been a popular insulation choice in recent years to cut energy costs. As many as 250,000 homes have spray foam insulation in lofts, roofs, walls and floors to improve the property's energy efficiency, according to the Property Care Association.
But because the spray foam industry is unregulated, concern is growing among industry experts and mortgage lenders that cowboy traders are not installing it correctly, not using the right foam nor checking if it is right for the property.
It can result in the foam not providing the right ventilation, which in turn causes roof timbers to rot.
It means homeowners face damage to their roof and may find it difficult to remortgage or even sell their property.
Trudy Woolf, a RICS chartered surveyor and sustainability expert, says more than 250,000 properties could be affected by these issues. "Because it's not regulated we're not able to fully quantify it. People may have innocently bought or inherited a property with spray foam insulation."
If you're considering getting spray foam insulation, we explain what you need to know.
Spray foam insulation: what you need to know
Will spray foam insulation mean I struggle to remortgage or sell my home?
The bad news is that lenders can reject mortgage applications on homes that have spray foam insulation.
David Hollingworth, a spokesperson for London & Country mortgage brokers said: "Many lenders will approach the use of spray foam on a case-by-case basis and rely on the valuer's comments to assess whether it could cause an issue."
He says that common problem areas could be:
where spray foam encompasses the structural timbers, not just the space between rafters
where spray foam has been used as a remedy for a defective roof
"Where it's been used on a defective roof, it's likely that a mortgage application will prove unsuccessful," adds Hollingworth.
Nationwide told the Money Edit that in cases where a valuer sees evidence of spray foam, it will require documentary evidence that it has been installed correctly before it will lend. "We have seen cases that do not comply with manufacturer's recommendations and, in such circumstances, there is an inherent risk of causing damage to the roof structure, which can lead to costly repair bills and the need for the spray foam to be removed."
If the valuer can't assess the insulation work - after all, there is no easy way to see the roof timbers to confirm they are in good condition after being sprayed - it could lead to a need for a structural survey and other requests.
Woolf says the requirements will vary across lenders. "Depending upon the adequacy of the roof timbers there may be a requirement for a structural engineers report, some lenders may require a pre-survey suitability report and a condensation risk assessment. And in some circumstances a qualified Chartered Building Surveyor may have to be instructed to complete an invasive inspection on the structural integrity of the timbers."
You might even have to spend money on removing the spray foam.
If you ultimately struggle to secure a mortgage, you could try specialist mortgage lenders such as Norton Home Loans, Precise Mortgages and Together Mortgages.
How much does it cost to remove poorly-installed spray foam insulation?
If you do have to remove the spray foam insulation from your home, the cost will depend on a number of factors including the size of the roof, the thickness of the insulation and its location.
"It is a very labour intensive process and you need a skip to take the removed spray foam. It's especially hard on properties with big roofs like bungalows," points out Woolf.
The cost of removing roof insulation from an average three-bedroom detached property could cost £3,000-£3500 plus VAT, according to Checkatrade.
In one case, a woman told the Daily Mail she spent £4,000 to remove spray insulation that had cost £5,000 to install.
What to look for if installing spray foam insulation
The quality of installation will play a big part in whether the spray foam will be acceptable to a valuer/surveyor and secure a mortgage loan so it makes sense to do your research.
Woolf says: "If you are going to install spray foam insulation you really need to do your due diligence."
It's difficult to be definitive here because the industry is in the process of creating a code of conduct that would require all spray foam installers to carry out a set number of procedures such as pre-installation surveys, moisture readings and signing-off documents.
Until these new protocols are in place this is what you should be looking out for when installing spray foam insulation:
an expert building surveyor (independent to the installer and manufacturer) who can carry out pre-installation assessment tests and tell you if spray foam is right for your property
installed by a company certified to the PAS 2030 standard (Trustmark registered)
appropriate warranty which should be transferable to future owners
For the time-being it is likely alternatives will be a better option for your home.
check if traditional insulation methods and new windows might be a better option. We explain how home insulation grants can help you afford loft and cavity wall insulation and save you up to £1,060 annually on energy bills
check if solar panels or a heat pump might be a better investment in your home that will help you reduce energy costs
Read more on mortgages
Look After My Bills Newsletter
Get the best money-saving tips, tricks and deals sent straight to your inbox every week. Make sense of your money in partnership with The Money Edit.
Katie is staff writer at The Money Edit. She was the former staff writer at The Times and The Sunday Times. Her experience includes writing about personal finance, culture, travel and interviews celebrities. Her investigative work on financial abuse resulted in a number of mortgage prisoners being set free - and a nomination for the Best Personal Finance Story of the Year in the Headlinemoney awards 2021.