What will a Bank of England interest rate rise mean for your mortgage rate and payments?
The Bank of England could raise rates again when it meets on Thursday, potentially hiking rates to 4.25%. We explain what it could mean for your mortgage - and how to get help if you're struggling with payments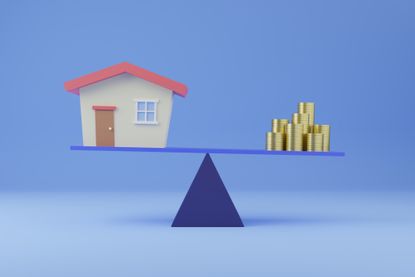 (Image credit: Getty images)
Look After My Bills Newsletter
Get the best money-saving tips, tricks and deals sent straight to your inbox every week. Make sense of your money in partnership with The Money Edit.
Thank you for signing up to The Money Edit. You will receive a verification email shortly.
There was a problem. Please refresh the page and try again.
Homeowners are bracing themselves for another increase in their mortgage payments, as the Bank of England meets to discuss raising interest rates again on 23 March.
Interest rates currently sit at 4%, after a year of rate hikes to curb the cost of living crisis.
There's a chance the Bank could raise rates to 4.25%, marking the 11th consecutive increase, and pushing rates up to levels not seen since November 2008.
However, there's also a chance the Bank could press "pause" and decide not to change rates on Thursday, as inflation was slowing down, though there was a surprise increase in inflation rates announced for February. The mini banking crisis seen in the past few days from the US - including the collapse of Silicon Valley Bank and the dramatic takeover of Credit Suisse - has also thrown a spanner in the works for the Bank of England's decision-making process.
Susannah Streeter, head of money and markets at the investment platform Hargreaves Lansdown, explains: "A week ago a rate rise seemed nailed-on, but the woes of a handful of banks have loosened convictions considerably. The Bank could go either way on whether to raise or pause again. However, even if it chooses to wait for the dust to settle, this may not be the last of the rate rises."
We look at how a rate rise to 4.25% could impact your mortgage, as well as looking at options for first-time buyers and those coming to the end of a fixed rate mortgage deal.
What will an interest rate rise mean for your mortgage payments?
As interest rates have increased, so too have mortgage rates as lenders waste no time in passing on increases.
The average two-year fixed rate now stands at 5.32%, according to the data provider Moneyfacts. Last March, it was 2.65%.
Meanwhile, the average five-year fixed deal is 5%. A year ago, the average rate was just 2.88%
If the Bank of England chooses to raise rates further on 23 March, this will almost certainly cause banks and building societies to change mortgage rates again.
This will spell bad news if you're a first-time buyer, on a variable rate or if you're coming to the end of a fixed-rate mortgage and looking to remortgage.
For the average UK property costing £270,708 with a 75% LTV, a 0.25 percentage point hike means monthly mortgage repayments will increase by £26, according to the consumer credit site TotallyMoney.
It means customers will be forking out an extra £456 each month when compared to December 2021 - just before the series of Bank rate hikes began.
For a £400,000 property, increasing Bank rate to 4.25% - and a mortgage provider passing this rise onto customers - would represent an additional £48 on people's monthly repayments. In other words, a cumulative increase of £919 since December 2021.
Homeowners nearing the end of their fixed rate face a tricky decision
The group of people who face perhaps the biggest shock in mortgage payments are those who fixed their mortgage rate a couple of years ago and are now coming to the end of their deal, says head of personal finance at AJ Bell, Laura Suter.
This accounts for 1.4m people who will be remortgaging this year.
Those customers could see thousands of pounds added to their annual mortgage bill, depending on what rate they previously had (which could be around the 1% mark), and what deal they manage to grab now (likely to be above 5%).
If your deal is coming to an end within the next six months, you can often lock in a new mortgage deal three to six months before your current one finishes.
Having said that, if your fixed rate hasn't finished yet, it could be prudent to wait and see what happens over the coming weeks in case mortgage lenders cut their rates.
Some mortgage lenders have already reduced their rates. First Direct has cut rates across more than 30 mortgages, including its 90% LTV 5 Year Fixed Standard rate (now 4.49%, a reduction of 0.2%). Others have raised rates.
Some of the best deals are being pulled quickly, meaning you'll need to act fast if you're looking for a new mortgage. It may make sense to use a mortgage broker who can check what's out there and keep on top of the best deals.
Adrian Lowery, a financial analyst at the investment platform Bestinvest, says homeowners should consider overpaying on their mortgage in order to bring it down a loan-to-value bracket – such as from 75% to 70% - before they remortgage, as this will get them a better rate.
If you're wondering if you should fix your mortgage, and how long for, take a look at Should I fix my mortgage rate?
First-time buyer mortgages - stop and think
First-time buyers will no doubt be feeling disheartened at the prospect of rising mortgage rates.
Suter says people who are already part-way through the buying process, with a mortgage offer in hand, should likely press on with the deal.
Note there are efforts to help first-time buyers secure home loans with small deposits, as the Treasury is planning to extend its mortgage guarantee scheme. The scheme, which has helped 21,000 first-time buyers so far, allows lenders to buy an insurance policy from the government for mortgage loans taken out by homebuyers with a deposit of less than 10%.
If you're wondering whether to go ahead and buy a property, and what could happen to house prices during the cost of living crisis, read our latest house prices article.
Bad news for 1.9m homeowners on variable rates
A rate rise has a big impact on homeowners with variable rates. Around 1.9m homeowners - about a fifth of all mortgage holders - are on a variable-rate deal. Of those, about 800,000 are on a tracker deal with the rest stuck on a standard variable rate (SVR), which tends to be the highest rate charged by a lender.
The average SVR now sits at 7.12%, according to Moneyfacts.
Mortgage lenders are normally quick to pass a rise in interest rates onto SVR customers.
A homeowner on an SVR with £200,000 borrowing could see their monthly mortgage bill rise from £1,414 to £1,446, if the Bank of England hiked rates to 4.25%, and the lender passed the full 0.25 percentage point increase onto customers. This is based on a 7% SVR rising to 7.25%. Over a year, the extra cost would be £384.
Support for mortgage borrowers who are struggling
Regardless of whether interest rates are hiked again this month, thousands of homeowners are already struggling to afford their repayments.
An estimated 356,000 mortgage borrowers could face payment difficulties by June next year, according to the financial regulator.
Recently, the Financial Conduct Authority (FCA) set out a number of ways in which it expects mortgage lenders to support borrowers. These include temporarily reducing the mortgage rate, giving customers more time to make payments, extending the term of the agreement, and switching to interest-only.
So far, more than 2 million borrowers have been helped. However, some may be missing out as 47% of borrowers in financial difficulty wrongly believe they would impact their credit file if they contacted their lender regarding support, according to the FCA.
Alastair Douglas, chief executive of TotallyMoney, comments: "The Bank of England's rampage on interest rates has pushed people's finances to the limit.
"If you're having difficulties keeping up with mortgage repayments, get in touch with your lender as soon as possible [to see what support is available]. While contacting your lender won't affect your credit score, missing payments can. It might make accessing credit more difficult for years to come, while putting the best offers out of reach for loans, mobile phone contracts, and car insurance."
Look After My Bills Newsletter
Get the best money-saving tips, tricks and deals sent straight to your inbox every week. Make sense of your money in partnership with The Money Edit.
Ruth Emery is contributing editor at The Money Edit. Ruth is passionate about helping people feel more confident about their finances. She was previously editor of Times Money Mentor, and prior to that was deputy Money editor at The Sunday Times. A multi-award winning journalist, Ruth started her career on a pensions magazine at the FT Group, and has also worked at Money Observer and Money Advice Service. Outside of work, she is a mum to two young children, a magistrate and an NHS volunteer.
With contributions from