What will Bank of England interest rises mean for your mortgage rate and payments?
There's a strong chance the Bank of England will hike interest rates to 1.75% next week. We look at the impact it could have on your mortgage rate.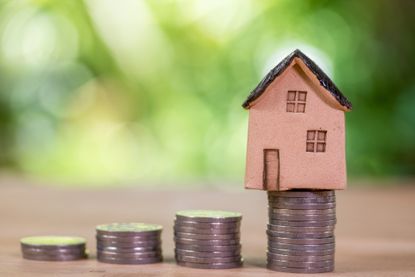 (Image credit: Getty images)
The Bank of England is widely expected to raise interest rates by 0.5 percentage points from 1.25% to 1.75% in a bid to combat soaring inflation. We look at the impact it could have on your mortgage rate.
Andrew Bailey, the Bank of England (opens in new tab) governor, has previously said that a 0.5 percentage point hike in rates - the biggest increase in almost 30 years - was "on the table" for the 4 August announcement. Analysts and economists are also pricing in a rate rise to 1.75%.
If it happens, it would mark the fifth time this year that interest rates have risen. It would also be the biggest jump since 1995, as rates tend to only move by 0.25 percentage points, or less.
The consultancy Capital Economics (opens in new tab) believes the Bank will raise rates by 0.5 percentage points when it meets next Thursday, and says households should get ready for more big rate rises in future.
It said: "[The Bank] may be willing to raise rates by 0.5 percentage points at future meetings if there are no signs that domestic price pressures are easing. That would support our view that interest rates will peak at 3% by May next year, if not before".
What will an interest rate rise mean for your mortgage payments?
As interest rates have increased this year, so too have mortgage rates.
The average two-year fixed rate has risen for nine consecutive months - and is now at a nine-year high - according to the data provider Moneyfacts (opens in new tab). The average two-year fix stands at 3.74%. In December, it was 2.34%.
Meanwhile, five-year mortgage rates are at their highest since 2014, according to Moneyfacts. The average five-year rate is 3.89%; in December it was 2.64%
A 0.5 percentage point rise by the Bank of England next week will almost certainly cause banks and building societies to raise their mortgage rates again.
It's bad news if you're a first-time buyer or if you're coming to the end of a fixed-rate mortgage and looking to remortgage.
Fixed rate mortgage deal ending soon? Lock in a new deal ASAP
According to Laura Suter, head of personal finance at the investment platform AJ Bell (opens in new tab), the group of people who face perhaps the biggest shock in mortgage payments are those who fixed their mortgage rate a couple of years ago and are now coming to the end of their deal. "They took out their mortgages when rates were rock bottom, and will be coming off those fixes into a far higher interest rate environment.
Someone who fixed their mortgage two years ago with £200,000 of borrowing is facing a £1,524 annual increase.
"If we assume the Bank increases rates to 1.75% next week and that is passed on in mortgage rates, that means those people remortgaging who are coming off a two-year fix will see a £2,100 a year rise in costs."
If your deal is coming to an end within the next six months, bear in mind that you can often lock in a new mortgage deal three to six months before your current one finishes. With interest rates forecast to rise next week (and climb again later this year), it makes sense to find a new deal as quickly as possible.
Adrian Lowery, a financial analyst at the investing and coaching platform Bestinvest (opens in new tab), says homeowners should also consider overpaying on their mortgage in order to bring it down a loan-to-value bracket – such as from 75% to 70% - before they remortgage, as this will get them a better rate.
First time buyer mortgages - speed is of the essence
For first-time buyers, Eleanor Williams, finance expert at Moneyfacts, has this advice: "Prospective mortgage borrowers who are looking for peace of mind with their mortgage payments over the next few years might want to consider securing a fixed mortgage to protect them from potential future rate rises.
"However, the mortgage landscape is a very fluid one as providers amend and revise their product ranges, and deals are not staying on the shelf for long, so speed could be of the essence."
Bad news for 1.9m homeowners on variable rates
It will also have a big impact on homeowners on variable rates. Around 1.9m homeowners - about a fifth of all mortgage holders - are on a variable-rate deal. Of those, about 800,000 are on a tracker deal with the rest stuck on a standard variable rate (SVR), which tends to be the highest rate charged by a lender.
This month, the average SVR topped 5% for the first time in more than 13 years. It now sits at 5.06%.
Mortgage lenders are normally quick to pass a rise in interest rates onto SVR customers.
If the Bank of England did increase rates to 1.75%, and mortgage lenders did pass the full increase onto SVR holders, this would give an average SVR of 5.56%.
We asked Moneyfacts to calculate how this could impact someone with a £200,000 mortgage balance and a 25-year mortgage term.
Their monthly payment would rise from £1,176 to £1,235, meaning they would need to find an extra £59 a month to pay their mortgage. Over a year, this represents a total extra cost of £708.
SVR customers with larger mortgage balances will see their monthly payments rise even higher, with some needing to fork out an extra £1,000 or more each year.
I've got a variable rate mortgage, what can I do?
Explore your mortgage options sooner rather than later to fight back against rising interest rates.
Anyone on an SVR who is able to switch should strongly consider doing so.
It could be possible to move to a decent rate with your current lender, or you could use a comparison site to get a sense of the best rates on the market.
If you need some advice, or your situation is complicated (such as you're self-employed, or you're thinking of moving house), use a mortgage broker to assess your options.
Ruth Emery is contributing editor at The Money Edit. Ruth is passionate about helping people feel more confident about their finances. She was previously editor of Times Money Mentor, and prior to that was deputy Money editor at The Sunday Times. A multi-award winning journalist, Ruth started her career on a pensions magazine at the FT Group, and has also worked at Money Observer and Money Advice Service. Outside of work, she is a mum to two young children, a magistrate and an NHS volunteer.