What will a Bank of England interest rate rise mean for your mortgage rate and payments?
The Bank of England is widely expected to raise rates again when it meets on 3 November. We explain what could happen - and what it will mean for your mortgage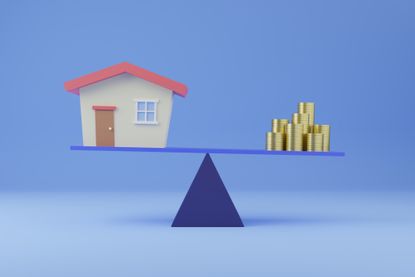 (Image credit: Getty images)
Homeowners are bracing themselves for another increase in their mortgage payments, with the Bank of England widely expected to hike interest rates again next month.
Interest rates - which are currently set at 2.25% - could jump to 3.25% on 3 November, and could rise as high as 6% next year.
A rate increase next month would mark the eighth time in a row that the Bank has hiked rates, piling pressure on borrowers, who haven't seen rates like this in 14 years.
Increasing rates by a full 1 percentage point in November would represent a huge move; rate changes are usually 0.5 percentage points or less. If rates go up to 3.25%, it would be the first rise of this size in 33 years. Back in October 1989, rates increased from a staggering 13.75% to an even more staggering 14.875%.
According to the consultancy Capital Economics (opens in new tab), rates are likely to soar by at least 1 percentage point in both the November and December meetings, and peak at 5% next year.
Other experts are forecasting rates could go as high as 6% next summer.
Alice Haine, personal finance analyst at Bestinvest (opens in new tab), comments: "Chancellor Kwasi Kwarteng's raft of tax-cutting measures - which were announced with the absence of forecasts and new fiscal rules - spooked the financial markets, triggering a surge in borrowing expectations. While the 45p tax rate cut for the highest earners was later reversed, markets still expect the Bank of England to increase interest rates to above 5.5% by the summer next year."
With this in mind, we look at how interest rates rising to 3.25% could impact your mortgage, and also how subsequent rises to 4%, 5% and even 6% could affect your payments.
What will an interest rate rise mean for your mortgage payments?
As interest rates have increased this year, so too have mortgage rates.
The average two-year fixed rate now stands at 6.46%, according to the data provider Moneyfacts. In December, it was 2.34%.
Meanwhile, the average five-year fixed deal is 6.28%. In December, the average rate was just 2.64%
If the Bank of England chooses to raise rates further on 3 November, this will almost certainly cause banks and building societies to change mortgage rates again.
This will spell bad news if you're a first-time buyer, on a variable rate or if you're coming to the end of a fixed-rate mortgage and looking to remortgage.
Here's a look at what will happen to mortgage payments if lenders pass on base rate increases compared to the current base rate of 2.25%
Swipe to scroll horizontally
| Amount borrowed | Base rate | Extra annual cost | Extra monthly cost |
| --- | --- | --- | --- |
| £200,000 | 3.25% | £1,296 | £108 |
| £200,000 | 4% | £2,328 | £194 |
| £200,000 | 5% | £3,768 | £314 |
| £200,000 | 6% | £5,268 | £439 |
HOMEOWNERS NEARING THE END OF THEIR FIXED RATE FACE A TRICKY DECISION
Head of personal finance at the investment platform AJ Bell (opens in new tab), Laura Suter tellsThe Money Edit the group of people who face perhaps the biggest shock in mortgage payments are those who fixed their mortgage rate a couple of years ago and are now coming to the end of their deal.
"They took out their mortgages when rates were rock bottom, and will be coming off those fixes into a far higher interest rate environment."
Those customers could see thousands of pounds added to their annual mortgage bill, depending on what rate they previously had (which could be around the 1% mark), and what deal they manage to grab now (likely to be above 5%).
Suter comments: "Anyone trying to remortgage or get on the property ladder at the moment will have already seen interest rates shoot up, thanks to the turmoil in the bond market. That means anyone hunting for a new deal will find much of the next Bank of England rate hike already baked into the deals they are being offered."
If your deal is coming to an end within the next six months, you can often lock in a new mortgage deal three to six months before your current one finishes. With interest rates forecast to climb in November and December, it could make sense to find a new deal as quickly as possible.
On the other hand, the market is seeing a huge amount of turmoil at the moment, with rumoured U-turns by the government, and a "medium-term fiscal plan" being delivered by chancellor Kwasi Kwarteng on 31 October. If your fixed rate hasn't finished yet, it could be prudent to wait and see what happens over the coming weeks in case interest rate forecasts change and mortgage lenders cut their rates.
Adrian Lowery, a financial analyst at Bestinvest, says homeowners should also consider overpaying on their mortgage in order to bring it down a loan-to-value bracket – such as from 75% to 70% - before they remortgage, as this will get them a better rate.
If you're wondering if you should fix your mortgage, and how long for, take a look at Should I fix my mortgage rate?
FIRST-TIME BUYER MORTGAGES - STOP AND THINK
First-time buyers will no doubt be feeling nervous about the economic turmoil. Hundreds of mortgage deals were pulled at the end of September, after the mini-Budget spooked investors and lenders.
While some sort of normality has resumed, mortgage rates have risen sharply, with many deals priced above 6%. This is despite the Bank rate being far lower, at just over a third of this level - 2.25%.
Suter says people who are already part-way through the buying process, with a mortgage offer in hand, should likely press on with the deal, "and just pray it doesn't fall through before their mortgage offer expires.
"This is because any rates secured before the government's mini-Budget last month will be far lower than what those homebuyers would be offered today."
She adds: "However, if you're in the early stages of buying and haven't found a property or secured a mortgage deal, you might want to wait on the sidelines for a while before you take that leap. The market is seeing a huge amount of turmoil and lots of people might prefer to wait until the dust settles so they can see where both mortgage rates and the housing market land before making that next move."
If you're wondering whether to go ahead and buy a property, and what could happen to house prices during the cost of living crisis, read our latest house prices article.
Bad news for 1.9m homeowners on variable rates
A rate rise also has a big impact on homeowners with variable rates. Around 1.9m homeowners - about a fifth of all mortgage holders - are on a variable-rate deal. Of those, about 800,000 are on a tracker deal with the rest stuck on a standard variable rate (SVR), which tends to be the highest rate charged by a lender.
The average SVR recently topped 5% for the first time in more than 13 years. Last month it rose to 5.4%, and now sits at 5.63%, according to Moneyfacts.
Mortgage lenders are normally quick to pass a rise in interest rates onto SVR customers.
Suter at AJ Bell says a homeowner on a variable deal with £200,000 borrowing could see their mortgage costs rise by £1,296 a year, if the Bank of England hiked rates to 3.25% next month, and the lender passed the full 1 percentage point increase onto customers.
Those with £300,000 borrowing would be facing a £1,956 annual increase, while those with a £400,000 balance would see an eye-watering £2,616 jump in their yearly mortgage bill.
WHAT ABOUT IF INTEREST RATES JUMP TO 4%, 5% - OR EVEN 6%?
If Bank rate moves even higher, and this is passed onto variable mortgage-rate customers, those homeowners should prepare for a massive hike in their bills.
Someone with £200,000 borrowing would see their annual mortgage payments balloon by £2,328 if rates hit 4%. At 5%, homeowners would need to find an extra £3,768. At 6%, the extra annual payment is £5,268.
A customer with £300,000 borrowing would need to find an extra £7,896 a year if Bank rate rose to 6%, while someone with a £400,000 mortgage would need to find a staggering £10,536.
Suter calls the figures "dramatic" and says they would put households under immense pressure, who are already dealing with higher prices during the cost-of-living crisis.
Ruth Emery is contributing editor at The Money Edit. Ruth is passionate about helping people feel more confident about their finances. She was previously editor of Times Money Mentor, and prior to that was deputy Money editor at The Sunday Times. A multi-award winning journalist, Ruth started her career on a pensions magazine at the FT Group, and has also worked at Money Observer and Money Advice Service. Outside of work, she is a mum to two young children, a magistrate and an NHS volunteer.