Raising money for an extension project: where to start
We explain the different ways you might want to finance your home extension project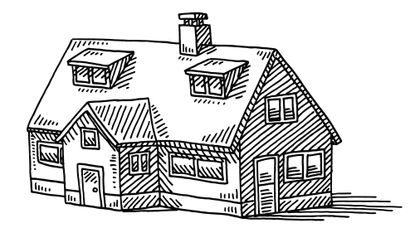 (Image credit: getty images)
As anyone who has opened a builder's quote in recent years will be able to attest, home renovations do not come cheap, so if you're looking to extend your home you may well have to borrow money to fund your project.
From using savings or extending your current mortgage to taking out another loan, we explore the most cost-effective options for raising the cash.
Using savings and investments
The most cost-effective way of paying for any work is to pay with money you have in savings or investments. You won't get into debt, however it's important to make sure you still have enough money for an emergency or any other big expenses further down the line.
Pros and cons:
It's interest-free, so you won't pay a penny to a lender.
However, if you run your savings down too low you may not have enough money for surprise expenses. It's usually recommended you keep three to six months' expenses in a rainy-day fund. Over 55s should think very carefully about taking money out of a pension, in addition to a potentially large tax bill you will be reducing your future retirement income.
Remortgage your home
If you are comfortable managing your current mortgage repayments and have a decent amount of equity in your home, you could remortgage.
(MORE: Latest remortgage deals)
Remortgaging involves taking out a new mortgage on your property and using that money to pay off your old mortgage. Many borrowers do this to get a cheaper interest rate, but by requesting a loan greater than your outstanding mortgage, it's also a straightforward way of borrowing more money.
You can remortgage with your current lender but to get the cheapest rate it's best to shop around.
How much you can borrow will depend on how much equity you have in your home and how much its value has risen by since you bought it. The lender will also need to do a full credit check and affordability assessment to ensure you will be able to afford your new repayments.
Pros and cons:
Mortgage rates are low compared to other forms of credit and because the extra borrowing will be repaid over the term of your remaining mortgage (which could be 20 years or more), monthly repayments should be manageable.
However, the longer you take to repay a loan, the more interest you will pay overall.
If your credit record has deteriorated since you took out your current mortgage you may also struggle to get the terms or loan size you need.
Second mortgages
If you cannot, or do not want, to remortgage, (perhaps you have early repayments charges or a great interest rate) you may be able to take out a second mortgage secured on your home. They can also be particularly helpful for borrowers whose credit rating may have slipped.
Pros and cons:
Although rates may be higher than standard remortgages they are likely to have lower rates than unsecured or personal loans. Monthly repayments may also be more affordable than personal loans because they span a longer term.
However, fees on second mortgages can be high and as with any other mortgage if you don't keep up repayments your home is at risk.
(MORE: Mortgages for the over 50s)
Personal loans
Personal loans are not secured to your property or any other asset so you may also seem them called unsecured loans. You agree how much you will borrow over a specified term and make repayments each month. Home improvement loans are simply personal loans marketed to home renovators.
You can typically borrow up to £30,000 over a term of up to 10 years. Although rates are higher than mortgages, your overall borrowing costs may still be lower as the term is likely to be shorter.
Pros and cons:
An easy and convenient way to borrow and, with shorter loan terms than mortgages, you may be able to reduce your overall borrowing costs.
However with loans usually capped at around £30,000 you may struggle to finance a large project solely with a personal or home improvement loan.
Paying by credit card
Credit cards can be a quick convenient way of borrowing. Although APRs are often high, borrowers with good credit scores should be able to get 0% for an extended period either on a new purchase or balance transfer basis.
However with maximum credit limits averaging around the £3,000 -£4,000 mark they are best for smaller projects or for top-ups if you go over budget.
Pros and cons:
You may be able to borrow interest-free with an 0% credit card.
However while you might be able to put a new bathroom on a credit card, credit limits mean you may struggle to fund a complete renovation.
Overdrafts
Overdrafts are a helpful buffer if you occasionally spend more than you have in your current account. Some banks may offer a limited term interest-free overdraft to act as an incentive to open an account, or you may get a guaranteed free overdraft of say £250, however thereafter they become expensive with interest charges frequently around the 40% mark.
This means you need to pay them back quickly unless you want charges to spiral.
As such an overdraft may help you pay a bill from an odd job man but they aren't designed for funding serious renovations.
Pros and cons:
An easy way to borrow small sums, so long as you pay the money back quickly.
You cannot borrow larger sums and cost spiral if you don't pay money back quickly.
Look After My Bills Newsletter
Get the best money-saving tips, tricks and deals sent straight to your inbox every week. Make sense of your money in partnership with The Money Edit.
Rachel Lacey is a freelance journalist with more than 20 years' experience writing about all areas of personal finance and retirement planning.
After 17 years at Moneywise magazine as both writer and editor, Rachel now writes for a variety of websites and newspapers as well as corporate clients - these include Times Money Mentor, The Mail on Sunday, NerdWallet UK, Money.co.uk, The Money Edit, and Ideal Home.
She is passionate about financial education and simplifying money matters for all.