Should I fix my mortgage rate?
Interest rates are expected to rise again on the back of stubborn inflation, before falling next year. We look at the pros and cons of fixing your mortgage rate and what to consider if you need to remortgage soon.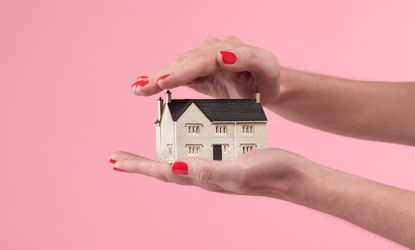 (Image credit: Getty images)
Interest rates rose to new highs in March and disappointingly high inflation figures suggest the Bank of England may raise the base rate again in May.
Should you fix your mortgage rate now or hold out in hope of interest rates going down later this year?
This is the big question facing borrowers who are coming to the end of their fixed mortgage term or who moved onto variable or tracker rates recently while waiting for rates to fall.
On 23 March, the Bank of England increased the base rate for the 11th time in two years, bumping it up from 4% to 4.25% in a bid to bring down high inflation, which rose to 10.4% in February.
Inflation remained sticky last month, staying in double figures for the seventh consecutive month at 10.1% on the back of 45-year record high food prices.
This has significantly raised the chances of the UK central bank raising the base rate again in May to bring inflation down, with the possibility of an additional rate rise later this year.
Danni Hewson, head of financial analysis at the online investment platform AJ Bell, said markets are now pricing in at least two further hikes, taking the base rate up to 4.75%, and are "split" on whether the Bank of England will need to go even further.
According to Office for National Statistics figures, more than 1.4 million people have a fixed-rate mortgage that will come to an end in 2023. They will likely have taken out their fixed-rate deal when interest rates were at rock-bottom, meaning they could be in for a nasty shock when they look to remortgage this year.
The question is whether to fix, or plump for a variable rate?
Homeowners face higher mortgage costs
Mortgage rates have fallen slightly in recent months since they spiked after the mini-Budget last October, but anyone looking to re-mortgage and fix now will find their monthly payments will be substantially higher compared to when they took out their last deal.
Meanwhile, around 1.6 million people on tracker and variable-rate deals will have experienced an increase in their monthly payments when the Bank of England hiked the base rate in March.
For example, a homeowner on a £200,000 tracker mortgage over a 25-year term at a 4.5% rate would have to fork out an extra £28 a month if the most recent interest rate rise was passed on in full, according to the investment platform Hargreaves Lansdown.
Many people opted for trackers amid the mortgage market turmoil following the mini-Budget when fixed rates soared. However, those who took the gamble would have been disappointed by last month's base rate hike because their costs would have increased yet again.
But on the plus side, if they do want to fix their mortgage rate now, rates have fallen and there are more products available now than at the end of 2022.
According to the data analyst Moneyfacts, the average two-year fix is 5.26% (compared to 5.44% in February), while the average five-year fix is 4.97% (compared to 5.2% in February).
Homeowners coming off a fixed-rate deal that do not remortgage soon will end up falling onto their lender's standard variable rate (SVR), which is the most expensive rate a lender will charge.
SVRs have soared in recent months, with the average now a whopping 7.3%.
Should you fix your mortgage rate?
Unfortunately, there is no easy answer to the question of if and when to fix because there are so many different variables at play.
The advantage of fixing your mortgage rate for a set period is it helps you to know exactly how much your monthly mortgage repayments will be, which is especially important when many households are struggling to pay bills during the cost-of-living crisis.
If the base rate rises again, your mortgage repayments won't be affected if you have a fixed mortgage rate. In other words, your monthly payment will stay exactly the same for the duration of the fixed deal (which is often for two or five years, or could even be 10 years).
But fixed rates may have higher rates than other types of mortgages, and if mortgage rates go down soon, you could end up paying over-the-odds on a fixed-rate deal for several years.
Many homeowners are left wondering whether they should hold off fixing until rates come down and instead go for a variable rate or a tracker mortgage.
One option is to fix your mortgage rate for two years instead of five years if you are not keen to fix at high rates for a long period, or choose a short-term variable rate.
The average two-year base rate tracker mortgage rate is currently 5.07%, according to Moneyfacts.
The direction of mortgage rates will depend on whether interest rates are hiked, cut or frozen, which in turn depends on inflation figures.
Sarah Coles, head of personal finance at the wealth manager Hargreaves Lansdown, said significant falls in inflation are likely to require a Bank of England rate cut, adding: "An awful lot will depend on how inflation falls in the coming months, and how the economy holds up in the interim, but it wouldn't be unreasonable to expect it to take until the beginning of 2024 before the Bank of England starts cutting rates."
According to Coles, homeowners' decision on whether or not to fix, and if so, for how long, will depend on their priorities.
"If you fix now, you're likely to see rates fall in the coming months. However, you may well be on a higher variable rate while you wait, so there's a cost involved. You might want to fix for two years on the basis that you'll pay more for it now, but rates could be lower when you come to remortgage. Alternatively, you may decide that rates have fallen far enough for it to be worth paying slightly more for the security of a fix, and fixing for longer, so you know where you stand."
The consultancy Capital Economics predicts that the Bank of England will hike rates again in May, to 4.5%, before cutting rates to 3% in 2024.
However, no one has a crystal ball, and forecasts often turn out to be wrong. Recent years have also shown us that extraordinary events (hello Covid crisis, super-high inflation, a prime minister merry-go-round, to name just a few) can have a huge impact on the economy and the direction of interest rates.
Choose a deal that's affordable and suits you
The "fixing your mortgage" dilemma depends a lot on what fixed rate you will be offered now. Some lenders have reduced their fixed rates, offering competitive products below the base rate (currently 4.25%).
Alice Haine, personal finance analyst at the investment platform Bestinvest, said: "Although interest rates are at their highest level since the financial crisis, mortgage rates have been on the slide in recent months as many lenders believe interest rates have either already peaked or will do so soon – resulting in more attractively priced products hitting the mortgage market."
Deciding whether to take a fixed rate also depends a lot on your situation, circumstances and other risk factors. You need to decide whether you are prepared to take on uncertainty in the short term or prefer to have certainty of two or five-year rates.
Gary Boakes, director at the financial adviser Verve Financial, said over the past few months fewer people have taken tracker rates as the margins between fixed rates closed. He added: "With the possibility of the base rate dropping next year then there is definitely an opportunity to save money if you are happy with the uncertainty. However, if you are going to worry every time the Bank of England's monetary policy committee meets [to set the base rate] then is it going to be worth it?"
It will largely come down to whether you can face the risk of more rises in the short term in return for a better deal further down the line. Some people will have wiggle room, but others will require more certainty.
Jonathan Burridge, founding adviser at the mortgage broker We Are Money, warned that predictions are either "lucky or wrong", so deciding when to fix based upon your own or others' forecasts "carry risks".
"If you have a budget in mind for your mortgage payment then try and work to it. This may determine not only the fixed-rate term but the overall term of the mortgage. If you are lucky enough to have savings, can you use those savings to reduce your mortgage or offset the interest you are being charged?" said Burridge.
It is essential your mortgage is affordable and suits your own circumstances. For example, if you are planning to move in a year or two, it is probably unlikely that a five-year fixed rate is sensible as otherwise you'll have to look at porting the mortgage or pay an exit penalty.
Start shopping around now before your fixed term ends
If you are within six months of the end of your current fixed-rate mortgage, you could start shopping around to find the most attractive deal, and then if a cheaper one pops up before your current end date you can always switch deals.
Because you are not tied to mortgage contracts until signing them, you can hold off signing it for a while and then switch if a cheaper one becomes available.
Mortgage offers are typically valid for between three and six months, depending on the lender.
Do check in case there is a fee to pay for switching deals like this.
If you're feeling confused or overwhelmed, consider speaking to an independent mortgage broker who can help you find the right type of mortgage best suited to your needs.
Look After My Bills Newsletter
Get the best money-saving tips, tricks and deals sent straight to your inbox every week. Make sense of your money in partnership with The Money Edit.