How to cut your mortgage costs as fixed-rate deals start to go up - do you need to remortgage?
Cutting your mortgage costs is one way to trim your debt over the long term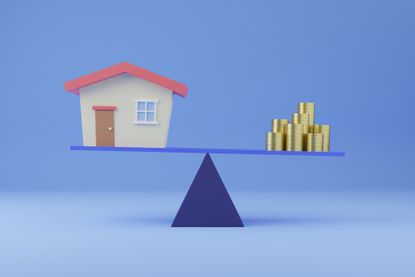 (Image credit: Getty images)
Cutting your mortgage costs is a great move to help offset rising living costs as inflation hits a 30-year high (opens in new tab) and household bills continue to rise. We explain whether you could remortgage to save money?
Your mortgage is likely to be your biggest financial commitment so trimming your largest debt as and when you can will make for the biggest savings.

At the start of May, the Bank of England raised the base rate to 1% - the fourth rise since December when it stood at a mere 0.1%. Lenders have gradually raised their mortgage rates over the same period. Savvy homeowners have rushed to remortgage and lock into a fixed rate deal before rates inevitably rise further: around 144,000 borrowers remortgaged in the first three months of 2020.
Lloyds, Britain's biggest bank, has also launched the cheapest 10-year mortgage on record with an interest rate of 1.66%.
David Hollingworth of L&C Mortgages says: "Mortgage rates have already nudged up since last year, but shopping around could give homeowners the chance to slash their outgoings and protect against further rate rises."
If you're looking to lock in a better deal, then be aware that you can apply for up to six months before your current deal ends.
We explain everything you need to know to help you save money on your mortgage costs.
Cutting your mortgage costs as fixed-rate deals start to go up - what are the cheapest deals?
The lowest initial fixed rate deal (as of 1 June 2022) available is Halifax at 2.15% fixed for two-years. It comes with a £1,499 fee and is available to those remortgaging or those purchasing with 40% equity or deposit.
The lowest fee-free deal (as of 1 June 2022) for those remortgaging is a 2.49% five-year fix from Cambridge Building Society and is available for those with 20% equity.
Borrowers need to watch the clock to lock in such deals. Rates are now available for an average of 21 days before they are withdrawn by lenders, half of what they were in February.
A homeowner with a £250,000 25-year loan who is slow to remortgage could end up paying £310 more a month on Halifax's 4.49% standard variable rate (SVR, the rate you default to if your deal runs out) than on the 2.15% deal.
A couple with a £600,000 25-year repayment mortgage would pay about £3,332 a month on Halifax's SVR, but £2,587 a month at 2.15%, according to L&C (opens in new tab)'s mortgage calculator.
"Taking no action will mean you lapse onto your lender's standard rate, which will usually lead to a hike in your monthly payments," says James Jones, Head of Consumer Affairs at Experian. "By exploring remortgage options, homeowners could secure substantial savings by switching to a new fixed-rate mortgage deal, to help offset the effects of inflation.
"With the cost of so many other things on the up, opting for fixed rate deals offers payment certainty as well as protection against rising interest rates, which could create valuable breathing room in household budgets," points out Myron Jobson, senior personal finance analyst at interactive investor
Meanwhile, Lloyds' 1.66% 10-year mortgage deal is restricted to remortgage customers who have at least 40% deposit and a £1,000 fee applies. If you end up wanting to switch away from Lloyds in the first five years you'll have to pay an early repayment chrge of 6% - considered slightly above the market rate. However, after five years the penalty drops to 1% on a sliding scale.

What to consider if you have a tracker mortgage
Around 850,000 households are on tracker mortgages which follow the base rate, according to bank trade body UK Finance (opens in new tab). Lenders give a month's notice before they adjust repayments.
This means that when the base rate rose on December 16 (opens in new tab) , borrowers on tracker deals saw their mortgage payment increased the following month.
For example, if your mortgage was 2% plus the base rate (previously 0.1%), your tracker mortgage would have been 2.1%. When the base rate rose to 0.25% in December, your tracker mortgage became 2.25% from January 2022.
When the base rate then rose to 0.5% on February 3, the same tracker mortgage became 2.50% from March.
When the base rate rose yet again to 0.75% on March 17, the same tracker mortgage became 2.75% from April.
Now the base rate has risen yet again to 1% (in May), the same tracker mortgage will become 3% from June.
If you're on a tracker deal and not close to paying off your mortgage and not considering moving home then it could be worth looking at a fixed-rate mortgage deal. The alternative is seeing your monthly payments getting steadily more expensive this year.
Reasons to remortgage
Your current deal is about to end
When your mortgage deal ends, your lender automatically puts you on their standard variable rate (SVR). This will be higher than your old interest rate and higher than the best buys available. To avoid higher monthly payments, be ready to remortgage to a cheaper rate.
You want a better rate
Research shows there are better deals on the market. You might have to pay an early repayment charge which can be huge. This doesn't mean you shouldn't consider it as the longer-term savings can be significant (especially if you have a large amount of mortgage debt). You need to do the maths.
Your property's value has gone up
If your property's value has risen rapidly since you took out your mortgage, you may find you're in a lower loan-to-value band, and therefore eligible for much lower rates. Again, you need to do the maths but it's worth considering.
You're worried about rates going up because you have a tracker mortgage
Currently the Bank of England base rate is only 0.1% – very low - but if it rises and you have a tracker mortgage this will affect your mortgage payments.
You want to overpay but your lender won't let you
Perhaps you want to pay extra due to a windfall or pay rise but your current lender won't let you or will only let you make a small overpayment. A remortgage will allow you to reduce the loan size and maybe get a cheaper deal. Factor in any early repayment charges or exit fees you face, and do the maths to ensure you would be saving with a new, lower mortgage.
The cost of living squeeze
As the threat of rising inflation and tax rises squeeze household budgets ever more, trimming your mortgage costs could help your overall finances. Eleanor Williams, finance expert at Moneyfacts, says the squeeze on household finances this year is reason enough to scrutinize mortgage costs. "With the potential for the Bank of England to apply further increases to the base rate in the coming months, there is no guarantee that the cost of borrowing on mortgages will not continue to rise overall. That's enough motivation for borrowers to act sooner than perhaps they might have planned to in considering securing a new mortgage deal."
Reasons to not remortgage
Your mortgage debt is less than £50,000
Once your mortgage debt falls below £50,000, it may not be worth switching lenders simply because you are less likely to make a saving if the fees are high - the smaller your mortgage, the bigger the impact of any fees you need to pay. Some lenders won't actually take on mortgages below £25,000.
Your early repayment charge is large
If the maths reveals it would cost too much to detach from your current deal, then consider alternative plans. Ask your lender to let you switch to another of its deals (ie, do a product transfer) by paying a reduced early repayment charge. Or bide your time and get ready to move as soon as you can.
Your financial circumstances have changed
Affordability checks apply to remortgaging too. If you (or your partner) have become self-employed, or been furloughed and are working reduced hours, then be aware lenders may not be prepared to offer you a mortgage deal because you no longer fit their criteria. Check the best deal your existing lender will give you (ie, do a product transfer) or bide your time and get ready to move as soon as you can.
You have very little equity
If you need to borrow more than 90% of the value of your property, then you'll struggle to find a better rate. "There are some deals that are available to remortgage borrowers here but the range of options will be more limited," explains mortgage expert David Hollingworth. "Rates will be higher so the potential savings are likely to be more limited. See what the existing lender may offer as a rate to switch to and compare with products in the broader market. They are still likely to beat a lender SVR."
How do I remortgage?
Start looking around six to eight months before your mortgage deal ends. Most lenders let you agree a new rate six months before yours ends, and you can still change it if a better one comes along.
The first step would be to dig out any paperwork relating to the current mortgage deal, check the end dates of your current deal, or alternatively contact the existing lender to find out the details.
Do your research and use a comparison site that includes direct only deals (not just for mortgage brokers). Make a note of the cheapest possible deal for you in your personal circumstances.
Early repayment charges can be significant - often 2-5% of your outstanding loan - so factor this amount into the term of your prospective mortgage deal.

Check with the lender whether it would waive an early repayment charge if your personal situation changed, for example if you lose your job. Do this before you apply.
Mortgage fees are also significant. If you are looking at a two-year fixed deal with a £2,500 fee that's essentially an extra £104 a month (£2,500 divided by 24 months) on top of your new monthly payment - is this a good deal?
Consider using a mortgage broker. They understand what lenders want so they can best match you to a mortgage you will be accepted for. Some brokers do charge a fee so again it's a cost you have to be willing to pay. And be aware that brokers do not have to tell you about every deal on the market. It's why it's important to do your own research via comparison sites that include direct deals only.
Katie Brain says: "If there are no early repayment charges, then it could be a good time to review with a professional mortgage adviser to either re-mortgage to a different lender, or stay with your existing lender depending on what deals are available. However if they are on a fairly competitive rate or have very high repayment charges it may not be the right time to change your mortgage deal, but make sure you diarise when the mortgage deal or charges end to review then."
Additional reporting by PA
Katie is staff writer at The Money Edit. She was the former staff writer at The Times and The Sunday Times. Her experience includes writing about personal finance, culture, travel and interviews celebrities. Her investigative work on financial abuse resulted in a number of mortgage prisoners being set free - and a nomination for the Best Personal Finance Story of the Year in the Headlinemoney awards 2021.