Mortgage types explained: which one is right for you?
Different mortgage types may seem confusing. We explain everything you need to consider when you apply for one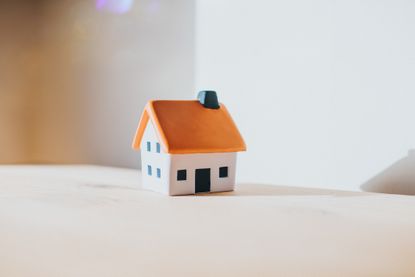 (Image credit: Getty)
Look After My Bills Newsletter
Get the best money-saving tips, tricks and deals sent straight to your inbox every week. Make sense of your money in partnership with The Money Edit.
Thank you for signing up to The Money Edit. You will receive a verification email shortly.
There was a problem. Please refresh the page and try again.
The different mortgage types available need to be understood. Your mortgage is going to be one of your biggest financial commitments, so it's important to choose the one that is right for you. The wrong mortgage could cost you thousands of pounds.
The property market has cooled after a rise in mortgage approvals in recent months as buyers tried to benefit from temporary stamp duty relief, figures from the Bank of England show. Mortgage approvals fell from 80,272 in June to 67,200 in October, the lowest since June 2020, and close to the monthly average in the year before the pandemic.
If you're looking to get a mortgage approval, here are the different types of mortgages you need to know about.
Mortgage types explained
Fixed-rate mortgages
Let's start our mortgage types roll call with the fixed-rate deal. This is the most common choice that many people opt for. With a fixed-rate mortgage, you will pay the same interest rate for a certain number of years. Most people tend to fix the rate for two, three, or five years.
The typical mortgage term is 25 years though, according to research by mortgage broker L&C Mortgages, the number of first-time buyers who took out a 31- to 35-year mortgage doubled between 2005 and 2015.
One lender - online mortgage broker Habito - has recently become the first to offer a mortgage where the interest can have a 10-year to a 40-year fixed rate - the longest fixed-rate mortgage you can get.
You can use a mortgage calculator to see what a mortgage might cost you in terms of monthly payments (also for an interest-only mortgage, discussed below)
Pros
You'll know exactly how much you will be paying each month and for how long, regardless of what interest rates are doing.
Cons
If interest rates fall you won't benefit from them, so you could end up paying more than if you'd been on a variable interest rate mortgage
While interest rates are low, fixed rates can be a good deal. Henry Pryor, an independent mortgage broker, says: "Current fixed-rate mortgages are like Christmas come early. They are a gift for home buyers and at current levels, if you qualify you really ought to take one out and then worry about what you might want to buy. I don't have the best credit history and I'm over 50 and yet I was offered a 5-year fixed mortgage at 1.2%."
Rates will rise eventually, he adds. "Fix if you expect rates may rise - especially when they can't really go any lower – you can't lose."
Variable rate mortgages
This interest rate you pay will depend on the base rate (the interest rate that banks pay when they borrow money from the Bank of England, currently 0.1%). So if the rate is low, you also enjoy a low rate, but when it rises your monthly payments will increase too.
Pros
Freedom to leave at any time – a variable rate mortgage does not lock you in
Cons
There is no stability or certainty – you are at the mercy of changing rates
Tracker mortgages
The tracker mortgage is a type of variable rate mortgage. How it differs from other variable rate mortgages: they track the movements of another rate, usually the Bank of England base rate.
The tracker rates do not exactly match the rates they track - they are at a margin above the rate. So if your mortgage is 2% plus the base rate (currently 0.1%), your tracker mortgage would be 2.1%. Longer-term tracker mortgages have a larger margin, for example, the base rate plus 3%. A lifetime tracker is one that will see you through the entire term of your mortgage.
Pros
If the official rate falls, so will your mortgage payments
Introductory tracker rates can be among the lowest variable interest rates available. For example, Yorkshire Building Society offers a 0.78% base-rate tracker (until Oct 31) Arrangement fees and early repayment charges for tracker mortgages tend to be lower than for fixed rate deals.
Most tracker rate mortgages will let you make overpayments - up to 10% of the outstanding mortgage balance per year - without charging an early repayment charge.
Some lenders offer a switch and fix service where you can change to one of their fixed mortgage deals if rates go up without the headache of an early repayment charge.
Cons
If it rises, your mortgage payments will go up too
Standard variable rate mortgages
When you reach the end of the fixed term, you will normally be moved onto your lender's standard variable rate (SVR), unless you remortgage onto another deal. Each lender sets its own SVR which is influenced by several factors including the Bank of England base rate. SVRs are usually higher than other rates on the market. Barclays current SVR is 4.99% while HSBC's is 3.54% and Nationwide's is 3.59%.
Pros
You are not locked in so can leave as soon as you secure a better mortgage deal.
If interest rates go down, your mortgage repayments may go down too.
No early repayment charges if you want to overpay, pay off the mortgage early, or remortgage to a new deal
Cons
SVRs are often the most expensive mortgage rates available.
They're not a fixed rate deal or a discounted arrangement, they are the default deal after your initial offer rate ends if you don't remortgage.
Discounted mortgage
This is a type of variable rate mortgage. Your rate is 'pegged' to the lender's SVR with a fixed discounted amount for a certain length of time, usually two or three years.
For example, if your lender's SVR is 4.1% and your mortgage has a 1.4% discount, you will pay 2.7%. The price tag comes with the possibility of your discounted deal being 'stepped', which means you might take out a two-year deal but pay one rate for one year and then a higher rate for the second year.
According to Moneyfacts, the best-buy discounted deal is from Progressive Building Society, with an eye-catching interest rate of only 0.51% for two years, pegged at 4.49 points below the building society's SVR of 5%. The catch? It's only available to borrowers in Northern Ireland with a 40% deposit.
The next best-buy discounted deal is from Cumberland Building Society, with another eye-catching interest rate of 0.83% for two years, this time pegged at 3.26 points below the building society's SVR of 4.09%. Again, there is limited availability to remortgage customers only.
As discount mortgages are pegged to the lender's SVR, you need to consider how likely it is that the SVR will increase over the next few years. A lender's SVR is influenced by a range of issues, such as the Bank of England base rate. When the base rate rises, lenders tend to raise their rates, and when it falls, they may also pass this on to customers - though not always completely.
Pros
The rate is cheaper and if the lender cuts its SVR you will pay even less
Cons
The lender can raise its SVR at any time meaning your payments can rise at any time
The Bank of England base rate – and therefore lenders' SVRs – are expected to start creeping up over coming months
Interest-only mortgage
As the name suggests, you only pay the interest each month rather than the loan.
Your monthly payments will be lower than on a repayment mortgage. Meanwhile, your debt (the cost of the property) depreciates in value over the long term because of inflation. At the end of the mortgage term, you pay off this depreciated debt.
These are not very common now and can be high risk. Lenders will have eligibility criteria, part of which will require information on how you will pay it back.
Pros
Cheaper monthly payments, though you do need to save for the final repayment.
Cons
Unless you save money or sell the property you may struggle to pay off the debt at the end of the term. You should take time to speak to an adviser about just what this option involves.
How do I find the best mortgage deal?
You can compare mortgage deals at https://www.gocompare.com/mortgages/ or Moneyfacts, for example, before you decide to commit.
It is worth speaking to a mortgage broker. Find one who is able to search the whole market rather than one who is restricted to a small number of lenders. Ask about exclusive deals as some brokers have such deals that are only available via their company.
Improve your chances of getting a better deal by improving your credit score if necessary and minimising your outgoings in the months beforehand to make any loan application look more affordable. If you are self-employed, pin down your paperwork for a smooth application. If you are a first-time buyer shovel any last-minute savings into your deposit.
Play around with mortgage calculators to help you understand how interest rates could affect your monthly payments.
Do I need a mortgage broker?
A broker will search the mortgage market for you, compare deals and guide you through the application process. They save you hassle, time and money – potentially thousands of pounds if they can find you a mortgage deal with a cheap interest rate.
Although it is possible to search for deals yourself on comparison sites, you may not end up with the best possible deal for your specific circumstances, for example, if you're self-employed and have an income that is tricky to explain. And if you go it alone as a first-time buyer and end up with a rejected mortgage application it can prove costly, particularly if you have paid some legal and valuation fees.
Other advantages of using a mortgage broker include:
Being switched on to what requirements different lenders have: this can make the whole application process smoother
Being aware of whether you are likely to meet a lender's criteria so your application won't be rejected
Things can change quickly in the mortgage world and a broker will have a handle on what is going on so you still get the possible deal
Look After My Bills Newsletter
Get the best money-saving tips, tricks and deals sent straight to your inbox every week. Make sense of your money in partnership with The Money Edit.
Katie is staff writer at The Money Edit. She was the former staff writer at The Times and The Sunday Times. Her experience includes writing about personal finance, culture, travel and interviews celebrities. Her investigative work on financial abuse resulted in a number of mortgage prisoners being set free - and a nomination for the Best Personal Finance Story of the Year in the Headlinemoney awards 2021.