Skipton Building Society to offer deposit-free mortgages for "trapped renters" - everything you need to know about 100% deals
First-time buyers without a deposit may soon have a new opportunity to get on the property ladder. We explain everything you need to know about deposit-free mortgages, and which lenders already offer "100% mortgages"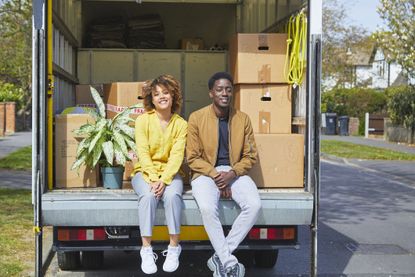 (Image credit: Getty images)
Skipton Building Society is planning to launch a new style of deposit-free mortgage that would enable first-time buyers to get on the property ladder by simply providing evidence that they have consistently made their rental payments on time.
First-time buyers are generally required to have a minimum deposit of 5% or 10% when they want to buy a property but find themselves in a frustrating catch-22: paying expensive rent - often more expensive than a monthly mortgage repayment - which leaves them unable to save the significant amounts needed for a house deposit and other associated costs.
Dramatically rising rents are making it even harder for renters to save for a deposit. Excluding London, the average UK rent price is 9.8% higher than 12 months ago at £1,184 a month, according to the Homelet Rental Index Data.
Meanwhile, UK house prices remain high, despite recent falls.
We explain how Skipton's new deposit-free mortgage would work, and which "100% mortgages" are already on offer from lenders.
Skipton's deposit-free mortgage
Skipton's new loan would allow borrowers to bypass standard deposit requirements by using their rental payment history. Property buyers usually need to pay a deposit of at least 5% of the purchase price when taking out a mortgage.
The new mortgage product from Skipton Building Society would need the approval of the financial regulators, as they typically want to ensure banks and building societies do not lend at high loan-to-value (LTV) ratios. The mortgage would effectively be a 100% LTV, in other words a very high LTV.
If approved, the mortgage should help those who have paid their rents on time but haven't been able to save a deposit, potentially giving a lifeline to thousands of so-called "trapped renters".
How do 100% mortgages work?
Similar products called 100% mortgages are already available from a number of lenders, however all require some type of help and guarantee from parents.
"These family-assisted mortgages will lend as much as 100% of the purchase price, typically to a first-time buyer, who can prove they can afford payments but will then require additional security from parents," explains David Hollingworth, associate director for communications at the mortgage broker L&C Mortgages.
"That could be through cash locked in a savings account or equity in the parental home depending on the scheme. That additional security would give the lender added comfort that they will be able to get their money back if they ultimately had to repossess and sell for less than the outstanding mortgage."
This "temporary deposit" provides security in the event that the buyer can't keep up repayments. After a set period of time, the cash or equity in the parental home is returned.
For example, Barclays' family springboard mortgage lets relatives or friends put 10% of the first-time buyer's purchase price in a savings account for five years to act as a temporary deposit. They get it back with interest after that time. The bank currently offers a five-year fixed-rate mortgage at 5.89%.
Which lenders offer 100% mortgages?
Few lenders offer 100% mortgages; here's a list of banks and building societies that do:
Why are there so few 100% mortgages?
Before the financial crisis of 2008, many lenders offered 100% mortgages – or even mortgages that loaned more money than the property was worth.
Hollingworth explains: "In some cases that extended to an even higher loan to value with Northern Rock offering total borrowing of up to 125% of the purchase price on its 'Together mortgage'. The onset of the credit crunch saw that type of lending disappear."
Read more
Look After My Bills Newsletter
Get the best money-saving tips, tricks and deals sent straight to your inbox every week. Make sense of your money in partnership with The Money Edit.
Katie is staff writer at The Money Edit. She was the former staff writer at The Times and The Sunday Times. Her experience includes writing about personal finance, culture, travel and interviews celebrities. Her investigative work on financial abuse resulted in a number of mortgage prisoners being set free - and a nomination for the Best Personal Finance Story of the Year in the Headlinemoney awards 2021.