Is now a good time to buy a house?
As house prices fall in November you may wonder if it's a good time to buy a house. We explain what to consider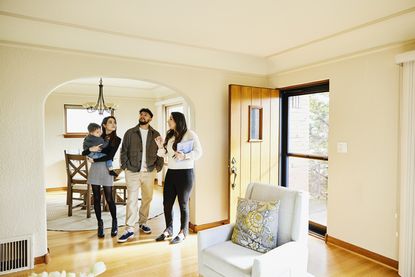 (Image credit: Getty images)
Look After My Bills Newsletter
Get the best money-saving tips, tricks and deals sent straight to your inbox every week. Make sense of your money in partnership with The Money Edit.
Thank you for signing up to The Money Edit. You will receive a verification email shortly.
There was a problem. Please refresh the page and try again.
Is now a good time to buy a house? There are signs of a general downturn in the property market that should raise the hopes of any homebuyer.
UK house prices fell 1.5% in December, with the average house price now £281,272, down from £285,425 in November, the latest data from Halifax shows.
This may not sound like much but it's the fourth fall in a row for Britain's biggest mortgage lender.
Meanwhile, Zoopla forecasts UK house prices will likely fall by 5% this year, Lloyds bank predicts they will fall 9% this year while the Office for Budget Responsibility (OBR) predicts that they will fall by 9% over the next two years.
So, with the promise of cooling property prices from banks, estate agents and government analysis, it's understandable potential buyers could assume soon it will a good time to buy a house for less.
Buying a home is likely to be the biggest financial commitment of your life so you need to be clear on the current conditions in the property market.
We explain what to consider if this is you.
Rising mortgage rates - but it looks like they are starting to fall
The choice of mortgage deals now exceeds the number available on the day of the mini-budget in September 2022: Moneyfacts counted 4,385 deals on 31 January - more than the 3,961 deals that were available on the day of the mini-budget on 23 September.
While lenders increased the cost of fixed deals after 23 September, rates are now falling: the average two-year fixed deal is now 5.45% (after peaking at 6.65% on 20 October) while the average five-year deal is now 5.2% (after peaking at 6.51%).
On top of that, there are also signs mortgage rates could fall further: NatWest reduced rates across all products for both new business and existing customers in December after Barclays and Santander committed to not passing the full 0.75% base rate increase on to its Standard Variable Rate in November.
Some lenders are even guaranteeing mortgage offers for up to a year in order to protect customers.
And in an attempt to help first-time buyers get a mortgage with a small deposit, the Treasury is planning to extend its mortgage guarantee scheme.
The scheme, which has helped 21,000 first-time buyers so far, allows lenders to buy an insurance policy from the government for mortgages taken out by buyers with a deposit of less than 10%.
There are even efforts to help those who want to get a mortgage for a property with cladding: Barclays, HSBC, Lloyds, Nationwide, NatWest and Santander have opened mortgage applications to medium to high-rise homes with cladding.
But, mortgage approvals for house purchases decreased to 35,600 in December from 46,200 in November, the lowest since May 2020, according to the Bank of England's Money and Credit Report.
Meanwhile the same report shows approvals for remortgaging (which only capture remortgaging with a different lender) fell to 26,100 in December from 32,600 in November, the lowest level since January 2013. It suggests that those needing to remortgage are declining fixed rate deals and opting for a tracker instead in the hope that fixed offers will fall further.
Changing affordability tests
Many lenders are tightening affordability tests as they factor in the reduced purchasing power of buyers amid high energy bills, higher food prices and less disposable income. As we face a prolonged recession this will continue for some time.
Lenders are now testing affordability at up to 8% mortgage rates according to the latest Zoopla house price report - meaning banks and building societies are cutting the maximum they will lend a prospective homebuyer or homeowner looking to remortgage. This accounts for as much as tens of thousands of pounds.
Meanwhile, banks are limiting the number of first-time buyer mortgages: The number of mortgages requiring a 5% deposit dropped from 283 on September 23 (the day of the mini-Budget) to 140 as of 16 January.
TSB has also stopped lending to borrowers in new-build homes with 10% deposits, mainly first-time buyers, amid concerns of potential price falls of up to 10%.
Timing the property market
While there's no telling what will exactly happen to property prices over the next couple of years, the current economic outlook suggests it is increasingly likely they will fall.
Expert predictions differ by how much they will fall: EY Item Club, a data analyst, predicts falls of between 5% and 10% while Credit Suisse forecasts a drop of between 10% and 15%.
Issues to consider if you are thinking you can time the market:
A severe shortage of properties has the potential to keep house prices high. The average estate agent only has around 36 properties on their books, according to the Royal Institution of Chartered Surveyors. Property expert Andrew Montlake says while it seems likely that house prices will soften over the coming months, there is still the supply and demand conundrum: "The reasons why people want to buy and move will remain, whilst the shortage of property should work to underpin prices from falling dramatically."
A delay in seeing true house prices. Graham Cox, founder of the Bristol-based broker, SelfEmployedMortgageHub.com: "Due to the time lag between transactions being agreed and the Land Registry reporting completed sales, the true extent of house price falls, for several months yet, will be masked by declining year-on-year property price growth. Early next year is when it will become obvious the market has turned and house prices are actually falling sharply. A drop of 20% or more over the next 18 months is quite possible."
Personal circumstances. Myron Jobson, Senior Personal Finance Analyst, interactive investor, says personal circumstances trump all factors: "More and more wannabe buyers simply can't make the numbers work because of rising mortgage rates and runaway inflation which continues to outpace growth in wages. For many buyers, rather than stretching too much now, it might be more financially prudent to wait until they are a bit more comfortable financially to buy."
Location, location, location. Affordability will depend on where you are looking to buy. Average property prices in certain parts of the UK are genuinely affordable: In Bradford's BD1 postcode a property can be bought for an average of £58,673 while in Shildon in County Durham, you'll pay £74,000 for a property. Cities like Middlesborough and Liverpool also offer excellent value.
Spring is the best time to buy statistically. March, April and May are the strongest months of the year for buyers because there are more homes on the market. "One of the reasons spring is the best time of year to sell a property is due to the weather significantly improving after the cold and miserable winter months. The amount of daylight increases and the more commonly occurring natural sunlight helps rooms in the property look their best for photos and viewings. The brighter weather is also likely to provide a better showcase for properties that have gardens," says Tim Leonard, a personal finance expert at NerdWallet.
Is now a good time to buy a house?
If you have the financial resilience to submit yourself to the challenging conditions we've described and find a home in an area you're happy to live in for several years, the answer could be yes.
The use you get from actually owning your home can dwarf the benefits of waiting to see if you can save an unknown amount of money.
But if you're unsure, it might be better to wait.
Want to read more? We've got more on what to consider when looking at two, five and 10-year fixed-rate mortgages
Look After My Bills Newsletter
Get the best money-saving tips, tricks and deals sent straight to your inbox every week. Make sense of your money in partnership with The Money Edit.
Katie is staff writer at The Money Edit. She was the former staff writer at The Times and The Sunday Times. Her experience includes writing about personal finance, culture, travel and interviews celebrities. Her investigative work on financial abuse resulted in a number of mortgage prisoners being set free - and a nomination for the Best Personal Finance Story of the Year in the Headlinemoney awards 2021.