Is now a good time to buy a house?
As house prices fall in November you may wonder if it's a good time to buy a house. We explain what to consider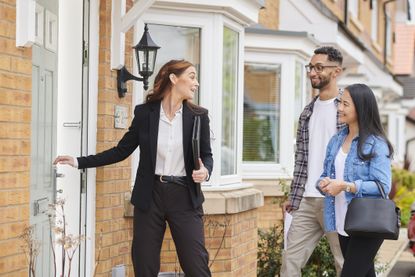 (Image credit: Getty images)
Is now a good time to buy a house? Ask any homebuyer right now in the midst of market uncertainty and the answer is likely to be no.
It's been a rollercoaster since the Chancellor's mini-Budget on 23 September: with the sudden disappearance of hundreds of mortgage deals and subsequent slow reemergence of (more expensive) deals, rates of interest exceeding 6% and, more recently, house prices starting to fall.
Add the oncoming recession into the mix and we can expect lenders to tighten affordability tests as they factor in higher living costs and reduced disposable income. It means lenders will cut the maximum they will lend a prospective homebuyer or homeowner looking to remortgage.
But there is some good news for homebuyers: The latest research from Nationwide (opens in new tab) shows that house prices fell 1.4% between October and November 2022. This may not sound like much but it points to a downturn for the property market. Demand for homes has also dropped by 20% in October on the previous year, according to property website Rightmove.
Meanwhile, Zoopla forecasts UK house prices will likely fall by 5% next year, Lloyds bank predicts they will fall 9% next year while the Office for Budget Responsibility (OBR) predicts that they will fall by 9% over the next two years.
So, with the promise of cooling property prices from banks, estate agents and government analysis, it's understandable that potential buyers may be asking if now is a good time to buy a house.
Buying a home is likely to be the biggest financial commitment of your life so you need to get up to speed on the current conditions in the property market.
We explain what to consider.
Rising mortgage rates - but it looks like they are starting to fall
The choice of mortgage deals is gradually increasing again: Moneyfacts counted 3,705 on 5 December - close to the 3,961 products that were available on the day of the mini-budget on 23 September.
While lenders increased the cost of fixed deals after 23 September, rates are now falling: the average two-year fixed deal is now 5.99% (after peaking at 6.65% on 20 October) while the average five-year deal is now 5.78% (after peaking at 6.51%), according to Moneyfacts as of 5 December.
On top of that, there are also signs mortgage rates could fall further. HSBC, Halifax, Lloyds, Yorkshire Building Society and Platform cut the rate on some fixed mortgage deals in the week beginning 7 November while NatWest has reduced rates across all products for both new business and existing customers on 6 December.
Meanwhile, Barclays and Santander have even committed to not passing the full 0.75% base rate increase on to its Standard Variable Rate (opens in new tab).
Some lenders are even guaranteeing their mortgage offers for up to a year in order to protect customers.
Changing affordability tests
Many lenders are tightening affordability tests as they factor in the reduced purchasing power of buyers amid high energy bills, higher food prices and less disposable income. As we face a prolonged recession this will continue for some time.
Lenders are now testing affordability at up to 8% mortgage rates according to the latest Zoopla house price report - meaning banks and building societies are cutting the maximum they will lend a prospective homebuyer or homeowner looking to remortgage. This accounts for as much as tens of thousands of pounds.
While a cut to stamp duty may appear helpful - after all, first-time buyers can save a maximum of £6,250 on the purchase of their home - it may actually become irrelevant due to increasingly expensive mortgage deals and tightening affordability tests.
Timing the market
There's no telling what will happen to property prices and mortgage rates over the next couple of years.
Issues to consider if you are thinking you can time the market:
A severe shortage of properties has the potential to keep house prices high. The average estate agent only has around 36 properties on their books, according to the Royal Institution of Chartered Surveyors. Property expert Andrew Montlake says while it seems likely that house prices will soften over the coming months, there is still the supply and demand conundrum: "The reasons why people want to buy and move will remain, whilst the shortage of property should work to underpin prices from falling dramatically."
A delay in seeing true house prices. Graham Cox, founder of the Bristol-based broker, SelfEmployedMortgageHub.com (opens in new tab), explains: "Due to the time lag between transactions being agreed and the Land Registry reporting completed sales, the true extent of house price falls, for several months yet, will be masked by declining year-on-year property price growth. Early next year is when it will become obvious the market has turned and house prices are actually falling sharply. A drop of 20% or more over the next 18 months is quite possible."
Personal circumstances. Myron Jobson, Senior Personal Finance Analyst, interactive investor, says personal circumstances trump all factors: "More and more wannabe buyers simply can't make the numbers work because of rising mortgage rates and runaway inflation which continues to outpace growth in wages. For many buyers, rather than stretching too much now, it might be more financially prudent to wait until they are a bit more comfortable financially to buy."
Is now a good time to buy a house? If you have the financial resilience to submit yourself to the challenging conditions we've described and you need to buy a home now, the answer could be yes. But if you're unsure, it might be better to wait.
Want to read more? We've got more on what to consider when looking at two, five and 10 year fixed-rate mortgages
Katie is staff writer at The Money Edit. She was the former staff writer at The Times and The Sunday Times. Her experience includes writing about personal finance, culture, travel and interviews celebrities. Her investigative work on financial abuse resulted in a number of mortgage prisoners being set free - and a nomination for the Best Personal Finance Story of the Year in the Headlinemoney awards 2021.