House price rises in rural areas outperform urban locations
Rural detached properties have seen the strongest price growth over the past five years, while urban flats have seen the weakest, according to Nationwide Building Society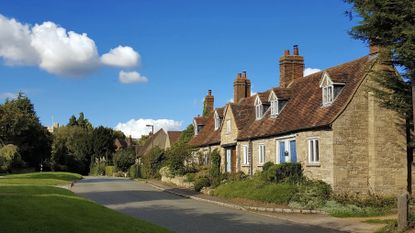 (Image credit: Getty images)
As house prices go up, we look at where they are rising the fastest.
House prices have risen faster in rural areas than in urban locations over the past five years, according to analysis by Nationwide Building Society.
Property values in areas that are mainly rural rose 29%, while those in predominantly urban areas increased 18%.
The coronavirus pandemic and more flexible working opportunities have prompted some people to relocate to more rural areas in recent years.
In general, rural detached homes have seen the strongest rates of price growth, while urban flats have recorded the weakest price increases, said Nationwide.
Between December 2016 and December 2021, rural detached properties increased in price by 32% on average, while urban flats typically added 6% to their value. Rural areas performed particularly well last year: average house prices in predominantly rural areas rose by more than 12% in 2021, double that seen in 2020.
"Increased demand for properties in rural areas in recent years has been part of the 'race for space' seen since the start of the pandemic," said Andrew Harvey, a senior economist at Nationwide. "This shift in preferences is also reflected in price trends by property type, with rural detached properties seeing the strongest price growth [over the past five years]."
Thirteen of the top 20 local authorities for house price growth last year were classed as rural, with North Devon taking the top spot. Camden in London was the best-performing urban authority.
Nationwide said that most people who had recently moved or were looking to move were choosing less urban areas. This was especially true for older people.
Some areas closely associated with tourism, including parts of Devon, South Wales, the Cotswolds and the Norfolk Broads have seen some of the biggest price jumps recently, the report said.
This could suggest demand is being driven by those buying holiday homes, or second homes.
Here are the top-performing local authority areas for house price growth in 2021, according to Nationwide, along with their urban/rural classifications. The figures show average house prices in December 2021 and the annual price increase:
Swipe to scroll horizontally
| Local authority area | Rural/urban | Average house price | Annual price increase |
| --- | --- | --- | --- |
| North Devon, South West | Rural | £326,848 | 24% |
| South Hams, South West | Rural | £420,851 | 22% |
| Rushcliffe, East Midlands | Rural | £355,398 | 22% |
| Ceredigion, Wales | Rural | £244,619 | 21% |
| Camden, London | Urban | £947,511 | 20% |
| Hastings, South East | Urban | £271,432 | 19% |
| Pembrokeshire, Wales | Rural | £231,355 | 19% |
| South Norfolk, East of England | Rural | £330,003 | 19% |
| Cotswold, South West | Rural | £481,402 | 19% |
| Nan Eileanan Siar, Scotland | Rural | £144,755 | 19% |
| Torridge, South West | Rural | £293,098 | 18% |
| Vale of Glamorgan, Wales | Urban | £287,199 | 18% |
| Mid Devon, South West | Rural | £287,337 | 18% |
| Eastleigh, South East | Urban | £339,946 | 18% |
| Broadland, East of England | Urban with significant rural aspects | £319,182 | 18% |
| Hyndburn, North West | Urban | £120,038 | 17% |
| Somerset West and Taunton, South West | Rural | £286,910 | 17% |
| Maldon, East of England | Rural | £399,937 | 17% |
| East Hampshire, South East | Rural | £451,320 | 17% |
| Wyre Forest, West Midlands | Urban with significant rural aspects | £241,109 | 17% |
Will house prices continue to rise?
A survey by RICS (opens in new tab) (Royal Institution of Chartered Surveyors), released on the same day as the Nationwide data, paints a cautious picture about future house price growth. While the cost of living crisis has yet to impact house prices, the outlook is far from certain.
Estate agent expectations of sales in the next 12 months have fallen for four consecutive months, according to the RICs survey, while agreed property sales have started to flatten.
Andrew Wishart, senior property economist at the consultancy Capital Economics, said that with mortgage rates forecast to increase sharply this year, "the days of the pandemic house price boom are now numbered".
He added: "Higher interest rates will soon put the brakes on demand, and cause house prices to drop by a total of 5% between the end of this year and the end of 2024."
Additional reporting: PA
Ruth Emery is contributing editor at The Money Edit. Ruth is passionate about helping people feel more confident about their finances. She was previously editor of Times Money Mentor, and prior to that was deputy Money editor at The Sunday Times. A multi-award winning journalist, Ruth started her career on a pensions magazine at the FT Group, and has also worked at Money Observer and Money Advice Service. Outside of work, she is a mum to two young children, a magistrate and an NHS volunteer.