Should I fix my mortgage rate? What to consider when looking at two, five and 10 year fixes
As rates rapidly rise, should you fix your mortgage for two, five or 10 years? We explain what to consider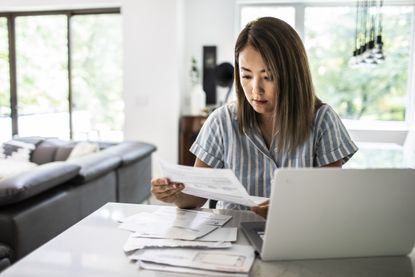 (Image credit: Getty images)
Homeowners looking to remortgage and home buyers are dealing with a heady mix of lenders pulling products and rising rates while trying to decide whether to fix their mortgage for two, five or 10 years.
The typical two-year fixed rate is now at 6.07% and a typical five-year fixed deal at 5.97%, according to data analyst Moneyfacts.
The turmoil in the mortgage world was partly sparked by the chancellor's tax cutting mini-budget, which spooked the currency markets, pushed the pound to fall to record levels and interest rates on government bonds to rise dramatically.
All this led the Bank of England to say it "will not hesitate" to raise rates if needed to meet its inflation target - a strong indication that more rate rises are on the way.
Lenders are now working on the assumption that the base rate could rise to nearly 6% by next spring, resulting in them pulling cheaper deals that look unaffordable for them to offer homeowners and future buyers.
If these rate predictions are correct, homeowners coming to the end of their fixed rate are facing a scary situation when they renew as they face expensive deals that they may not be able to afford.
If you are a homeowner, you may now be thinking about whether it is time to get another fixed deal before rates go up further and if you should fix your mortgage for two, five or 10 years? Should you pay an exit fee to lock into another fixed deal or stay put and hope rates lower by the time I need to remortgage?
Unfortunately, there's no guarantee the current rate predictions are correct, the present situation is changing quickly and foreseeing the future is particularly difficult.
Here's what you need to know if you are thinking about fixing your mortgage now.
What to do if your fixed rate mortgage is ending soon
If you're coming towards the end of your deal, you need to act now. Some lenders let you lock in a new rate six months ahead.
On average, five year fixes are cheaper than two year fixes. Homeowners will now pay more when fixing for two years than they will for five years with the typical two-year fixed rate now at 6.07% and a typical five-year fixed deal at 5.97% (at the time of writing 5 October), according to data analyst Moneyfacts.
Note that 10-year fixed deals look much better value, because the current interest rate crisis is considered a short-to-medium term crisis. The average 10-year fixed rate deal is 5.41%, according to Moneyfacts. Meanwhile the cheapest 10-year fixed remortgage deal is 4.09% offered by TSB.
So if you want peace of mind and you're sure you won't move in that time then a 10-year fix could be for you. Be aware that being locked in for a 10-year period could limit flexibility if you think you'll need to move in coming years. The rate can be taken to a new property but there's no guarantee that your lender in this situation will be able to meet any extra borrowing needs or at what rate.
It could also be worth considering a Standard Variable Rate (SVR), either a tracker mortgage that follows the rises and falls in the Bank of England base rate, or a discounted deal that follows a lender's SVR. One of the cheapest is Newbury Building Society's 2.34% five-year discounted deal. Assuming that the SVR follows the central bank's base rate (which is now 2.25%) then the base rate would have to go up by nearly 4 percentage points before you'd start paying more than the average two-year fix at 6.07%.
Unfortunately, it's all a bet on what you think may happen to rates in the future. Consider every option before you decide on a deal.
If your fixed rate isn't ending soon, should you switch?
It's unsurprising that many homeowners are asking this question when rates are rising so rapidly. You may be thinking of dropping your current cheap fix, to lock in for longer and avoid massive rises in future.
You have to consider:
Exit fee/early repayment penalties - something that can cost you thousands of pounds but will save you from greater hardship down the line if rates keep rising
The bet you are taking on future rates - yes, it looks like they are going to be significantly higher in future but there are no guarantees
You will need to think carefully, says Michael O'Brien, managing director of Home of Mortgages (opens in new tab): "Lenders generally apply early repayment charges of between 3% and 5% of the loan, which would need to be paid when exiting a mortgage deal during a fixed-rate period. On a mortgage loan of £250,000, the early repayment charge will generally be £7,500 to £12,500. Any benefit is usually eaten up with the fees paid on early exit."
If you're considering this option, speak to a mortgage broker, who can run you through the specifics of your situation and the pros and cons to see if it's worth it.
Do I need a mortgage broker?
Brokers are more important than ever right now. They have access to deals that can only be accessed via brokers so have the very best options for you at their fingertips. They also know how lenders' acceptance criteria differ and how these criteria are subject to change at short notice.
Katie is staff writer at The Money Edit. She was the former staff writer at The Times and The Sunday Times. Her experience includes writing about personal finance, culture, travel and interviews celebrities. Her investigative work on financial abuse resulted in a number of mortgage prisoners being set free - and a nomination for the Best Personal Finance Story of the Year in the Headlinemoney awards 2021.