Should I fix my mortgage for two, five or 10 years?
Should I fix my mortgage? What to consider when looking at two, five and 10-year fixes. We explain what you need to know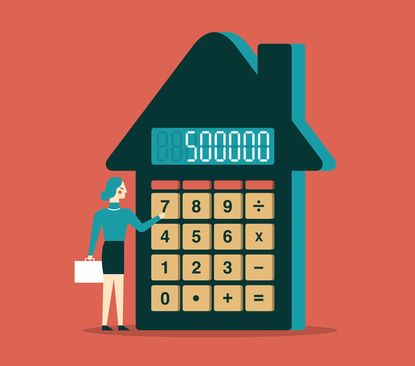 (Image credit: Getty images)
Look After My Bills Newsletter
Get the best money-saving tips, tricks and deals sent straight to your inbox every week. Make sense of your money in partnership with The Money Edit.
Thank you for signing up to The Money Edit. You will receive a verification email shortly.
There was a problem. Please refresh the page and try again.
Around 1.4 million homeowners who need to remortgage this year want to know if they should fix their mortgage rate.
Home buyers and homeowners who need to remortgage are looking at fixed rate deals seemingly in free fall: the average two-year fixed deal is now 5.6% (after peaking at 6.65% on 20 October) while the average five-year deal is now 5.42% (after peaking at 6.51%), as of 16 January.
Lenders are now working on the assumption that the base rate could rise to nearly 4.5% this year, resulting in them pulling cheaper deals that look unaffordable for them to offer homeowners and hopeful buyers.
It's a lot to consider while trying to decide whether to fix your mortgage for two, five or even 10 years.
Andrew Montlake from the mortgage broker Coreco explains the world has changed dramatically over the past few months: "Fixed rates are no longer the foregone conclusion they have been for many borrowers over the past decade."
He adds: "We have been through a short period of sharp interest rate increase and with Bank Base likely to peak after the next interest rate decision in February, we now find ourselves waiting with bated breath for lenders to move to cut their rates once more.
"We have seen lots of changes already, but there will undoubtedly be more to come as lenders are starting 2023 with less of a pipeline of new business than usual and similar target levels for the year."
Unfortunately, foreseeing the future is particularly difficult.
We look at what to consider if you are thinking about fixing your mortgage now.
Should I fix my mortgage?
What to do if your fixed rate mortgage is ending soon
If you're coming towards the end of your deal, you need to act now. Some lenders let you lock in a new rate six months ahead.
Whether you are looking at two, five or even a ten-year fixed-rate ask yourself: Is security a key driver? How long are you looking to stay in the property and how much flexibility are you likely to need?
On average, five-year fixes are cheaper than two-year fixes. Homeowners will now pay more when fixing for two years than they will for five years with the typical two-year fixed rate now at 5.6% and a typical five-year fixed deal at 5.42% (at the time of writing 16 January), according to data analyst Moneyfacts.
"With five-year fixes now edging down to the low 4% range for many, this will be a realistic and affordable option. We may well see them with a three in front of them again by the time the year is out, but that is not certain," says Montlake.
Note that 10-year fixed deals look terrible value right now, with the average 10-year fixed rate deal at 5.62%, according to Moneyfacts. The Bank base rate is expected to peak later this year. We are likely to see cheaper fixed mortgage rates appear later this year and next year if the bank base rate falls as expected.
It could also be worth considering a Standard Variable Rate (SVR), either a tracker mortgage that follows the rises and falls in the Bank of England base rate or a discounted deal that follows a lender's SVR. One of the cheapest is Newbury Building Society's 2.34% five-year discounted deal. Assuming that the SVR follows the central bank's base rate (which is now 2.25%) then the base rate would have to go up by nearly 4 percentage points before you'd start paying more than the average two-year fix at 6.07%.
"The reason for their current popularity is that not only are many of these on offer below equivalent fixed rates but because many come with no early repayment charges and therefore there is an ability to switch onto a fixed rate once more when deemed appropriate," explains Montlake.
But tracker rates do contain an element of risk. "For those who would sleep better at night knowing that their monthly payments will not suddenly change if something else unexpected happens, fixed rates are still sensible advice for many, says Montlake.
Unfortunately, it is always difficult to predict or play the market. "People should buy when they need to and it is affordable for them to do so, rather than waiting to see if a few pounds can be saved in a couple of months or years' time. Property is a long-term investment, so whether the rate has a 4 or a 3 in front of it may not matter if the property you want is then gone for good, or prices go up to make your dream home out of reach," says Montlake.
Consider every option before you decide on a deal.
Taking professional advice is also key. There is a myriad of products, lenders and options out there that your own bank may not have available.
"Whether this is an offset product, a 7-year fixed, a part repayment/part interest only loan, or an option available from a lender you would never have thought of approaching, the right product to enable you to buy the home you want now, at a rate you can afford, is out there," says Montlake.
If your fixed rate isn't ending soon, should you switch?
It's unsurprising that many homeowners are asking this question when rates are rising so rapidly. You may be thinking of dropping your current cheap fix, to lock in for longer and avoid massive rises in future.
You have to consider:
Exit fee/early repayment penalties - something that can cost you thousands of pounds but will save you from greater hardship down the line if rates keep rising
The bet you are taking on future rates - yes, it looks like they are going to be significantly higher in future but there are no guarantees
You will need to think carefully, says Michael O'Brien, managing director of Home of Mortgages: "Lenders generally apply early repayment charges of between 3% and 5% of the loan, which would need to be paid when exiting a mortgage deal during a fixed-rate period. On a mortgage loan of £250,000, the early repayment charge will generally be £7,500 to £12,500. Any benefit is usually eaten up with the fees paid on early exit."
If you're considering this option, speak to a mortgage broker, who can run you through the specifics of your situation and the pros and cons to see if it's worth it.
Do I need a mortgage broker?
Brokers are more important than ever right now. They have access to deals that can only be accessed via brokers so have the very best options for you at their fingertips. They also know how lenders' acceptance criteria differ and how these criteria are subject to change at short notice.
Look After My Bills Newsletter
Get the best money-saving tips, tricks and deals sent straight to your inbox every week. Make sense of your money in partnership with The Money Edit.
Katie is staff writer at The Money Edit. She was the former staff writer at The Times and The Sunday Times. Her experience includes writing about personal finance, culture, travel and interviews celebrities. Her investigative work on financial abuse resulted in a number of mortgage prisoners being set free - and a nomination for the Best Personal Finance Story of the Year in the Headlinemoney awards 2021.