Eviction notices rise 98% - how can renters protect themselves?
New figures show Landlords serving an eviction notice have surged by 98% in the last year- What can renters do if they get served a section 21 or section 8 notice?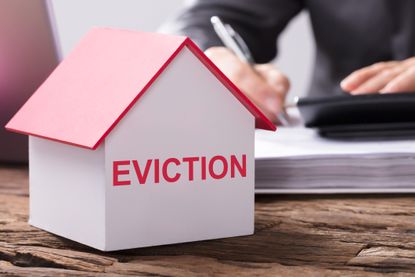 (Image credit: Getty)
Renters being served an eviction notice has risen by 98% in a year, official figures reveal.
Interest rates have risen to 4% in the UK and as a result, landlords are being hit with higher monthly mortgage payments. This cost is then passed down to renters.
Renters who can't afford their new rent are being served an eviction notice. We tell you why this is happening and what renters can do to push back on an eviction notice.
Why is there a surge in rent eviction notices?
According to the MoJ (opens in new tab), repossessions nearly doubled between 1 October and 31 December last year as 5,409 Landlords filed for possession.
Consequently, the MoJ said there has been a 'significant' rise in landlords taking action against tenants in county courts in England.
MoJ data also showed:
A 42% rise in repossession claims in 2022 compared to 2021
Orders for possession increased by 135%
The problem is, rent is rising at its fastest rate in years and there isn't enough social housing to house everyone.
Matt Downie, Chief Executive of Crisis, said: "With rents rising at their fastest rate in 16 years, the Government cannot continue to look the other way as more and more people are forced into homelessness.
The upcoming Spring Budget must include investment in housing benefit – which has been frozen since April 2020 – so that it adequately reflects today's cost pressures. Failure to do so will see thousands of households facing the uncertainty of eviction and the crushing reality of homelessness."
How much have rent prices risen in my area?
According to the Office of National Statistics (ONS), private rental prices increased by an average of 4.2% in the 12 months to December 2022.
Swipe to scroll horizontally
| Region in England | Percentage rise in rent in the 12 months to December 2022 |
| --- | --- |
| East Midlands | 5% |
| North West | 4.6% |
| South West | 4.4% |
| Yorkshire and The Humber | 4.2% |
| East of England | 4.1% |
| London | 4% |
| West Midlands | 3.9% |
| North East | 3.8% |
| South East | 3.8% |
This means if you rent in the East Midlands, your would have seen the biggest rise in rent last year. For example, a £700 monthly rent with a 5% rise would have seen renters paying £735 per month (£35 extra per month and £420 extra per year).
What can I do if I've been served an eviction notice?
If you've been served an eviction notice, it's either going to be a section 21 notice or a section 8 notice.
Section 21 notice
A section 21 notice also known as a 'no-fault eviction' can be served upon you at anytime with just two months' notice.
This tends to be served when the landlord wants repossession of the property, whether they have a justified reason to evict you or not according to housing charity Shelter. But they can't claim back any rent arrears under section 21.
If you have been served a section 21 notice and you find somewhere else to live, Shelter recommends you fix a leaving date with your Landlord, and you should keep letters, emails or texts as evidence.
If you've been served a section 21 and you choose to stay in the property past the end of the notice period, Shelter says your tenancy still continues until you leave voluntarily or until your Landlord starts legal proceedings.
Section 8 notice
A section 8 notice can only be served if you (the tenant) have breached the tenancy agreement, for example if you're behind on your rent by at least two months or if you've kept a cat in the house when your tenancy agreement says 'no pets allowed.'
If you've been given a section 8 notice, Shelter says it should include the following:
A valid notice
Proves a ground for possession in court (which means the landlord has to prove a legal reason why you should move out from the property).
If you haven't moved out by the notice end date, the landlord can apply to court but note, they have a year from when you received the notice to start court proceedings. After a year, the section 8 notice is invalid.
And if you have been given a section 8 on the grounds that you are two months behind on rent, you still have a chance to get your rent arrears down.
If you do pay some of your rent arrears before the date of your hearing and this brings your arrears down to less than two months' rent, the court cannot evict you with a section 8 notice.
Shelter says "Your landlord must give you a section 21 notice or a section 8 notice as a first step to eviction" if your tenancy agreement is an 'assured shorthold' tenancy. To check this you can refer back to your tenancy agreement.
If you need support, you can contact charities such as Citizens Advice, Shelter or Crisis, and they will explain your rights.
Read more
Vaishali graduated in journalism from Leeds University. She has gained experience writing local stories around Leeds and Leicester, which includes writing for a university publication and Leicester Mercury.
She has also done some marketing and copywriting for businesses.
When she is not writing about personal finance, Vaishali likes to travel and she's a foodie.