How to choose an estate agent to keep costs low
Estate agents can be costly, so its important to pick the right one. We share our top tips to help you keep the costs low when buying or selling a house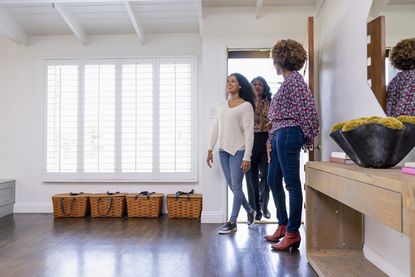 (Image credit: Getty images)
House prices may be coming down, but selling your home is likely to be your most expensive transaction so it is important to get an estate agent on side who can secure a stress-free sale.
Estate agents rank among the least trusted professions with sellers often unhappy with communication and marketing issues.
But love them or hate them, a decent property professional can help present and promote your home and hopefully secure the best price for your property.
There are around 21,000 estate agency firms in the UK, so how can you choose the best one?
Property website presence
Agents will list homes on popular property websites including Rightmove, OnTheMarket and Zoopla.
You can search for agents in your area that are selling similar properties as they may have a readymade book of buyers.
But Gavin Brazg, of home selling guidance website TheAdvisory, warns sellers not be misled by the number of listings for sale but to focus on those actually being sold.
Similarly, he said, the best estate agent for your sale is not necessarily the one with the most boards in your local area, especially if most of them are marked as "for sale."
"All this indicates is that the agent is popular and may be cheap or overpromise on sale price," he added.
Instead, look out for sold boards outside properties similar to yours.
"These agents are most likely to get you the highest price, in the shortest time, with the least problems," Brazg said.
You can also filter homes that are sold subject to contract (SSTC) on Rightmove, Zoopla and OnTheMarket to get an idea of how successful an agent is.
However, SSTC just means a sale has been agreed and it still needs to go through conveyancing and exchange and completion so there is still a chance that the transaction could collapse.
Online or high street?
Traditionally, an estate agent would provide a market appraisal of the possible sale price of a property, create a listing with pictures and floorplans and then help with viewings, offers and negotiations before seeing the property through to exchange and completion.
They are known as high street agents as they often have a branch in the town centre or may be based locally and know the area well.
Alternatively, online agents still get your property on the main portals but don't have a high street presence and are typically paid upfront.
This may be cheaper but, unlike high street agents, you still pay even if your home doesn't sell so you could end up wasting money - plus you may have to pay for extras such as professional photos and assisted viewings.
"Online agents are cheap listing services that primarily post your property on Rightmove & Zoopla and then pray the phone rings," Brazg said.
"In hot markets, given a competitively priced saleable property, this post and pray approach to selling a home can often result in a sale.
"However, although you're likely to sell, you're also highly likely to undersell."
Fees
The average agency fee or commission ranges from 0.9% to 3.6% plus VAT, according to the HomeOwners Alliance, and will often be cheaper if you give an agent the sole rights to sell your home for a set period.
It is worth comparing what different agents will charge to sell your home and see if any will negotiate.
You only pay if your property sells when using a commission-charging agent but the fee can make a big difference to how much you have left for your onward purchase, especially on higher value sales.
Don't rush to the lowest fee though. Paying more could be of benefit if the agent gets you a higher sale price, plus they will be more incentivised.
Paula Higgins, chief executive of the HomeOwners Alliance, suggests creating a shortlist of three agents to see how they will market your home, their performance and how confident you are about working with them.
Jason Tebb, chief executive of OnTheMarket, says a premium service may be worth paying for.
"The cheapest option isn't always the best," he said.
"Exceptional estate agents are expert negotiators who will make sure you get the best possible price, not just any price. It's also worth noting that the best estate agents are those that actively manage a sale through to completion and this is where experience really counts."
Trade bodies
There are no minimum qualifications to become an estate agent.
But there are trade bodies and membership networks such as NAEA Propertymark, the Guild of Property Professionals and the Federation of Independent Agents.
Using an agent from a professional organisation means they have to follow set standards on issues such as transparency and customer service, plus some may also run training and qualification schemes to boost member skills and sales ability.
Word of mouth
As with any service, the best home selling recommendations come from previous customers.
You could ask former neighbours which agent sold their property and their experience.
Customer reviews website allAgents lets users search for brands and see feedback about individual agency branches and sometimes staff.
It also has ratings for brands and will tell you how happy sellers were with a valuation and fees.
Also check Trustpilot and Google reviews to gain a range of opinions on an estate agent.
Agent finder tools
Just like using a comparison website to shop around for the best mortgages or insurance, you can do the same for estate agents.
There are free websites that will let you compare how estate agents perform in your area.
One option is GetAgent.
Users enter their postcode, how many bedrooms are in their property and how much they think it is worth as well as when you want to appoint an agent.
The search results reveal local agents and their average sale time, how many properties they have listed in the past six months, how close they typically get to asking price and their fee. You can also read customer reviews and click to request a free valuation with an agent.
Sellers with their home already on the market can use GetAgent to see how many views their listing is receiving compared with similar properties, which could be a good way of monitoring how your agent is performing.
It will also send regular emails on properties that have been listed by agents near you so you can keep an eye on the market.
The HomeOwners Alliance also has a best estate agent finder tool that tells you a local agent's market share, its typical asking price, how close they get to asking price, how many days it takes to sell on average and the percentage of their properties that have reached sold subject to contract in the previous 180 days.
Another option is BestAgent. It isn't a comparison website but lets homeowners anonymously add their property information for free and invite local agents to introduce themselves in a live video on its platform before sharing any personal data.
You can then choose who you like the most to visit and value your home.
Look After My Bills Newsletter
Get the best money-saving tips, tricks and deals sent straight to your inbox every week. Make sense of your money in partnership with The Money Edit.
Marc is an award-winning freelance journalist specialising in business and personal finance. His work has appeared in print and online publications ranging from FT Business to This is Money, The Sun, The i newspaper, The Times and The Mail on Sunday. He also co-presents the In For A Penny financial planning podcast.