Can you pay a mortgage with your pension?
Using your pension to pay off your mortgage may seem like a good idea, but it requires careful thought before proceeding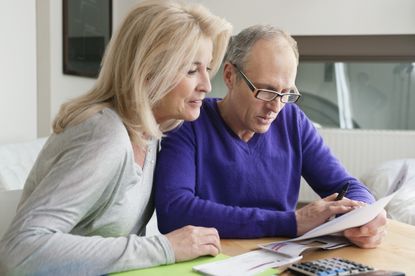 (Image credit: Getty images)
While most of us dream about enjoying our retirement debt-free, the reality is that many of us will still be paying our mortgages when we finish work. But should you use your pension to pay a mortgage?
Almost a third (31%) of homeowners who intended to retire in 2021 had an outstanding mortgage balance, according to the adviser Key Later Life Finance.
A separate study by the wealth manager Hargreaves Lansdown reveals that only half (52%) of younger homeowners expect to have their mortgage paid off by the age of 60.
"While most people aspire to repaying their mortgage ahead of retirement, it is not always possible or indeed practical," said Will Hale, chief executive of Key Later Life Finance.
"Whether it is due to getting on the property ladder later than planned, finding that illness or redundancy disrupts careful planning or that your repayment vehicle fails to cover your outstanding interest-only mortgage, there are a variety of challenges people need to navigate."
We look at whether it's possible to pay a mortgage with a pension - and the pitfalls to be aware of.
WHAT DOES PAYING YOUR MORTGAGE WITH YOUR PENSION INVOLVE?
People with workplace pensions or personal pensions can access their pension pots once they reach age 55 and use the money as they please. This will rise to age 57 from April 2028.
This means you could choose to use your pension savings to pay off debts, like a mortgage.
When taking cash out of your pension pot, bear in mind that while a quarter of it is tax-free, the rest is subject to income tax. You can either take out the 25% tax-free lump sum from your pension and then be liable for tax on each subsequent withdrawal; or have 25% of every withdrawal tax-free, with the remaining 75% subject to tax.
So, you'll need to think about the best way to take money out to avoid having a big chunk eaten up by the taxman. .
Speak to your pension provider to understand how to withdraw cash from your pension - you will likely have to move your pension into a "drawdown arrangement" - and the fees involved.
Once money is moved from your pension to your current account, you can use it to pay your mortgage like you would normally.
You don't have to be retired to use a pension to pay off a mortgage, you just need to have reached the minimum age required to access a pension pot (currently 55).
If you have a defined benefit (DB) scheme like a final salary scheme, it is not possible to take money out freely whenever you like. Instead, a DB scheme pays a guaranteed income until you die. You could use this income to pay your mortgage debt.
If you want to take money out in a more flexible way, you could consider moving the DB pension scheme into a defined contribution pension, like a self-invested personal pension.
However, this can be a risky move, and for many people it won't be the best option. Moneyhelper has more guidance on this topic.
Who is this option best suited to?
If you have a large outstanding mortgage, and are aged 55 or over, then taking cash out of your pension to reduce the debt may seem like a smart move, but should be done with the right advice.
It could also be a handy option if you expected to work later in life to clear the balance - such as into your 60s or even 70s - and have now realised this isn't possible. Perhaps you lost your job and it's been difficult to get a new one, or you fell ill and have been unable to continue working.
It all depends on your personal circumstances. Using your pension to pay off your mortgage could be a sensible decision, but there could also be better ways of reducing your mortgage debt, for example downsizing and paying off your mortgage that way.
Zoe Dagless, senior financial planner at the investment firm Vanguard, comments: "It's certainly possible to pay off your mortgage using your pension, but it may not be the best option and should be carefully considered before doing so. Ultimately it will leave you with less money in your pension to fund your retirement and could affect your retirement goals.
"Firstly, you should look at other options to pay off your mortgage. Have you got excess cash in a bank account to pay off your mortgage? Would downsizing your home and paying off the mortgage be an alternative?"
Is there a downside of taking cash out of your pension?
Taking cash out of your pension to pay off your mortgage will reduce your pension income in retirement. This could lead to financial difficulties as you get older.
There is also the tax issue. Dagless explains: "Typically, you can take 25% out of your pension as tax-free cash, and anything beyond that will be taxed as income. Therefore, withdrawing a big lump sum from your pension could result in a high tax bill, which may not make financial sense for you."
Another consideration is inheritance tax. Keeping money inside a pension protects it from income tax, capital gains tax and inheritance tax. This can be passed onto beneficiaries when you die, without being subject to inheritance tax.
If you have other money that you could use to pay off the mortgage debt, such as an ISA or Premium Bonds, this may be a more sensible option.
Clare Julian, wealth planner at the wealth manager JM Finn, comments: "This is perhaps a nice problem to have for many individuals, but it does bear considering if inheritance tax is a concern, and there are assets outside of pension funds that could be used to clear the mortgage debt instead."
Pros and cons of paying your mortgage with your pension
Pros
You will have no mortgage if you pay your mortgage off with your pension, which will give you peace of mind for the rest of your life knowing that your home is 'paid up' and no-one can take it away from you
If you have a very high mortgage interest rate, using your pension to pay it off early will save you money in interest (make sure you check for any early repayment fees)
Using the 25% tax-free lump sum from a pension can be a clever way to reduce a mortgage debt (and therefore the interest you pay), especially if you have other pensions that you can rely on to give you a decent retirement income
Cons
If you release all your cash from your pension to pay off your mortgage, you will not have anything left for the rest of your retirement
If you have a very low mortgage interest rate, it may be better to leave your cash in the pension; especially if the investment growth on the pension is expected to be bigger than the mortgage interest rate
The 25% tax-free lump sum from your pension might not cover your outstanding mortgage. If it is more, then you may need to pay tax on any extra cash released from your pension
CAN I USE MY PENSION TO PAY MY MORTGAGE EVEN I'M STILL PAYING INTO THE PENSION?
You can typically keep paying into your pension while withdrawing from it at the same time - but you need to be mindful of something called the Money Purchase Annual Allowance (MPAA).
Once you have taken any taxed income from your pension (so, anything in addition to the tax-free lump sum), the amount you can contribute into it is capped at £4,000 per tax year. This is called the MPAA. Most people are allowed to contribute up to £40,000 into their pensions each year, so the MPAA is a significant reduction of how much you can contribute going forward.
Look After My Bills Newsletter
Get the best money-saving tips, tricks and deals sent straight to your inbox every week. Make sense of your money in partnership with The Money Edit.
Ruth Emery is contributing editor at The Money Edit. Ruth is passionate about helping people feel more confident about their finances. She was previously editor of Times Money Mentor, and prior to that was deputy Money editor at The Sunday Times. A multi-award winning journalist, Ruth started her career on a pensions magazine at the FT Group, and has also worked at Money Observer and Money Advice Service. Outside of work, she is a mum to two young children, a magistrate and an NHS volunteer.