Boris Johnson announces plans to boost home ownership among benefit claimants and first-time buyers
The prime minister is aiming to turn more of 'Generation Rent' into 'Generation Buy' - here's what you need to know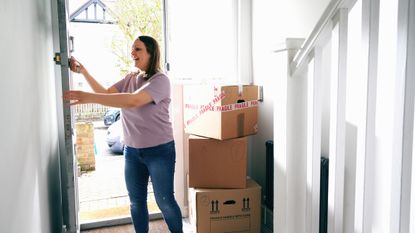 (Image credit: getty images)
First-time buyers struggling to access 95% mortgages, Universal Credit claimants and housing association tenants are some of the millions of people that Boris Johnson has pledged to help turn home ownership into a reality.
In his first policy speech since surviving a leadership challenge on Monday, the prime minister said the Right to Buy scheme would be extended to 2.5 million housing association tenants. He also announced he would turn 'benefits to bricks', allowing 1.5 million people who are in work but also on housing benefit the chance to use their benefit towards a mortgage, rather than going to private landlords and housing associations. Leaseholders, and homeowners that lose their jobs, could also benefit under plans set out in the prime minister's far-ranging speech.
In addition, Johnson said the government would launch an independent review of access to mortgage finance for first-time buyers, with the aim of increasing the availability of low-cost, low-deposit finance such as 95% mortgages.
"We have a ludicrous situation whereby plenty of younger people could afford to make mortgage payments – they're earning enough to cover astronomical rent bills – but the ever-spiralling price of a house or flat has so inflated deposit requirements that saving even just 10% is a wholly unrealistic proposition for them," said Johnson.
"The global rise in the cost of living is only making life harder for savers. So we want it to be easier to get a mortgage."
According to the government, more than half of today's renters could afford the monthly cost of a mortgage, but only 6% could immediately access a typical first-time buyer mortgage.
However, many experts were critical of the prime minister's speech, saying it would do little to fix the broken housing market. Others said there was little substance to his plans, and merely a distraction to 'party-gate'.
"The crux of the matter is that it is not the mortgage industry that needs fixing but the housing market and its sky-high prices," comments Karen Noye, mortgage expert at the wealth manager Quilter. "Part of the reason why house prices are soaring is because there are so few properties out there. Build more stock and the scramble for properties, which is pushing prices ever higher, will come to a halt. This would help 'generation rent' whose dreams of owning a house are unfortunately just a dream at present."
What did Boris Johnson announce?
Extend the Right to Buy scheme to housing association tenants, with a new social home built for every one sold
Launch an independent review of mortgage finance for first-time buyers, with the aim of widening access to low-cost, low-deposit finance such as 95% mortgages. The government claims it will be the first comprehensive review of the mortgage market for a decade. It will report back this autumn.
Change welfare rules so people who are in work but also on housing benefit will be given the choice to use their benefit towards a mortgage, rather than going to private landlords and housing associations. If someone saves a deposit to buy a home, the government will back them with the same housing support they would have used on their rent, to pay towards their mortgage instead.
Change the rules so Universal Credit claimants can save a little each month for a deposit without impacting their Universal Credit payments. Currently, the amount of Universal Credit is tapered when the claimant's savings exceed £6,000, and stops when savings exceed £16,000. The government will exempt lifetime ISA savings from these rules.
Improve Support for Mortgage Interest (SMI), a loan that helps claimants pay interest on their mortgages and stay in their homes if they lose their jobs. Currently, this only kicks in after nine months of unemployment; the government will bring this forward to three months.
Drive forward leasehold reform, including the ability for a leaseholder to buy their freehold and discounts of up to 90% for those trapped with escalating ground rents.
Will the proposals help more people get on the housing ladder?
Some of the plans seem sensible, such as allowing Universal Credit claimants to save into a lifetime ISA without it affecting how much they receive in benefits.
Martijn van der Heijden at the online mortgage broker Habito notes: "The earlier you start saving in the lifetime ISA, the more you can save, and the more your bonus could be [savers receive a 25% government bonus worth up to £1,000 each year]. If this change does come in, it would allow people to build up a savings pot without their Universal Credit being impacted. However, with the rising cost of living, how much low-income buyers are able to save, remains to be seen."
Giving leaseholders more rights and helping mortgage holders that lose their jobs also appear to be positive announcements, benefiting existing homeowners..
However, there is little detail about how the other measures unveiled in the speech will help people buy their own home - and how effective they will be.
Andrew Montlake, managing director of mortgage broker Coreco, calls the benefits proposal "a bit left field". He adds: "Using benefits, especially housing benefits or Universal Credit, is not ideal to base a mortgage on and even if it is used it is unlikely to boost borrowing eligibility enough to make a big difference.
"As far as the new Right to Buy scheme is concerned, this may help some people but it is a bold claim that every house sold will be replaced by another to ensure social housing does not reduce further. Given the fact the government has failed to get close to any house-building targets, this seems a big ask."
Look After My Bills Newsletter
Get the best money-saving tips, tricks and deals sent straight to your inbox every week. Make sense of your money in partnership with The Money Edit.
Ruth Emery is contributing editor at The Money Edit. Ruth is passionate about helping people feel more confident about their finances. She was previously editor of Times Money Mentor, and prior to that was deputy Money editor at The Sunday Times. A multi-award winning journalist, Ruth started her career on a pensions magazine at the FT Group, and has also worked at Money Observer and Money Advice Service. Outside of work, she is a mum to two young children, a magistrate and an NHS volunteer.