Base rate rises to 4% - what it means for your money
The Bank of England has increased the base rate for the 10th time in a row. We explain whether rates could rise further this year, and what the latest hike means for your mortgage and savings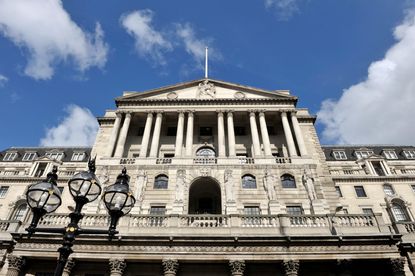 (Image credit: Getty images)
Look After My Bills Newsletter
Get the best money-saving tips, tricks and deals sent straight to your inbox every week. Make sense of your money in partnership with The Money Edit.
Thank you for signing up to The Money Edit. You will receive a verification email shortly.
There was a problem. Please refresh the page and try again.
The Bank of England has increased the base rate from 3.5% to 4%, marking the 10th rise in a row.
The rate is already at its highest level for 14 years. Interest rates have soared over the past year; last February, Bank rate was just 0.5%.
The move to raise rates is an attempt to slow inflation, which is more than five times the central bank's 2% target, at 10.5%.
But decision-makers on the Bank of England's Monetary Policy Committee (MPC) were not unanimous: seven members voted to increase Bank rate by 0.5 percentage points, to 4%, while the other two members preferred to maintain interest rates at 3.5%.
The rate hike will pile more pressure on millions of households already struggling with the cost of living crisis. Homeowners with variable mortgages - and those with fixed deals about to expire - will see their payments go up, and personal loan and credit card customers may see their payments rise too.
Andrew Hagger, personal finance expert at the research consultancy Moneycomms.co.uk, comments: "This 10th successive rate hike is unlikely to be the last in 2023 and will inflict further financial pain on borrowers – many of whom are already on their knees and simply unable to absorb any further cost increases."
It's good news for savers though, who will be watching closely to see which banks and building societies push their rates up as a result of today's announcement.
We look at whether interest rates will continue rising this year, and the outlook for inflation. Plus, how the rate hike will impact your household finances, whether you have a mortgage, savings or loan.
Base rate hits 15-year high
Will interest rates keep rising in 2023?
The notes accompanying the Bank of England's announcement suggest the immediate recession should be milder and shorter than previously expected, and that interest rates might not rise as high as previously thought.
Some forecasters predict the base rate could still rise to around 4.5% in the middle of this year, falling back to just over 3.25% in three years' time. This could lead to inflation finally dropping below the Bank's 2% target.
But, the Bank warns: "There are considerable uncertainties around this medium-term outlook, and the committee continues to judge that the risks to inflation are skewed significantly to the upside."
The consultancy Capital Economics thinks interest rates are nearing a peak, with "lingering inflation pressures" meaning that "rates stay at their peak for around a year before being reduced in 2024". It adds: "We think that rates may rise to 4.5%, perhaps via two 0.25 point increases rather than one 0.5 point rise."
What's the outlook for inflation?
The MPC's latest projections show inflation falling back sharply from its current level, of 10.5% in December, to around 4% towards the end of this year.
It said: "Headline CPI inflation has begun to edge back and is likely to fall sharply over the rest of the year as a result of past movements in energy and other goods prices."
Impact of rising interest rate on mortgages
About 2 million homeowners are on a variable-rate mortgage, such as a tracker deal or standard variable rate (SVR).
Tracker mortgages will automatically go up as a result of today's interest rate rise and increase homeowners' monthly mortgage payments. Those on SVRs should look out for a message from their lender on whether it will increase their rate and when this will take effect.
According to research by TotallyMoney and Moneycomms, the jump in Bank rate to 4% means a typical household with a variable mortgage could see their monthly mortgage repayments increase by £52. This is based on the average UK property costing £270,708 with a 75% loan-to-value mortgage.
It means customers will be forking out an extra £430 each month compared to December 2021, just before the series of Bank rate hikes began.
Richard Campo, founder of mortgage broker Rose Capital Partners, said it was not surprising many homeowners and first-time buyers were confused about what sort of mortgage to go for in today's climate.
He added: "If our most senior economists [at the Bank of England] are split as to which way rates should go, how is the woman or man on the street supposed to call it and plan their finances accordingly? There has never been a more urgent time for those seeking a mortgage or remortgage to speak to an independent mortgage broker who can give an explanation of all the products and rates on the market and tailor a solution to match their circumstances, hopefully taking some of the confusion and weight off their shoulders."
If you are struggling with your mortgage payments, it's important to speak to your lender - don't bury your head in the sand and miss a payment, as this could have serious consequences and leave a black mark on your credit report. Your lender may be able to temporarily reduce your rate, give you longer to make payments, extend the term of the agreement, or switch your loan to interest-only.
Impact of rising interest rates on savings
Savers may be feeling very pleased about today's announcement. But don't forget that banks and building societies do not have to pass the Bank of England rate rise onto savers. Those that do may not do so immediately, some may only hike rates by a smaller amount than the full 0.5 points, while others may just keep savings rates frozen for now.
Having said that, average savings rates have already risen this year. The average easy-access account pays 1.73%, compared to 1.56% at the start of 2023, according to data website Moneyfacts.co.uk. The average rate on an easy-access cash ISA pays 1.85%, up from 1.66%.
Rachel Springall, finance expert at Moneyfacts, said: "Interest rates on variable savings accounts are continuing to rise, as several providers have improved their offers since the start of 2023. The influence of the Bank of England rate rises, along with rate competition, has made a positive impact on variable-rate savings accounts.
"Challenger banks and building societies continue to take the most prominent positions in the top rate tables, so savers who fail to review their existing account to the latest top rates may miss out. Loyalty does not always pay and the majority of the biggest high street banks have failed to pass every Bank rate rise onto easy-access accounts, with two brands passing on just 0.54% since December 2021."
The best regular saver account on the market is currently First Direct Regular Saver, which pays 7% on savings up to £3,600, but you do need its current account to benefit.
If you're happy to tie your money up for 12 months, you may like to check out National Savings & Investments' one-year fixed-rate Guaranteed Growth Bonds and Guaranteed Income Bonds, which pay up to 4% and 3.9% respectively.
See our article on the best savings rates to discover the other top accounts right now.
Impact of interest rates on borrowing
Today's interest rate increase means the cost of borrowing on a credit card or via a personal loan could also rise.
Credit card rates are already at their highest in 25 years, while unsecured personal loan rates are growing at their fastest-ever pace.
It means it's even more important to shop around for a decent interest-free credit card or personal loan with a competitive rate. See our articles on the best 0% interest purchase credit cards and best personal loans for more.
More on this:
Look After My Bills Newsletter
Get the best money-saving tips, tricks and deals sent straight to your inbox every week. Make sense of your money in partnership with The Money Edit.
Ruth Emery is contributing editor at The Money Edit. Ruth is passionate about helping people feel more confident about their finances. She was previously editor of Times Money Mentor, and prior to that was deputy Money editor at The Sunday Times. A multi-award winning journalist, Ruth started her career on a pensions magazine at the FT Group, and has also worked at Money Observer and Money Advice Service. Outside of work, she is a mum to two young children, a magistrate and an NHS volunteer.