Mortgage chaos: rates RISE after lenders pull hundreds of deals
After suspending hundreds of mortgage products, lenders are now increasing the cost of deals, with a typical two-year fix now at almost 6%. We explain which deals, how it could affect you - and what you can do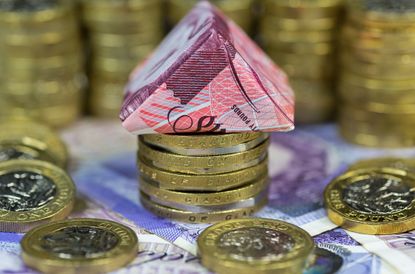 (Image credit: Getty images)
Banks and building societies are increasing the cost of mortgage deals, with the average rate on a 2-year fix now at 5.97%. This is up from 4.74% on the day of the mini-Budget on 23 September, according to data analyst Moneyfacts.
It comes after the pound fell to record levels and lenders suspended hundreds of mortgage deals over uncertainty at where interest rates were heading. Around 1,200 mortgage products have been withdrawn, and more than 20 providers have withdrawn their entire fixed-rate mortgage range, according to data analyst Defaqto.
It means homeowners looking to remortgage could pay hundreds of pounds more a year while first-time buyers may struggle to get a home loan.
Economists are now predicting that could lead to a 10-15% drop in house prices.
Here's what some larger lenders have said:
Natwest has increased interest rates: deals had previously been 3%-4%, but a notice issued to brokers on Sunday morning has confirmed this will rise to around 4%-6%.
Halifax is increasing interest rates on a range of deals for new borrowers to well over 5%.
Nationwide is increasing two, three, five and ten-year fixed-rate mortgages by between 0.9% and 1.2% in response to market conditions.
Lloyds Bank, Bank of Scotland and Halifax have temporarily withdrawn mortgage products that come with fees.
HSBC told brokers in an email that it has "removed from sale" its new residential and buy-to-let deals with "immediate effect".
Santander said it is "temporarily removing all 60% and 85% loan-to-value (LTV) products from the new business range," in an email sent to brokers.
Virgin Money has pulled its fixed mortgage deals to all new customers. A spokesperson for the bank said: "We continue to monitor the situation closely and currently plan to relaunch products for new customers towards the end of the week."
According to Defaqto, 20 smaller providers have withdrawn their entire mortgage range since last Thursday, and have not replaced them yet.
They are: Aldermore, Bank of Ireland (NI), Bank of Ireland Intermediaries, Bath Investment & Building Society, Bespoke by BOI, Chelsea Building Society, Digital Mortgages, Furness Building Society, Hodge, LiveMore Capital, Marsden, Newcastle Building Society, Penrith Building Society, Post Office Money, Post Office Intermediaries, Principality Building Society, Progressive Building Society, Scottish Building Society, West Bromwich Building Society and Yorkshire Building Society.
Katie Brain, consumer banking expert at Defaqto, calls the mortgage changes "dramatic", adding: "What products are left are changing at a rapid pace; lenders seem to be really unsure of what to offer and at what price with so many changes in the money markets at the moment.
"We can only hope the situation calms down soon, so at least borrowers can seek alternative mortgage deals should they need to."
We explain what's happening to mortgage rates, whether lenders can withdraw mortgage deals that have already been agreed, and how your monthly payments could be affected whether you're buying a property or remortgaging.
What's happening to mortgage rates?
Lenders have steadily increased mortgage rates in line with base rate rises from the Bank of England, pushing mortgage deals into the 4% territory for the first time since 2013.
Rates then increased after the mini-budget sparked widespread expectation of a faster and higher jump in the Bank rate in the coming months. The average two-year fixed rate now stands at 5.75%, according to the data service Moneyfacts.
What we're seeing is lenders looking at the long-term cost of borrowing, and the potential demand, and trying to stay a step ahead of the Bank of England when setting the rates for fixed-rate deals.
The normal rules of lending are changing: A typical five-year fixed deal (currently 5.75%) has been slightly cheaper than a two-year fixed deal (currently 5.97%) for some time - but both are now seeing rates rise sharply. Compare this to the cheapest 10-year fixed rate of 5.44% (at the time of writing on 4 October). It is very unusual for the interest rate on the cheapest 10-year fix to be lower than almost any two-year fix on the market.
Everyone will be affected: Around 100,000 people a month come to the end of a fixed deal and often remortgage. According to Defaqto, someone looking to buy a property last week with a two-year fixed-rate mortgage of £150,000 could have got a 3.49% deal, based on a 90% LTV. Today the best rate has shot up to 4.4%, meaning they face paying an extra £70 a month on their mortgage.
Meanwhile first-time buyers who often opt for fixed rate deals face monthly repayments upwards of £1,100, a third more than they were paying in January, according to property website Rightmove.
The 2.2 million households on variable or tracker deals see their costs rise when there's a Bank rate rise.
CAN A LENDER WITHDRAW MY MORTGAGE OFFER?
If you already have a mortgage deal agreed, then it will be honoured. This means you completed and signed the mortgage application and you have a new deal in place showing the interest rate.
An agreement-in-principle, or any initial conversations about what sort of rate you might be offered by a mortgage lender, are not binding, and therefore could be altered.
Don't worry if you are part-way through a fixed-rate mortgage - the rate cannot be changed until the deal expires.
HOW WILL HOMEOWNERS WITH A FIXED-RATE MORTGAGE BE AFFECTED?
Homeowners on a fixed mortgage deal make repayments on an agreed interest rate over a set period of time.
It means that any changes the Bank of England makes to the base rate does not affect them until the end of their fixed period.
But 1.8 million mortgage borrowers who are currently enjoying cheap fixed deals will see them expire over the next year.
If rates rise to 6% as predicted, these homeowners who took out a £200,000 two-year fixed mortgage in March 2021, when the average rate was 1.5%, will see their annual bill rise by £7,000, according to figures from investment firm AJ Bell.
Banks will also be much more cautious about lending to people as 6% interest rates will be unaffordable for many.
What can you do?
Mark Robinson, managing director of Albion Forest Mortgages says: "If you're six months away from the end of your current deal, speak to a broker ASAP. Remortgage rates may be able to be secured at this point rather than waiting."
If you're thinking of exiting a fixed deal early, you might want to think again says Michael O'Brien, managing director of Home of Mortgages: "Lenders generally apply early repayment charges of between 3% and 5% of the loan, which would need to be paid when exiting a mortgage deal during a fixed-rate period. On a mortgage loan of £250,000, the early repayment charge will generally be £7,500 to £12,500. Any benefit is usually eaten up with the fees paid on early exit."
HOW WILL HOMEOWNERS ON AN SVR BE AFFECTED?
Around 2.2 million households are on variable-rate mortgages. Half of these are tracker mortgages which follow the base rate, according to UK Finance. Lenders typically give you a month's notice before they adjust your repayments. This means that when the base rate rose in September, borrowers on tracker deals can expect to see their mortgage payment increase in October.
The other half are on their lender's standard variable rate (SVR). With SVRs, these change at the lender's discretion, but are likely to go up.
What can you do?
It could be worth looking at a fixed-rate mortgage deal. But the gap between the rates on short-term and long-term fixed deals is narrow and it makes it a tricky decision, says Myron Jobson of interactive investor: "A long-term fixed-rate mortgage means you'd escape any rate rises coming down the road.
"But, the widening of the disparities in the prices of short- and long-term fixes complicates matters. In some cases, it might be cheaper in the long run to opt for a shorter-term deal – but that all depends on where interest rates go next."
He adds: "Reverting to the SVR once your initial mortgage deal ends until rates become more competitive again could be an option – but it isn't for everyone and you'll need to do some careful calculations."
How will first-time buyers be affected?
Affordability tests look set to become even harder for first-time buyers, as interest rates rise.
Some people may struggle to get a mortgage, and therefore onto the first rung of the property ladder.
Martin Lewis emphasised on Good Morning Britain on 3 October that first-time buyers needed to be fully prepared if they decide to go ahead and buy a house.
He said: "If you've got a decent deposit, and you've found a house that you love, and you've got a mortgage that is affordable for you, and you're going to stay in that property for a long time, get on with it, buy your house.
"If you're doing this because 'this isn't the house that I want, but I feel I should do it before everything goes wrong and it all goes belly up', don't buy your house."
The money expert further explained it was hard to predict what will happen with the property market due to there being "so many variables and it's incredibly complex right now."
What can you do?
To get a mortgage deal, first-time buyers will need significantly higher deposits. They will also need to brace themselves for higher mortgage rates.
If you're wondering what could happen to property prices in future, take a look at our article on the latest house price trends.
If you're planning to apply for a mortgage and buy your first home, make sure your credit report is squeaky clean to boost your chances of being successful.
Look After My Bills Newsletter
Get the best money-saving tips, tricks and deals sent straight to your inbox every week. Make sense of your money in partnership with The Money Edit.
Katie is staff writer at The Money Edit. She was the former staff writer at The Times and The Sunday Times. Her experience includes writing about personal finance, culture, travel and interviews celebrities. Her investigative work on financial abuse resulted in a number of mortgage prisoners being set free - and a nomination for the Best Personal Finance Story of the Year in the Headlinemoney awards 2021.