Am I too old for a mortgage?
If you need to borrow money to buy your dream home, then you may feel like time is against you – here's everything you need to know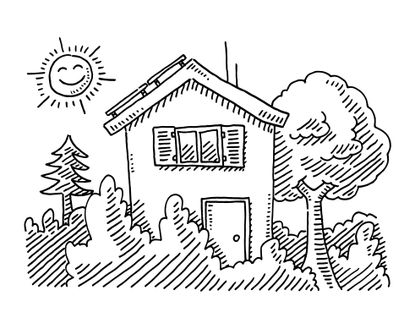 (Image credit: getty images)
If you're worrying that you might have left it too late to apply for a mortgage, then you're not alone. It used to be the case that mortgages had to be paid off by your 65th birthday, but with people living and working longer, having debt that you carry into retirement is becoming more common.
There are many reasons you might need to apply for a mortgage in later life, whether it's moving to a more expensive area of the country to be close to family, or returning from living abroad and not wanting to rent. And the need for borrowing in retirement doesn't just apply to older people applying for mortgages, it also applies to people in their 30s and 40s who are now able to apply for mortgages of up to 35 years.
According to the UK's Building Societies Association, it is becoming more and more common for people to take out a mortgage with a term that lasts into their sixties, seventies or eighties. Luckily, banks and building societies are adapting the mortgages they offer to better suit people's lifestyles, which means borrowing that lasts into retirement is now possible.
(MORE: Mortages for the over 50s)
Maximum age limits for mortgages
All lenders attach two age limits to their mortgage applications. The first is the age you are when you take out the mortgage, and the second is the age you'll be when you pay it off – known as the mortgage maturity age.
In the UK, the maximum age range for taking out a mortgage is normally between 65 and 70, with the maximum age for paying it off is between 70 and 85.
'As most people are now enjoying a longer, healthier life, many lenders are now reviewing their maximum age limits,' says Charlie Blagbrough, from the Building Societies Association. 'Our aim is to make sure that there aren't creditworthy borrowers in the market who are unable to access mortgage finance.'
If you are borrowing on a joint mortgage, then remember that the maximum age limits will relate to the age of the oldest borrower.
What will your pension income be?
If you'll be making mortgage repayments after you've retired, then your lender will want to assess what your income might be beyond that date. However, this can be difficult to assess, especially if you're still decades away from retirement, as it will depend how much you pay in and how your investments perform.
Some lenders will be satisfied by seeing evidence that you're making regular payments towards you pension but they may also ask to see your latest pension forecast. If you're closer to retirement, expect to be asked for more in-depth evidence of what your pension pot will be worth, including annual statements.
Anybody over 55 with a defined contribution pension is able to take lump sums out of their pension pot, but remember that doing this if your mortgage is based on pension income, could impact whether you can afford your repayments. And try to avoid taking any lump sums from your pension if you're applying for a mortgage that will begin once you've reached 55.
(MORE: Can you pay a mortgage with your pension?)
How to find out if you're too old for a mortgage
The easiest way to find out if you'll be able to get a mortgage is to use free online mortgage affordability calculators. All major lenders have these on their sites.
Remember that age is just one factor that's taken into account when applying for borrowing. You'll need to input information on your income, outgoings and current borrowing to get an accurate verdict. We'd recommend trying the calculators on the UK's biggest lenders first:
These will give you a good idea if you're likely to be accepted for lending. Generally, the older you are, the fewer companies that will consider you for a mortgage.
Speak to the experts
Even if these online affordability calculators don't give promising results, it's worth speaking to an independent mortgage advisor. These have access to the widest range of mortgage providers possible and may know of smaller companies that specialise in lending to older borrowers. Check whether the mortgage advisor you are thinking of using is affiliated to a specific lender or lenders. Ideally you want one who can survey the whole market for you. The Money Advice Service has handy tips on finding a financial adviser.
It's not pleasant to think about, but when you're taking out a mortgage in later life you need to consider what would happen to the repayments if you were taken seriously ill. You could consider arranging a Lasting Power of Attorney, so that someone close to you can manage your financial affairs should you become unable to later in life. It's always best to seek legal advice before beginning this process..
Finally, improve your credit rating
Your credit score is one of the first things lenders will consider when deciding whether they will lend you money. There are various things you can do to improve your rating, including:
Pay your bills on time
Contact your current lenders asap if you can't afford repayments
Register for the Electoral Roll
Keep your address information up to date
Request to see your credit file – you can ask for a 'notice of correction' if anything is wrong
Look After My Bills Newsletter
Get the best money-saving tips, tricks and deals sent straight to your inbox every week. Make sense of your money in partnership with The Money Edit.
Laura Crombie is an experienced journalist, who has been writing about consumer issues for 14 years. Property is her main area of expertise and she has written on the subject for The Times, Guardian, Metro and Zoopla, amongst others.