Missed flight cover: when can you claim if you miss your plane?
Bad weather, traffic jams, breaking down or not having a valid passport could all mean you can't get as far as the airport – we look at whether your travel insurance will pay up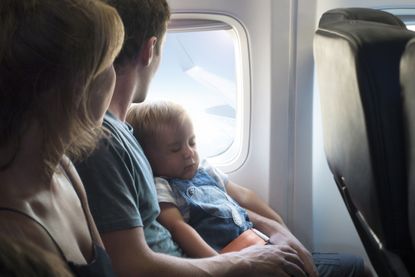 (Image credit: Getty images)
Your flight might be leaving but if you're stuck in a traffic jam, broken down on the motorway, or bad weather means you can't reach the airport - it's worth knowing whether you'll be out of pocket or can make a claim on your travel policy.
Reading the small print of your travel policy may not seem like a fun task, but it's always worth checking what you're covered for and ensuring any payouts are sufficient to cover your potential losses.
Some travel policies will include what's known as missed flight cover or missed departure cover. Depending on the policy terms, this may pay out if you miss your plane, train or even the start of a cruise for certain reasons beyond your control.
Missing the start of your trip because you discover your passport is out of date, because you forgot to check or renew it, means it's unlikely you can make a claim on your travel policy.
And with passport workers expected to go on strike from next month, which could cause passport delays it's worth getting organised early, as failing to have a valid passport due to strikes may also mean you'll be out of pocket on your trip.
If you miss your flight because you don't have the appropriate visa or relevant travel documents, then once again it's unlikely your travel insurer will pay up. This is why it's always worth checking the entry requirements of any country you visit, well ahead of your trip. You can find a complete country list on the government website (opens in new tab).
And when it comes to weather-related disruptions, Ceri McMillan, travel insurance spokesperson for Go.Compare (opens in new tab) said: "Some travel insurance policies include cover for a range of natural disasters and extreme weather".
"However, it's important to note that you won't be able to claim for any weather-related disruptions if the bad weather had been forecasted before you took out your policy".
What is missed flight cover?
Missed flight cover, which can also be known as missed departure cover is the section of your travel policy you can claim under if you miss your departure, due to events beyond your control.
Depending on the policy terms and conditions, it could include flights, trains and boats, but cover usually only kicks in due to specific circumstances.
This usually includes adverse weather conditions – like heavy snow, along with breakdowns or if you're delayed due to being involved in a major traffic jam or road accident.
What can you expect from your policy?
Check your level of cover because limits can vary by policy and insurer. In some cases, with long-haul trips, policies may not even cover the cost of your original flight ticket.
And in the event you miss your flight and need to rebook your ticket at short notice, you may find flight prices are a lot higher than any original deal you booked.
We've taken a look at the level of cover provided by policies from several major providers.
Sainsbury's bank: from £300 - £500
Missed departure cover is included as standard with its silver, gold and platinum travel policies.
Cover includes the cost of a replacement airline ticket plus any accommodation expenses if you miss your flight as a result of adverse weather conditions, strikes or industrial action, or if your car breaks down or you are involved in an accident.
But, its cheaper silver policy only pays a maximum of £300, which may not cover the cost of a replacement ticket if you're travelling long haul, say to the USA or Dubai.
The cover is up to £500 at the platinum level.
Nationwide: up to £1000 per person
Its FlexPlus travel policy is included with its fee-paying FlexPlus current account and covers missed, delayed or abandoned departure cover as standard.
This covers travel and accommodation expenses up to £1,000 for each insured person, if you're unable to make your departure due to adverse weather conditions, travelling by public transport or having a car accident, breakdown or being caught in heavy traffic due to bad weather.
Co-op bank: up to £1000 per person
Its silver, gold and platinum travel policies all include missed departure cover.
Policy terms include claims made due to poor weather conditions, like ice and snow as well as delays on public transport or major traffic jams.
The cover is from £500 per person with the silver cover up to a maximum of £1,000 per person with the gold cover.
Admiral insurance: up to £1000
Missed departure cover is standard across all levels of Admiral's travel insurance.
This covers the cost of onward travel and accommodation with limits between £500 to £1,000 depending on your policy.
With Admiral the maximum limit is £500, £750 with Gold and £1,000 with its Platinum cover.
But there are some exclusions. In the event you buy a travel policy after a severe weather warning has been publicised, you won't then be covered for claims relating to adverse weather.
Tesco bank: up to £1500
An economy travel policy with Tesco Bank pays up to £500 for missed outbound flights.
But with its Premier policy, you can claim up to £1,500 for both outbound and inbound flights, should you need to.
Aviva insurance: up to £5000
Travel disruption cover is an optional extra with Aviva and not included as standard.
Aviva says this section would cover you for 'unrecoverable expenses' if you have to cancel your trip because certain circumstances, including severe snowfall, prevent you from leaving home to travel on your scheduled departure date.
How to claim
If you need to make a claim for missed departure, contact your insurer as soon as possible, as there may be time limits in place.
Depending on the reason for your claim, your insurer may want to see evidence to support your claim, for example, if you break down in bad weather and call your breakdown provider, they may want to see details of the breakdown report.
Worth knowing that missed departure cover doesn't extend to oversleeping and missing your trip for any reason other than those listed in your policy terms and conditions.
Read more
Sue Hayward is a personal finance and consumer journalist, broadcaster and author who regularly chats on TV and Radio on ways to get more power for your pound. Sue's written for a wide range of publications including the Guardian, i Paper, Good Housekeeping, Lovemoney and My Weekly. Cats, cheese and travel are Sue's passions away from her desk!