Holiday refunds: how to get your money back if your holiday or flight is cancelled
Having a sound understanding of holiday refunds should give you peace of mind when you plan your next trip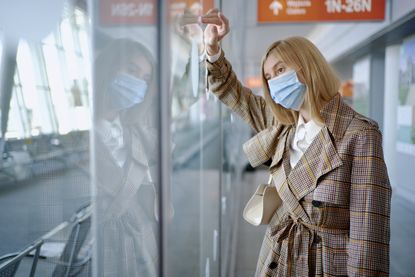 (Image credit: Getty)
Look After My Bills Newsletter
Get the best money-saving tips, tricks and deals sent straight to your inbox every week. Make sense of your money in partnership with The Money Edit.
Thank you for signing up to The Money Edit. You will receive a verification email shortly.
There was a problem. Please refresh the page and try again.
Feeling stressed about holiday refunds? Over the past year, millions of holidaymakers had their flights and holidays cancelled because of the pandemic, with some airlines and tour operators taking months to offer refunds.
Whether you have already booked your holiday or are worried about making plans following the new Omicron variant, here's our guide to your consumer rights if your trip is cancelled.
(MORE: Travel insurance for the over 50s)
Am I entitled to a holiday refund if my package trip is cancelled?
If you book a package holiday and the tour operator cancels your trip, or changes it significantly, you will be protected by the Package Travel Regulations (ABTA) and will be entitled to a full refund within 14 days of the cancellation date.
The tour operator may ask if you want to rebook for another date, choose an alternative holiday or accept a refund credit note. But remember, you are entitled to a full cash refund and then you will have the freedom to spend your holiday money as you please.
(MORE: How to protect yourself against holiday disaster)
What if I want to cancel my package holiday - can I still get a refund?
If the holiday is going ahead, but there are Covid restrictions in your neighbourhood or there are "extraordinary circumstances" at your holiday destination that would impact on your stay, it is likely you will still get a refund.
If you simply change your mind, some tour operators offer flexible rebooking policies so you can switch to another destination, or choose an alternative date, at no extra cost. Though, check the terms and conditions as this is not guaranteed.
If you are able to cancel, you may have to pay a cancellation fee which will be higher the closer it is to the departure date but, according to the Competition and Markets Authority (CMA), which investigates breaches to consumer law, the fee should not be "excessive".
What if I booked my flight and hotel separately?
When you plan your own holiday - like booking a flight directly with an airline and a hotel room on a different website - you are considered an independent traveller and each company's terms and conditions on cancellations and refunds will apply and you will not have the same protection as a package holiday.
This is also applied to any linked travel arrangement (LTA) - for example, when you book a flight and then the airline sends a link to another website to book accommodation or car rental within 24 hours of the first booking. However, under an LTA, you will have limited financial protection if a company goes bust.
If you have bought two elements or more of your holiday on a booking platform, such as Expedia, you will be told at the time of booking whether it is a package holiday or LTA.
What if my flight is cancelled?
The EU regulation that protects consumers when flights are cancelled or delayed has now been incorporated into UK law. This applies to passengers with flights:
from any UK airport on any airline
from any country to the UK on a UK or EU airline
to the EU on a UK airline
These rules also apply to Iceland, Liechtenstein, Norway, and Switzerland, which are not in the EU.
Under the EU 261/2004 regulation, airlines must offer passengers a refund, or an alternative flight (also known as re-routing) if a flight is cancelled and the reason for the cancellation is within the airline's control.
If your flight is cancelled more than 14 days before your departure date, you will be entitled to a full cash refund or an alternative flight to your destination.
If your flight is cancelled with less than 14 days' notice, you may also be entitled to compensation ranging from £110 to £520. This depends on how seriously you have been inconvenienced; how long it is before the flight departure date; and whether the flight was short-haul (less than 1,500km), medium-haul (1,500km to 3,500km) or long-haul (over 3,500km). You can find full details of compensation payments online at Citizens Advice.
While you are always entitled to a refund if your flight is cancelled, compensation does not apply if there is an "extraordinary circumstance" outside the airline's control, such as a storm. According to Civil Aviation Authority guidelines, government advice against travel is also considered an extraordinary circumstance, so compensation will not be paid.
When you contact an airline to request a refund, the CMA says you should expect your claim to be handled "without due delay" – but it depends on the airline, as there are still many outstanding complaints about refunds.
For international flights and countries not covered by the EU 261, refunds and compensation will depend on the airline and your departure and arrival destinations – though most airlines will offer a refund or alternative flight.
Can I claim a refund from my card issuer?
If you don't get a refund from the airline or hotel, you could contact your card issuer and claim via Section 75 of the Consumer Credit Act if you paid by credit card and each part of the trip is worth more than £100.
Alternatively, you can contact your card issuer to make a claim on either the debit or credit card you used, with no limits to the amount you claim, using the chargeback scheme to see if the bank can reverse the transaction – but you must do this within 120 days.
Can I get a refund through my travel insurance?
Buying travel insurance should not be overlooked, as it can give you vital protection if something goes wrong with your holiday - everything from lost baggage, covid cancellations to missed flights. Just be sure to read all the terms and conditions before you buy your policy to ensure it meets your needs.
Travel insurers usually include cancellation insurance to cover a pre-booked holiday as standard, but when and how much you can claim will vary between policies.
For instance, you might be able to claim if you, or a close family member were seriously ill or injured; there was a family bereavement; you had a house fire or flooding; or jury service.
Travel insurers include medical treatment for Covid and repatriation costs as standard. If you want more protection, check out policies that offer cancellation insurance if you are diagnosed with Covid or need to self-isolate.
Travel insurance firms will expect you to claim from the airline or tour operator first – and sometimes from your card provider too – before you make an insurance claim.
You can compare policies using price comparison sites such as Gocompare or moneysupermarket, for example.
Do not opt for the cheapest one, opt for one that is right for you. It is also a good idea to book your travel insurance as soon as you book your holiday so that you are covered for all eventualities as immediately.
Look After My Bills Newsletter
Get the best money-saving tips, tricks and deals sent straight to your inbox every week. Make sense of your money in partnership with The Money Edit.
Hannah is a freelance financial journalist. She has written on topics including consumer rights, personal finance, homes and property for magazines, newspapers and websites including DIYgarden.co.uk, Ocean Finance, Moneywise, and The Daily Telegraph. In her spare time, she grows her own veg, plays bridge and looks at ways to save money on her household bills.