How to claim for storm damage on your home insurance
With three storms hitting the UK in less than a week in February, we explain how to claim for damage to your property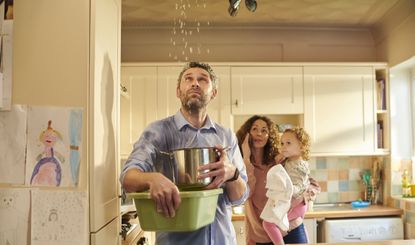 (Image credit: Getty images)
With three storms hitting the UK in less than a week in February, insurers have reported a big uptick in the number of homeowners contacting them about how to claim for storm damage on their home insurance.
Storms Dudley, Eunice and Franklin have wreaked havoc across the country, with the Met Office issuing two rare red weather warnings in February.
The latest storm, Franklin, triggered an amber wind warning for Northern Ireland, as well as a "danger to life" flood warning for the River Severn.
"We received six times the usual level of enquiries on Friday," comments Kelly Whittington, property and speciality lines claims director at the insurer Aviva.
"Currently claims mainly relate to missing roof tiles and broken windows. However, we are seeing some more devastating cases such as fallen chimney stacks and trees falling on homes or vehicles."
While it is too early to estimate the cost of the storm trio, insurers paid out more than £360m for the previous storms - Ciara and Dennis - according to the Association of British Insurers.
We explain how to claim for storm damage on your insurance policy.
Will my home insurance cover me for storm damage?
Most insurers will cover storm damage, but it's important to check the wording of the policy.
A storm is generally defined as high winds, accompanied by rain, hail or snow, which is capable of damaging a building in a one-off event.
According to Aviva, almost a quarter of UK residents - equivalent to 6.4 million households - have experienced damage to their homes due to extreme weather.
There are some things that are not normally covered by home insurance in the event of storms, for example, damage to fences, hedges and gates.
Policies also won't cover damage that is long-standing or due to maintenance issues. This could include cement or mortar deterioration on brickwork and chimneys, failed render on the building exterior and aged flat roofs.
If you're unsure whether your home insurance policy covers you for storm damage, dig out your documents. If you're still confused, give them a call. Most insurers have 24-hour emergency helplines to give advice - and, if you are covered, to arrange repairs as quickly as possible.
What storm damage is covered by home insurance?
Storm damage to a roof, or damage inside a home caused by flooding, are typically covered by home insurance. According to Aviva, these are some of the most common storm damage claims:
Tiles or slates dislodged or missing
Felt roofs lifted off
Ridge or hip tiles missing or dislodged
Damage caused by fallen trees
Water damage inside a home
Buildings insurance often includes cover for alternative accommodation too, if you are unable to live in your own property due to storm damage.
Your possessions will be covered by contents insurance; if the damage is to items like garden furniture and bikes, check to see if you included them on your policy.
How much your insurance will pay out will depend on the level of cover you bought, and what excess you chose – this is the amount of money you pay towards any work.
Are fences covered on home insurance?
Homeowners will be disappointed to learn that most building insurance policies will not pay out for storm damage to fences. Policies are also unlikely to cover damage to hedges, gates, sheds and greenhouses that is caused by storms.
Have a careful read of your policy documents to double-check. You may find that damage to fences caused by vandalism or fire is included - but damage caused by storms is specifically excluded.
Storm damage to other items, such as garden furniture, can usually be claimed via contents insurance, as long as you included them on your policy.
How can I make a claim for storm damage?
Get in touch with your insurer as soon as you can to let them know what's happened. This could be via a 24-hour helpline, or you may be able to start a claim online.
Most insurers have allocated extra resources to deal with the fallout from the storms, to process claims and get repair work underway quickly. NFU Mutual said it received two online claims for storm damage every minute at its busiest in February when the UK storms hit.
Once you've contacted your insurer, remove any damaged contents but don't throw them away - you may need them later for your claim. Keep samples of any damaged carpets and rugs if you can.
And start documenting the damage: take photographs and make a list of all damaged items (both inside and outside your home) to help support your claim. Speak to the insurer before arranging any repairs or finding somewhere else to stay. It may have an emergency repairs team it can send out. Alternatively, you could arrange the repair work yourself, but make sure you get several quotes, and once you choose a tradesperson ask for a full breakdown of the works required, and keep the receipts.
Is it worth claiming for storm damage on my home insurance?
Whether to claim on your home insurance depends on several things. First, is the storm damage even covered by your insurance? If it's a fence that's broken, or damage to a chimney that was already damaged and not maintained properly, chances are an insurer wouldn't pay out anyway.
You should then think about how much the repair would likely cost, and your level of excess. If it's minor damage, and there is a large excess on your policy, it may be better to pay out of your own pocket. For example, if you have lost a couple of roof tiles, it may only cost about £200 to replace them.
If you do choose to claim on your home insurance for storm damage, be aware that your premium could increase at your next renewal date. You could also lose any no-claims bonus that you have.
Of course, for any significant damage, do give your insurer a call. You have home insurance for this very reason: for peace of mind and to help with the financial impact when things go wrong.
What if there is a power cut? Can I claim for contents damage?
Storm damage to power lines has resulted in widespread power cuts, with millions of homes left without electricity.
If the food in your freezer is ruined, you may be able to claim on your contents insurance. Check to see whether your policy contains this option; it's usually called "freezer contents cover".
If it does, photograph and tot up everything you have to throw out. Then, weigh up how much the spoiled food is worth against the excess on your policy. If the excess is high, it may not be worth claiming, given that this could push up your insurance premium next year.
You may also be entitled to compensation from your local network operator in the event of a power cut caused by bad weather.
The amount you get will depend on how long your electricity supply was off, and how Ofgem categorises the storm. You are entitled to £70 if your power goes off for 24 hours under storm category one, or 48 hours under storm category two. You can receive a further £70 for each additional 12 hours, up to a total of £700
Will my car damage be covered?
If your car is damaged in a storm - for example, a tree falls on your car, or the windscreen is cracked by flying debris - it will be covered if you have a comprehensive car insurance policy. This pays out regardless of who is to blame for the damage.
However, if you only have a third-party policy, this will not cover storm damage.
In terms of driving during stormy weather, if you have comprehensive car insurance, it should still cover you for any damage caused by treacherous road conditions. Third-party cover should cover you in the event that you cause damage to someone else's vehicle.
Your car insurance is not void if you decide to drive during a red weather warning. However, make sure you only drive if it's absolutely necessary. If you have to go out during a red weather warning then drive slowly, keep your distance from other vehicles, and take care.
Look After My Bills Newsletter
Get the best money-saving tips, tricks and deals sent straight to your inbox every week. Make sense of your money in partnership with The Money Edit.
Ruth Emery is contributing editor at The Money Edit. Ruth is passionate about helping people feel more confident about their finances. She was previously editor of Times Money Mentor, and prior to that was deputy Money editor at The Sunday Times. A multi-award winning journalist, Ruth started her career on a pensions magazine at the FT Group, and has also worked at Money Observer and Money Advice Service. Outside of work, she is a mum to two young children, a magistrate and an NHS volunteer.