What are the most expensive vet bills for dogs?
Unfortunately, there's no NHS for dogs. If your dog has an accident or gets sick, you'll need to pay for diagnosis and treatment at the vet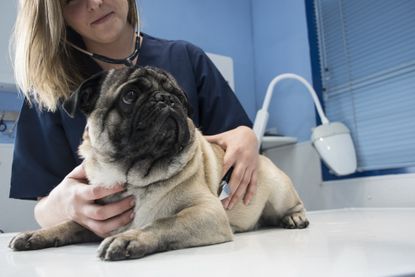 (Image credit: Getty)
Vets can be very expensive. For unscheduled trips to the vet, you'll usually need to pay a consultation fee, plus the cost of any required treatment, medication or surgery.
Vets' fees aren't regulated or standardised in the UK, so they can charge what they like. Each vets' practice's price list will be different and determined by factors such as location, staff costs and overheads. Prices will also be influenced by the breed and size of dog you have (bigger dogs cost more to treat), and the treatment he or she needs.
Many pet owners have pet insurance. The right insurance policy for your dog will cover some, or all, of the cost of any vet treatment your dog needs. However, most policies will have limits per claim, per condition, or per year. In most cases you'll be required to pay part of the claim – this is called the 'excess'.
If you have a puppy, read our guide on pet insurance for puppies.
Data from insurers
Tesco Bank, which sells pet insurance, looked at its claims data to determine average prices for common conditions that affect dogs.
Its research included looking at the most expensive claims for some ongoing conditions. For a large dog (over 20kg) these included:
Swipe to scroll horizontally
| Ongoing condition | Treatment cost |
| --- | --- |
| Lameness | £3,760 |
| Arthritis/DJD | £1,865 |
| Cruciate rupture | £5,001 |
| Tumour | £3,151 |
| Skin allergy | £2,058 |
However, the Scratch and Patch pet insurance survey 2020 cited two claims much higher than these figures – reaching more than £15,000. One was for a Cavachon with a fluxating patella and the other for a Rataneiro de Bodega requiring surgery on collapsed disks in its neck.
The Association of British Insurers (ABI) also has examples of the following insurance claims that would make your eyes water if you had to foot the vet's bill yourself:
£7,000 to treat a French Bulldog with a fractured leg
£3,800 to treat a dog's dislocated kneecap
£3,600 to repair right leg cruciate ligament damage in a Jack Russell terrier
According to Direct Line, neurology and nervous system disorders are typically the most expensive vet fee claims. These include epileptic seizures and spinal conditions such as disc prolapse. These typically cost £1,125 to treat.
(MORE: Most expensive dogs to insure)
Vets' prices for surgery
You should expect to pay more at the vet if your dog needs surgery rather than just medication. If you have a large dog, or 'giant' breed, surgery can cost up to twice as much due to the higher doses of anaesthetic and medication needed.
Not all vets display their price list online but one that does is Abington Park Referrals in Northampton which specialises in orthopaedic and soft tissue surgery, internal medicine, oncology and diagnostic imaging.
Some of the most expensive surgeries on its price list include:
Swipe to scroll horizontally
| Surgery | Cost |
| --- | --- |
| Total hip replacement | £4,600 |
| CT and hemilaminectomy decompression for intervertebral disc disease | £3,000 |
| Liver lobectomy | £2,300 |
| Humeral unicondylar fracture repair (not including CT) | £2,500 - £3,500 |
| Cranial cruciate ligament repair | £3,000 |
| CT and arthroscopy for elbow dysplasia | £2,500 |
| CUE (canine unicompartmental elbow resurfacing) | £4,000 |
| Laryngeal tieback | £2,200 |
| Thoracotomy/lung lobectomy/pericardectomy | £2,300 |
These fees are estimates for uncomplicated surgical procedures and include initial consultation, x-rays, surgery, hospitalisation for one night, initial courses of pain relief and antibiotics. Any complications could mean additional surgery hospitalisation or medication, incurring extra costs.
Look After My Bills Newsletter
Get the best money-saving tips, tricks and deals sent straight to your inbox every week. Make sense of your money in partnership with The Money Edit.
Emma Lunn is an award-winning freelance financial journalist who specialises in money and consumer affairs. She has more than 17 years' experience writing for national newspapers, trade and consumer magazines, and specialist websites. She has a particular interest in writing about property and mortgages, and enjoys explaining complex issues in an easy-to-understand way.