New car and home insurance rules - what you need to know before 1 January 2022
Here's everything you need to know about the new car and home insurance rules, known as the General Insurance Pricing Practices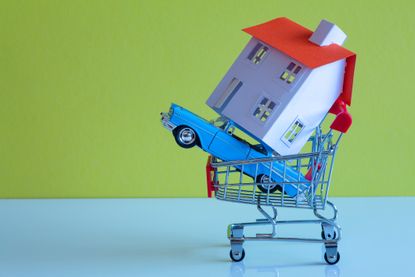 (Image credit: Getty images)
New Car and home insurance (opens in new tab) rules set to come into play in the New Year (2022) aim to remove the so-called unfair loyalty penalty, whereby only new customers are given the best deal, but existing customers are expected to pay more.
Known as the General Insurance Pricing Practices (Gipps), which are being introduced by the Financial Conduct Authority (opens in new tab) (FCA) on January 1 2022, the aim of the rules is to ban the practice of 'Price Walking' and make it easier for customers to cancel policies set for 'auto renewal'.
'Price Walking' - also known as the 'Loyalty Penalty' - happens when existing customers find renewal prices bumped up year on year, even when they don't make changes to their policy. On the flip side, those who switch to a new provider benefit from much cheaper discounted deals, at the expense of loyal, and often older customers (opens in new tab).
We explain what these new rules mean for you and how to make sure you pay the best price for home and car insurance policies.
New car and home insurance rules - what they mean for you when you buy a policy
"Traditionally, customers who auto-renew with their existing insurer are charged more than new ones. This is effectively a loyalty penalty, but from January 1 2022, a price calculated on a home or car insurance renewal must be offered as though the customer was a new one," says Ryan Fulthorpe, motoring expert at GoCompare.com (opens in new tab).
This should even up the playing field for home and motor insurance customers, regardless of how long they've been with their insurer, especially as the loyalty penalty can be steep.
According to the FCA, home insurance customers, (with combined buildings and contents cover), who stick with their provider beyond five years pay £287 - an increase of over 40%, compared with an average of £165 a year.
With motor insurance, existing customers pay over 20% more than new ones as 'new' customers typically pay £285 a year, compared with £370 for those who've stayed loyal for five years.
Changes to auto-renewal for car and home insurance
Many insurers set up policies for 'auto-renewal' and make it difficult for customers to cancel, for example not offering an online cancellation option, and insisting customers get in touch by phone.
"One in five of the complaints we get on car and home insurance involve renewals, and the main issue is people don't realise auto-renewal is happening", says Martyn James, consumer expert at Resolver (opens in new tab), a consumer complaints service.
Fulthorpe added that "insurers must offer a range of easy, accessible and straightforward options for consumers to cancel the auto-renewal of their policy".
And these changes to the auto-renewal process won't just apply to home and motor insurance.
Will this mean cheaper car and home insurance policies?
The changes may mean cheaper policies for renewing customers, although the FCA says some customers will pay more, especially if they currently benefit from new customer discounts.
"It's likely the true impact on insurance premiums will take a while to come to fruition, as insurers start adjusting their pricing in line with the new GIPP regulations", says GoCompare's Fulthorpe, "but in the short term you could see new business prices increasing, with insurers no longer able to rely on the 'loyalty penalty' with returning customers".
"We could also see changes in the incentives insurers offer new customers, as they will now have to be offered to returning customers. So in theory, we may see fewer incentives from insurance companies who are looking to recoup some of the costs from the new rules".
However there is some 'wriggle room' for insurers, as the FCA says the rules allow firms until 17 January 2022 to implement fully processes for the pricing and auto renewal disclosure remedies, providing they compensate any customers who suffer a loss resulting from the failure to have processes in place on 1 January.
How much money will I save on my motor and home insurance?
The FCA says the new insurance pricing measures will save consumers over £4 billion over 10 years.
As an existing home insurance customer who's been with the same insurer for five years or more, you could expect to see an 'average' annual saving of £34 on contents cover, £41 for buildings cover and £62 on a combined buildings and contents policy.
And with motor insurance, the FCA predicts a drop of £56 a year on policy prices, for customers who've been with the same insurer for five years.
Why you should still shop around when buying home and car insurance
Insurers will have to offer new and existing customers the same price, but this does not mean you are paying the best price. You should still shop around either by using a comparison site or calling an insurance company directly. It is also a good idea to use more than one comparison site, as providers have different deals.
When is the best time to renew my car and home insurance?
Buying your home or motor policy around a month before it runs out can save money, as insurers may increase the price the closer you get to renewal.
"Insurers can change their prices at any time", warns Ryan Fulthorpe, "so the price you see when you first compare quotes might change if you return to buy later".
GoCompare's research showed that customers can save around 40% buying car insurance 26 days before renewal, and the best time for home insurance is 27 days in advance, when you can make a saving of around 30% compared with buying on the day.
What's not covered by the new GIPP rules?
The new insurance pricing rules won't cover every type of insurance, for example breakdown cover.
This will only be covered under the new rules if it's sold as an 'add on' to an existing motor policy, but not if you take it as a separate 'stand alone' policy.
Sue Hayward is a personal finance and consumer journalist, broadcaster and author who regularly chats on TV and Radio on ways to get more power for your pound. Sue's written for a wide range of publications including the Guardian, i Paper, Good Housekeeping, Lovemoney and My Weekly. Cats, cheese and travel are Sue's passions away from her desk!