Need landlord contents insurance? Here's how and where to buy it
Don't ignore the need for specialist landlord contents insurance if you are renting out a property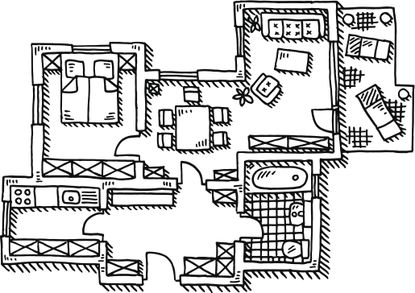 (Image credit: getty images)
Look After My Bills Newsletter
Get the best money-saving tips, tricks and deals sent straight to your inbox every week. Make sense of your money in partnership with The Money Edit.
Thank you for signing up to The Money Edit. You will receive a verification email shortly.
There was a problem. Please refresh the page and try again.
Whether you are a buy-to-let landlord or an accidental landlord who has inherited a property, contents insurance will give you peace of mind. It doesn't just cover your belongings but offers protection against other potential mishaps.
Below is a guide to what landlord contents insurance covers and how it differs from a standard home insurance policy.
(MORE: How to buy insurance for your buy to let)
Do I need specialist landlord contents insurance?
You will need specialist landlord insurance to protect your contents because a standard home insurance policy won't cover all the risks that landlords may face, such as alternative accommodation for tenants.
If you need buildings insurance too, it is often cheaper to buy contents insurance at the same time. But if your freeholder is responsible for buying your buildings insurance, you can buy a landlord contents policy separately.
A landlord contents policy will only cover your own contents – your tenants can take out separate home contents insurance for their own possessions.
You can get an all-in quote for landlord contents insurance for more than one property – including a mix of residential and commercial lets – which will save time and may be cheaper.
What information will I need to get a quote?
You will need to answer a few questions about the type of property you want to insure, roughly when it was built, whether it is leasehold and when you bought it. You will be asked whether the property is occupied, how many tenants live there, and whether you let it out as a holiday home or short-term let.
Finally, you will be asked to confirm that you meet all your legal obligations as a landlord, that there are no repairs currently being carried out, and whether you have made any claims in the past five years.
What should my policy cover?
Contents insurance should cover anything that is not permanently fixed in your rental property, such as freestanding furniture and appliances, soft furnishings, and carpets from risks such as theft and damage from fire, storms, and floods.
If you own a leasehold flat in a building where the freeholder buys buildings insurance under a residential block scheme, consider buying fixtures and fittings cover to insure against damage to permanent fixtures, such as fitted kitchens, bathrooms, fitted wardrobes, and skirting boards.
Property owner's liability – sometimes referred to as public liability insurance – is essential for landlords, as it covers legal and compensation costs if visitors or your tenants are seriously or fatally injured at the property, or their belongings are damaged. It will include damage to neighbouring properties – for example, if there is a burst pipe.
Other optional extras include:
Alternative accommodation This covers the cost of rehousing tenants because of an event covered by insurance, such as a fire.
Accidental damage This covers damage to your contents by tenants, but not malicious damage.
Rent guarantee cover Add this if you would like to cover loss of rental income if your tenants fall behind with their rent.
Replacement locks and keys This is helpful after a burglary or if your tenants lose their keys.
What pitfalls should I look out for?
Insurers generally expect you to rent out the property to tenants who have signed a tenancy agreement for six months or more.
Some insurers only offer contents cover if your tenants have been employed or have been studying full-time for over six months, are retired or receive certain state benefits.
Not all policies cover malicious damage, theft, or attempted theft by tenants.
Check what type of flooring will be insured – tiles, wood, and laminate floors are sometimes included under buildings insurance, though some insurers – for example, Direct Line –offer to insure damage to carpets, lino, wood flooring, tiles and laminate floors on either buildings and contents insurance.
If you already have buildings insurance, check your policy so you don't double up on options offered in both types of policy – for instance, public liability insurance or replacement locks and keys.
Where can I buy landlord contents insurance?
Landlord contents insurance is widely available from insurers and brokers, including Adrian Flux, Admiral, Aviva, AXA, Churchill, Direct Line, Frontier, Hamilton Fraser, LV=, Orwell Insurance Services, Piki, Rentguard, Simply Business, and Swinton.
You can compare landlord insurance on price comparison sites including Compare The Market, Confused.com, GoCompare, and MoneySuperMarket – but the choice will be more limited than for standard contents insurance.
You can find brokers in your area using the online search tool at the British Insurance Brokers' Association or call 0370 950 1790.
Look After My Bills Newsletter
Get the best money-saving tips, tricks and deals sent straight to your inbox every week. Make sense of your money in partnership with The Money Edit.
Hannah is a freelance financial journalist. She has written on topics including consumer rights, personal finance, homes and property for magazines, newspapers and websites including DIYgarden.co.uk, Ocean Finance, Moneywise, and The Daily Telegraph. In her spare time, she grows her own veg, plays bridge and looks at ways to save money on her household bills.