Moving house? Follow this useful timeline to keep on top of the move
Moving house is a stressful business, second only to death and divorce on the list on massive life hassles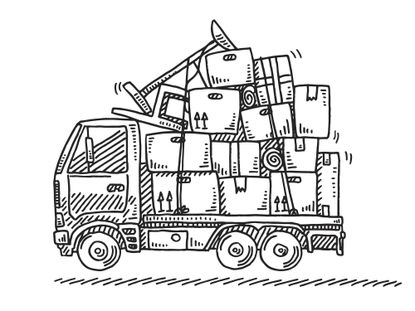 (Image credit: getty images)
When faced with literally picking up your entire life and shunting it to another part of the country (or even just around the corner) it's no wonder we Brits only take on the challenge every six years (on average).
There's a huge amount of prep involved in executing a smooth move, but before you're reduced to a gibbering wreck popping bubble wrap in the corner, take heed of our ultimate guide to moving house.
First things first
It sounds obvious, but sort out a moving date. This may well involve some back-and-forth between estate agents, but once all parties have agreed a day when keys can be exchanged, you can get cracking with everything else.
One month to go
Moving house is a great reason to bin the excess baggage, so before you even start thinking about packing, have a good sort through drawers, cupboards, shelves – everywhere – and get rid of unwanted junk (don't forget the loft and garage). Items of value can go on eBay, other stuff on Gumtree or Freecycle, or simply to a charity shop if you're short on time. Sound like too much hassle? Call in a professional 'clutterologist' from the Clutter Clinic or Working Order.
Check your contracts with service providers for things like TV and Broadband. Many will require 30 days notice of cancellation or change of address.
If you're planning on hiring a removal company, now's the time to get the ball rolling. Get at least three quotes, preferably from companies recommended by friends, and take the time to ascertain smaller details. Do you want someone to help with packing as well? Are packing materials included? How many people will the company send? Do they have customer testimonials? Finalise your booking as soon as possible, especially if you're moving at peak times like the weekend.
Three weeks to go
If you're flying solo on the day, now's the time to book a van. There are hundreds of hire companies online, all promising low prices and great deals, so make sure you consider the following:
Pick-up and drop-off points vary and your choice will affect the overall quote. If you're returning the van to a different depot the quote is likely to be higher.
Van hire is almost always more expensive at the weekend. If you can move midweek, you're likely to make a decent saving.
Make sure you know the status of your possessions while in transit. Some van hire companies may offer van insurance cover for your items, and it's certainly worth considering.
It's always worth booking the van for longer than you anticipate needing it, just in case things go awry.
Regardless of whether you're hiring a van or using a removals company, consider space and parking at your new house. Will you need a permit, or will you need to contact the council to arrange special conditions?
The incredible bulk
If you're taking connected appliances like washing machines, cookers or dishwashers with you, will you be able to disconnect them yourself? If not, book a specialist to do the job a couple of days before you move. Ditto having them re-installed at your new house. Take the measurements of big items of furniture and doorframes.
Will your furniture physically fit out of your old house and into your new one? If not, make preparations to dismantle it as best you can or to inform your removal crew of the issue. You can also use these measurements to make rough plans regarding furniture placement in your new house. Having an idea of where bulky items will go will help get them out of the way on the big day.
Two weeks to go
If you've got kids or pets, make arrangements now to ship them off during the big day. Book cats and dogs into a cattery or kennel if necessary.
If you're doing the packing yourself, now's the time to take a deep breath and dive in. If you've had a good de-clutter you'll be in a much better position to get this done efficiently as you'll have an up-to-date knowledge of where everything is. Some things to consider when you begin packing:
Things like books, DVDs, pictures and decorative ornaments should go first, since they're non-essential items.
Tempting as it is to lob anything and everything into the nearest box, colour-coding them or at least marking them 'kitchen', 'bathroom' and so on will make life at the other end considerably easier. Keep packing boxes in every room of the house and try to keep items in order.
Still, the best laid plans of mice and men often go astray, so keep a couple of boxes on standby for the inevitable last-minute blitz, regardless of the items' designated room.
Keep a 'last in, first out' box in a prominent place and make sure you know exactly where it is during transit. Use this box for first-night essentials such as the kettle, bed linen, toiletries, medicine, a change of clothes, and so on.
One week to go
Assemble an information pack for your old property's new tenants or owners. Include things like the boiler information manual, guides for appliances, codes for alarms, leaflets about rubbish collections and so on. If you can, try to talk to the owners of your new place, too. They'll be able to advise on things like bin days, creaky stairs or tricky door latches.
If you're able to gain access to your new house prior to moving day, consider getting a cleaner in to give the place a thorough once-over, or to at least give the carpets a good clean. It's much easier to clean an empty house than one full of boxes.
On the day
Moving house is physically and emotionally demanding. Try to make sure you've had a good night's kip and are well fed before you start.
As you leave your old place, take final meter readings, check every room for forgotten items and put the last of the rubbish out. If you're leaving a fridge/freezer, ensure it's empty, unplugged and surrounded by drying towels to catch the water run-off.
When you get to your new place, take new meter readings and make sure the property is as you'd expected it. If furniture was agreed on, or any fixtures and fittings, make sure everything's in order. If not, now's the time to speak to the estate agent.
After you've moved
Introduce yourself to the neighbours. Making yourself known to them is not only a nice thing to do but is also a prudent safety measure, because...
Statistics show you're more likely to be a victim of burglary during the first year of residence in a new property than in subsequent years, so you might like to think about having a safety assessment done on your new pad. Or, at the very least, consider having the locks changed.
Moving house is tiring and by now you'll be more than fed up with the whole process, but make sure boxes are unpacked as soon as possible, otherwise they're liable to be shunted into a corner and left there forever more.
Don't forget the vital address changing stuff
One of the most soul-destroying aspects of moving is informing people of your new address, and unfortunately your credit card company will probably miss your Facebook announcement.
Banks, utility companies, insurance providers, employers, schools, doctors... they all need to know.
There are plenty of comprehensive checklists online, which will help ensure you cover everyone, so set aside an evening to plough through the job (note: electricity and gas companies can be informed on the day, when you do final/new meter readings).
If it seems like too daunting a task, services like iammoving.com lets you notify over 1,500 organisations of your change of address, for free. Also, think about setting up a mail re-direct service with the Post Office to make sure any mail addressed to you finds its way to your new house.
Look After My Bills Newsletter
Get the best money-saving tips, tricks and deals sent straight to your inbox every week. Make sense of your money in partnership with The Money Edit.
Rachel is an experienced climate and sustainability communicator, with more than 12 years writing and editing for professional, B2B and consumer audiences across articles, journals, reports, web content and books. She covers a wide range of sustainability topics, from renewables and waste to energy efficiency and carbon reduction, although has a particular interest in the way technology is being used to mitigate the climate crisis.