Insider tricks of estate agents exposed
Heed this expert advice to make sure you remain in control when house-hunting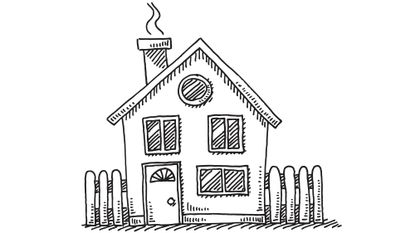 (Image credit: getty images)
Look After My Bills Newsletter
Get the best money-saving tips, tricks and deals sent straight to your inbox every week. Make sense of your money in partnership with The Money Edit.
Thank you for signing up to The Money Edit. You will receive a verification email shortly.
There was a problem. Please refresh the page and try again.
Unless you have so much money you have to keep some at your aunt's house, buying a home will probably be the largest purchase you make in your lifetime.
But standing between you and your dream house is that suit-clad, adjective-spouting estate agent showing you a pokey bedroom that even Harry Potter would turn his nose up at.
Remember that there are loads of well-respected and reputable estate agents out there, so the best way of finding the right one is usually through the reviews of friends and family, or from previous customer testimonials online. This will help to weed out the diamond from the dodgy.
But we've delved into the murky underbelly of the bad estate agent to uncover the tricks of the trade and see how you can side-step them successfully to get your foot on the property ladder.
Lay down the law
If you think that there are strict guidelines surrounding setting up and running an estate agency, think again. As it turns out, anyone can sell houses, whether they know what they're doing or not.
Bradley David, senior property consultant at Cardiff-based estate agency Chambers, said: "It's not very well policed at the moment and anyone can open an estate agency. More legislation is definitely needed so customers aren't taken advantage of, which would really help to improve the reputation of the whole sector and raise the profile of the estate agents who do a really great job."
Bijou = pokey
Bijou, compact, cosy, pied-a-terre… whether it's in French or English, be aware that these cutesy words just mean small.
Estate agents have a whole vocabulary of words and phrases that can make a dilapidated shack sound like a chateau.
Although they may be able to employ strange synonyms, remember that they can't omit important information or tell an outright lie about a property. This is thanks to the consumer protection laws in place to protect buyers.
Estate agents must provide you with any details that may be relevant to your purchase, so they'll need to know the property inside-out before they start showing potential buyers around.
Going, going, gone
Although daytime TV programmes such as Homes Under the Hammer have endeared people to the idea of buying property at auction, you could end up paying more than you should because of the underhand tactics employed by some auction houses.
One estate agent we interviewed said that, prior to buying his own house at auction, he had done his research and found out that no-one had viewed the property beforehand. On the day, he knew that there wouldn't be much interest, but someone at the front kept bumping up the bids.
He soon recognised the annoying bidder as a man who worked at the auction house who was deliberately raising the price, even though he had no intention of buying. Our eagle-eyed estate agent decided to not get carried away in a bidding war and bought the property after the auction instead.
Former estate agent-turned-PR-consultant Jason Wyer-Smith confirms that this practice goes on. "An auctioneer may use fake bids at an auction, but a legitimate auctioneer will only do this to get a property up to its reserve price if there's only one interested bidder," he said. "It's called 'taking bids off the wall'. The auctioneer should stop taking fake bids once the bids have reached the reserve so that the real bidder will not pay any more than the reserve."
Faking it
We've heard it all before… You're having a casual stroll around a potential house, making the huge decision as to whether you want to make this your home. Suddenly, the estate agent chirps in your ear: "Well, you'd better act fast, there are 75 other buyers at the door waiting to snap it up if you take longer than five minutes to think about this incredibly important decision."
Hold up! Like a blue cheese, this decision needs some time to mature, and the word on the street is that these 'other interested parties' may be completely fictitious.
Don't be pressured into rushing in and putting forward an offer if you're not entirely ready. You never know what could be waiting around the corner…
Get covered
Some estate agents will offer buildings and contents insurance or mortgages through their preferred providers, and may try to convince you that it's the best option to choose.
But that could be because they receive a commission for referring your business. Make sure you always shop around for the best deal and don't get strong-armed into buying an insurance product that doesn't fit your requirements or your budget.
Two for one
So what happens when your offer has been accepted and your perfect house is within your grasp? Well, things may not be as simple as they appear. In some cases would-be homebuyers have suffered from techniques employed by the estate agent to sell the house as quickly as possible.
Basically, you might not be the only person whose offer has been accepted. If someone else offers a higher bid, the wily estate agent may say that if they complete first, they get the house, leaving you out in the cold.
However, Wyer-Smith said: "It's quite difficult to have a contract race. What's more likely is that a buyer will be given a set time to exchange contracts and, if they fail to do it, the sale will be switched to a new buyer. However, if the first buyers are close to exchange an agent will usually advise the seller to stick with the first buyer."
Again, the moral of the story is to choose an estate agent based on word of mouth and perhaps hold off on telling the world about your fabulous new house until the contracts are well and truly signed.
The best things in life aren't fees
It's not just when you're buying a house that you need to keep your wits about you. If you're using an estate agent to sell your property, you may fall foul of hidden charges.
According to research by the Homeowners Alliance, only 2% of estate agents will mention fees openly on their website and 82% make no mention of them at all.
These charges can be made up of registration fees, marketing incentive fees and even non-refundable deposits, so always ask up front what you're paying for. Alternatively, try to use independent estate agents, who - according to the Homeowners Alliance - tend to be more up front about fees.
Look After My Bills Newsletter
Get the best money-saving tips, tricks and deals sent straight to your inbox every week. Make sense of your money in partnership with The Money Edit.
Abbie is a freelance journalist and was previously managing editor at GoCompare. She spends her time making sure readers know how to save money on their bills.