Got an Airbnb? Here's how to insure it
Making sure you and your property are adequately covered is essential for any Airbnb host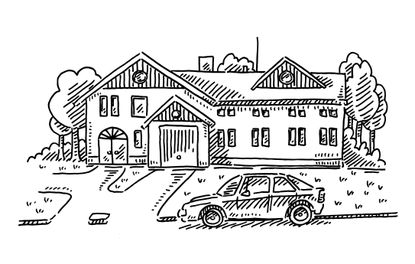 (Image credit: getty images)
If you are planning to be an Airbnb host, you are bound to be worried by media reports of homes being trashed or works of art being stolen – including an £8,000 Banksy – and that's just the damage to property.
It's no surprise to find that home-sharing is not always plain-sailing, which is why it is important to find the right insurance.
Do I need specialist insurance for an Airbnb?
When you sign up to Airbnb, you will be covered by its host protection insurance, which is liability insurance that provides cover of up to $1 million (£719,000) if guests or other visitors are injured or their possessions are damaged. Although it covers accidental damage, it excludes deliberate acts of vandalism or attacks on guests.
Airbnb also provides a host guarantee, which may protect your property and belongings for up to $1 million from damage by guests. However, the long list of exclusions includes theft of cash, damage to fine art and security systems, malicious damage, and loss of future rental income.
You are expected to try to get compensation from your guests first, and its protection and guarantee only cover the dates they have booked. Airbnb admits that its host guarantee is not an insurance policy and recommends that you take out additional insurance.
Most home insurance policies will not cover you for home-sharing sites, such as Airbnb, Homestay, Onefinestay and Wimdu because it presents more risks. There are exceptions – Admiral allows you to rent out rooms for up to 90 days a year as an optional extra. With this add-on, the number of paying guests cannot be more than double the number of bedrooms. LV= also allows customers to take in paying guests on its home insurance, but you will need to let them know in advance.
If you only rent out rooms occasionally, Guardhog offers "pay per stay" insurance and can link up with your online calendar on Airbnb to automatically cover your bookings.
Airbnb host insurance policies cover homes in the UK. If you plan to rent out an Airbnb overseas, read our guide to how to insure a holiday home.
What information will I need?
It depends whether you can keep your existing home insurance and simply buy host insurance – ask your insurer first – or whether you buy a package of buildings, contents, and host insurance.
If you are buying host insurance as a standalone product, you will need the name of your home insurer and the date of your renewal and to confirm that you will not have more than a certain number of guests staying.
You must confirm that you will ask your home insurer's permission if you haven't done so already, and that your local authority allows you to sublet to Airbnb guests. You may have to share your lettings history if you have rented out rooms previously.
If you are taking out buildings and contents insurance too, you will need to give details of the type of property, its size and location, how much cover you need, information about your home security, and the cost of rebuilding your home. The Association of British Insurers has a free calculator on its website to help you work this out.
What should I make sure my policy covers?
As well as making sure that you have home insurance to cover the building and its contents, you will need:
Public liability insurance This will protect you if a visitor or guest claims compensation for injury or damage to belongings in your property.
While Airbnb has its own host protection insurance, it only insures the guest who is booked in, so you will need this to protect other visitors too.
Employer's liability insurance If you employ staff to manage your short let, such as a cleaner or gardener, this will protect you if they are injured or become seriously ill – this is not covered by Airbnb.
Also consider accidental damage, home emergency cover, replacement locks and keys, and loss of bookings if your home becomes uninhabitable – because of a fire, for example.
Are there any red flags to look out for?
Host policies usually kick in after you've tried to get compensation from your guests and then from Airbnb. The host insurer may also ask you to make a claim against your home insurer and provide written evidence that the claim has been refused before you can start a claim.
Some host insurance policies don't cover malicious damage. If cover is available, check if you will be insured not just for booked-in guests, but for their friends. Or they might only cover malicious damage for stays of more than one night – to reduce the risk of guests renting your home for a party.
Before you sign up as an Airbnb host, check its terms and conditions, so you are aware of all the exclusions and buy the extra cover you need.
Where can I buy insurance for an Airbnb?
Brokers that offer Airbnb host insurance include Frontier, Guardhog, Home Protect, Intasure, Piki, and Towergate Insurance.
Also call your insurer to check whether they can add host insurance to your home policy.
Look After My Bills Newsletter
Get the best money-saving tips, tricks and deals sent straight to your inbox every week. Make sense of your money in partnership with The Money Edit.
Hannah is a freelance financial journalist. She has written on topics including consumer rights, personal finance, homes and property for magazines, newspapers and websites including DIYgarden.co.uk, Ocean Finance, Moneywise, and The Daily Telegraph. In her spare time, she grows her own veg, plays bridge and looks at ways to save money on her household bills.