How to buy insurance for an unoccupied home
Do you need specialist insurance for an unoccupied home and what should you look for in a policy?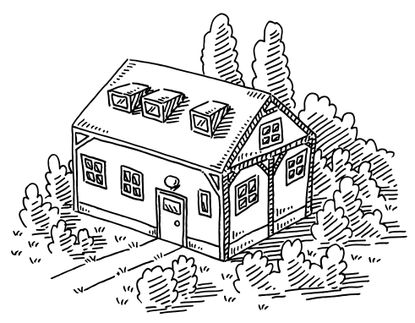 (Image credit: getty images)
There are several reasons why you might leave a property empty for months and need more than standard buildings and contents insurance: you may have moved out while builders are renovating it; perhaps you've bought a house but haven't set a move-in date; you own a rental property and have a gap between tenants; are staying in a holiday home; or a relative may have died or been taken into care.
(MORE: Home insurance for unoccupied homes)
Do I need specialist insurance for my unoccupied home?
Whether you need to take out unoccupied home insurance will depend on how long you expect the property to remain empty. Check your existing home insurance policy as some insurers allow you to leave a property unoccupied for up to 60 days, while others stipulate a smaller window of 30 days.
An unoccupied home is more at risk of being burgled or of water escaping. No one will be there to make sure that small problems, such as a leaky radiator, don't get bigger, so you will need unoccupied home insurance – but you can save money buying it once you've used up your home insurer's empty homes' allowance.
What information will I need to get an unoccupied home insurance quote?
You will need to give details of the type of property, its size and location, how much buildings insurance or contents cover you need, information about your home security, the reason why the property will be unoccupied and how long you would like the policy to last. You can sign up for three, six, nine or 12 months, but you can extend it if you're not sure.
You will need to provide the cost of rebuilding your home – the Association of British Insurers has a useful free calculator on its website to help you work out rebuild costs.
What should my insurance policy cover?
You will need the following cover when you take out unoccupied home insurance – several are optional extras but will give you extra peace of mind:
Unoccupied buildings insurance As with any buildings insurance, your property will be protected from risks, such as fire, lightning, earthquakes, explosions, and subsidence.
Contents insurance Even if you remove valuables from your unoccupied, contents insurance will protect appliances, flooring, soft furnishings, and furniture from damage, theft, and attempted theft.
Public liability insurance Also known as property owner's insurance, it will pay compensation if someone is injured, or their possessions are damaged, in an accident at your property – by a falling roof tile or masonry, for example.
Accidental and malicious damage Some policies will protect your building and contents against malicious damage by vandals, as well as accidental damage.
Escape of water or oil Oil and water leaks could cause extensive damage before you spot them in an empty home. Some policies will also pay out for finding the source of a leak.
Legal cover If you're worried about squatters or you have a dispute with neighbours, legal cover can pay for hiring a solicitor and going to court.
Are there any red flags to look out for?
Many insurers stipulate that you must visit the unoccupied property weekly. If this is impractical, you may need to ask a friend or relative to do this for you.
Some will request that your turn off the water and drain the system or to set your heating to a frost setting in winter, so pipes won't burst.
You may be asked to maintain the exterior of your home and front garden – trimming the hedge and repainting woodwork, so your property won't be a magnet for burglars or squatters.
You may be asked to upgrade your security, so external door and window locks conform to a certain standard.
If you are carrying out renovation work while the property is empty, check whether the policy covers theft or damage by builders working on site – while it is covered on some policies, most insurers will expect the building firm to have its own insurance.
What should I do once the property is occupied again?
Contact the insurer to cancel the policy and shop around for standard home insurance once you move in, as this will be cheaper. Expect to pay a fee to cancel early and not to receive a refund if you have made a claim.
Where can I buy unoccupied home insurance?
This type of insurance is too specialised for price comparison sites, so you will need to contact the insurer direct or use an insurance broker. You can find a specialist broker online at British Insurance Brokers' Association.
Insurance firms or brokers that cover unoccupied home include Adrian Flux, CIA Landlord Insurance, Endsleigh Insurance, Fairweather Insurance, Guard Cover, Highworth Insurance, Home Protect, Intasure, Intelligent Insurance, Orwell Insurance Services, Swinton Insurance, and Towergate Insurance.
Look After My Bills Newsletter
Get the best money-saving tips, tricks and deals sent straight to your inbox every week. Make sense of your money in partnership with The Money Edit.
Hannah is a freelance financial journalist. She has written on topics including consumer rights, personal finance, homes and property for magazines, newspapers and websites including DIYgarden.co.uk, Ocean Finance, Moneywise, and The Daily Telegraph. In her spare time, she grows her own veg, plays bridge and looks at ways to save money on her household bills.