How to buy insurance for a home that's had subsidence
Whether it's a previous affliction or a new problem, subsidence can affect your home insurance - here's what you need to know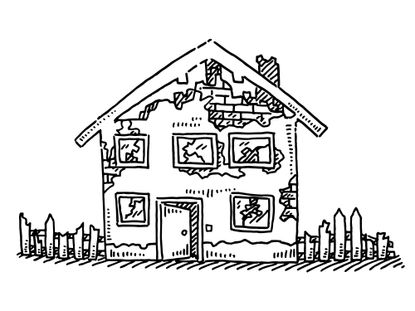 (Image credit: getty images)
Look After My Bills Newsletter
Get the best money-saving tips, tricks and deals sent straight to your inbox every week. Make sense of your money in partnership with The Money Edit.
Thank you for signing up to The Money Edit. You will receive a verification email shortly.
There was a problem. Please refresh the page and try again.
Discovering that your home has subsidence can be very disruptive even when it is covered by your buildings insurance but buying a policy after the event is not easy either. Here's the lowdown what you need to consider.
Can I get home insurance after subsidence?
Once your home has had subsidence, you will find it much harder to get insurance to cover it over the next few years. Even if you haven't had subsidence, if you live in an area that is considered at risk, you may need specialist insurance.
If you had buildings insurance to cover your subsidence claim, your insurer will usually continue to renew your policy if the remedial work was arranged through them. Expect your excess and premiums to rise after making a claim, particularly if you have lost your no claims bonus.
However, if you paid for the remedial work yourself or want to compare policies, there are specialist brokers who handle subsidence and underpinned insurance.
What information will I need to get a subsidence insurance quote?
Insurers will ask for exact details, such as the date of your claim, the cause of the subsidence and the cost of your claim. Other questions include how the damage was repaired and whether the property was underpinned.
As trees are one of main causes of subsidence, you will need to tell the insurer about any large trees that are a few metres from your property, and whether these trees have caused any damage in the past. If this is the case, the insurer may want to know the type of tree and its exact location. Some trees are more likely to cause subsidence, including ash, oak, plane, poplar, sycamore, and willow.
You will be asked if you have a Certificate of Structural Adequacy, issued by a qualified structural engineer after the repairs have been completed and monitored for further movement. It will show the cause and extent of the structural damage, when and how the repairs were carried out and confirm that the property is now structurally sound.
If the subsidence is historic, insurers may ask to see the building survey from when you bought the house.
What should my insurance policy cover?
Every policy is different but expect to find the type of cover that would appear on a standard buildings insurance, such as loss or damage caused by fire, explosion, lightning or earthquakes, storms or floods; riots and strikes; falling trees and branches; escape of oil or water; property owner's liability; and subsidence.
Check whether alternative accommodation is included if your home would be uninhabitable while remedial work is carried out. You may want to add optional extras such as contents, accidental damage, legal expenses, home emergency cover, and replacement locks and keys.
Are there any red flags to look out for?
Check whether any special terms apply, such as any limit to claims for subsidence, which could leave you out of pocket – if, for example, there is a £25,000 limit and remedial work costs £50,000.
While many buildings insurance policies already have an excess of £1,000 for subsidence, this will be higher after a claim – £5,000 is not unusual.
When there is no subsidence in your main property or outbuildings, most insurers will exclude subsidence to driveways, patios, and garden walls.
Ask potential insurers if they will agree to continue to insure the property for a new buyer – it will make it easier when you come to sell.
What if my home develops subsidence during the term of my existing policy – will I still be covered?
Check the subsidence clause on your buildings insurance and contact the insurer as soon as you see signs of subsidence to start your claim.
You will have to pay for remedial work yourself if you have no insurance. This may not be too expensive if the problem is caught early – the average value of subsidence claims paid was £8,071 in 2020, according to the Association of British Insurers (ABI). However, it can cost much more – insurance broker Hamilton Fraser says that its most expensive subsidence claim was £71,800.
If you have switched to a new policy, the ABI has an agreement with its members that your previous insurer may handle your claim. This is based on how much time has passed between switching insurers, finding subsidence, and notifying them.
If it is within eight weeks, your previous insurer will handle the claim; between eight weeks and one year, your previous and current insurer will share the cost; and if it is after a year, your current insurer with deal with your claim.
Where can I buy insurance for a home with subsidence?
As this type of insurance is complicated, use a broker that specialises in subsidence claims. Don't just rely on an online quote, but phone up to iron out any details that are unclear. You can find specialist brokers in your area using the online search tool at the British Insurance Brokers' Association.
Bureau Insurance Services offers a Previously Underpinned Properties scheme, where it carries out an inspection of the property for £199 (including VAT) and then aims to find buildings insurance with a subsidence excess starting from £2,500. If it cannot find comprehensive cover, 80% of its fee will be refunded.
Other specialist brokers include Adrian Flux, Frontier, gsi-insurance, Highworth Insurance, Home Protect, Intelligent Insurance, Orwell Insurance Services, and Towergate Insurance.
Look After My Bills Newsletter
Get the best money-saving tips, tricks and deals sent straight to your inbox every week. Make sense of your money in partnership with The Money Edit.
Hannah is a freelance financial journalist. She has written on topics including consumer rights, personal finance, homes and property for magazines, newspapers and websites including DIYgarden.co.uk, Ocean Finance, Moneywise, and The Daily Telegraph. In her spare time, she grows her own veg, plays bridge and looks at ways to save money on her household bills.