Home insurance for unoccupied homes: everything you need to know
Buying home insurance for unoccupied homes needn't be a minefield. Here's everything you need to know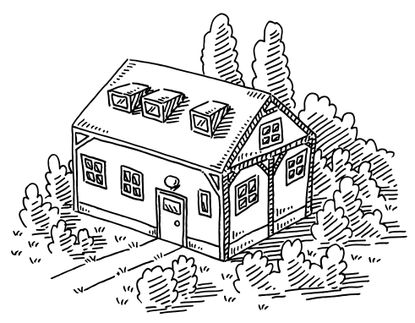 (Image credit: getty images)
Look After My Bills Newsletter
Get the best money-saving tips, tricks and deals sent straight to your inbox every week. Make sense of your money in partnership with The Money Edit.
Thank you for signing up to The Money Edit. You will receive a verification email shortly.
There was a problem. Please refresh the page and try again.
Home insurance for unoccupied homes is essential if your property will be empty for longer than 30 or 60 days. Most home insurance policies contain a clause that states that a property will not be covered if it's left empty or unoccupied for longer than a set period of time.
This kind of insurance is also known as:
unoccupied home insurance
empty property insurance
empty home insurance
vacant property insurance
Properties might be left unoccupied due to:
extended holidays
working overseas
sale-related delays
void periods between tenants
awaiting probate
second homes
because the resident is in hospital or care
Is home insurance for unoccupied homes more expensive?
Unoccupied property insurance can sometimes be more expensive than standard cover because properties that don't have someone living in them are considered a higher risk by insurers.
For example, if there was a water leak or break-in at an unoccupied property, it could be longer before the damage is noticed and repaired, potentially increasing the cost of any resulting claim.
For this reason, it will usually be a requirement of your unoccupied home insurance that the property is inspected regularly.
What does unoccupied home insurance cover?
Unoccupied home insurance normally covers:
Storms, floods and weather damage
Fire
Escape of water or oil
Theft or attempted theft
Vandalism or malicious damage
Legal expenses (for example, to remove squatters)
Property owner liability
It might also cover the following for an extra cost:
Damage due to fallen trees
Fly tipping
Broken windows
What won't unoccupied home insurance cover?
Every insurance policy comes with 'exclusions'. These are things are that are not covered by the policy.
Unoccupied home insurance exclusions normally include:
Theft by unforced entry such as an unlocked door or open window
Renovation or building work (this requires a different type of insurance)
Damage caused by builders (they should have their own insurance)
Claims by deception (for example, if you give a tradesperson a key and they rob you)
(MORE: How to buy insurance for unoccupied homes)
What are unoccupied building conditions?
Some insurers insist on certain rules to be stuck to for unoccupied home cover to be valid. These are called 'unoccupied building conditions', and are things like:
draining down the water system
switching off utilities
weekly documented visits
installing certain locks
sealing up letterboxes
Failure to comply with these terms could lead to an insurance claim being turned down.
How to find the right insurance for an unoccupied home
If you already have home insurance, ask your provider for a quote for insuring your home while it is unoccupied. However, most standard policies will only cover you if the property is empty for less than 60 days. Some policies might require that someone checks on the property at regular intervals.
If the property will be empty for longer than 60 days, you'll need a specialist policy for unoccupied homes. In order to get the right cover at the best price, you should shop around and compare quotes from different insurers.
Specialist unoccupied home insurance will normally cover a vacant property for three, six, nine or 12 months. If you need cover for more than a year you can extend your policy.
How much does it cost?
How much unoccupied home insurance costs depends on:
Property type, condition and location
Property value and rebuild cost
Type of cover (buildings and contents, or just buildings or contents)
Total value of contents
Whether you want to insure laptops or bikes or any items worth more than £1,000
How long the property will be empty for
Security measures such as burglar alarms and smoke alarms
Policy add-ons such as accidental damage and legal cover
Whether the property is being marketed for sale
The policy excess
Comparing unoccupied home insurance policies
Comparing unoccupied home insurance premium quotes is a bit trickier than comparing quotes for standard home insurance.
Although you can enter basic details online, the insurance company will usually need to speak to you to ask extra questions before it can generate a quote. This is because unoccupied home insurance is a 'non-standard' insurance risk.
The following companies specialise in insuring unoccupied properties.
Towergate offers flexible vacant property insurance policies, from as little as three months.
It offers three levels of cover: basic, standard and premium. Basic cover only covers fire, lightening, explosion and earthquake. Standard cover protects you against a lot more risks, while premium cover is the only option that includes escape of water damage.
Towergate can cover you during renovation works including decorating, extensions and alterations.
HomeProtect unoccupied home insurance is underwritten by AXA. Cover typically includes up to £500,000 for building repair or rebuild, and £50,000 legal cover for a range of circumstances.
Its policies cater for a wide range of situations including homes empty for sale, homes under probate, properties normally let, or properties undergoing renovation.
Adrian Flux is an insurance broker that can arrange insurance for any unoccupied home including listed buildings. It also sells portfolio insurance if you have more than one unoccupied property.
Adrian Flux offers a discount when you buy buildings and contents cover together and offers optional accidental damage cover. It offers cheaper cover if the property has specified alarms and security locks.
Guardcover offers cover for properties awaiting probate, sale or refurbishment for one, three, six, nine and 12 months.
In most cases, for standard construction properties that have been unoccupied for less than 12 months, and are under £500,000 in rebuild value, there shouldn't be any stringent unoccupied building conditions. Policyholders can choose cover that excludes regular, documented property visits.
Endsleigh offers tailored cover from a panel of insurers. The cover provided will depend on your unique circumstances and can include up to £2m property owners' liability cover.
Other optional cover is unoccupied legal cover to get up to £50,000 compensation for solicitors' fees and court costs that result from legal action carried out to evict squatters or because of property damage, nuisance or trespass.
Look After My Bills Newsletter
Get the best money-saving tips, tricks and deals sent straight to your inbox every week. Make sense of your money in partnership with The Money Edit.
Emma Lunn is an award-winning freelance financial journalist who specialises in money and consumer affairs. She has more than 17 years' experience writing for national newspapers, trade and consumer magazines, and specialist websites. She has a particular interest in writing about property and mortgages, and enjoys explaining complex issues in an easy-to-understand way.