Could your insurance ruin your home?
Home insurance means that everything can be made right after a disaster… Or does it?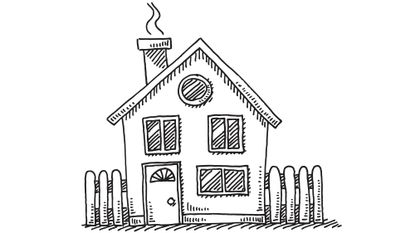 (Image credit: getty images)
If you've got home insurance then you know that you'll never be left with ruined furniture, fittings and carpets. You can decorate your home to a high standard, safe in the knowledge that you're protected if something goes wrong. Or can you?
Did you know that most home insurance policies will only replace the damaged items in a set, even if you can't match the undamaged stuff?
That means that if two chairs in a matching set are damaged, your insurer may only pay out enough to replace those – even if you can't find chairs that match. So you could end up with a mis-matched mess instead of your dream home.
Matching pairs and sets
Take a moment to think about how much stuff in your home is part of a set. Your kitchen units, your bathroom suite, your chairs and sofa, even some of your jewellery.
What if one item was damaged or stolen and you couldn't find matching replacements? Would you be happy to have a different sofa to your armchairs? A different-coloured carpet upstairs to downstairs? Two kinds of kitchen units?
Most of us would prefer to have matching sets, but often our insurance won't cover that.
Lucy's dream kitchen
Take Lucy, for example. She lives with her husband and toddler in a property they own, and she's really house proud.
So when a flood drenched one half of their kitchen, their hall and stairs, she was relieved to know that they had insurance. Her perfect home would be perfect once more.
Alas, because of a clause in her policy's small print, that was not to be.
"We had a flood in the kitchen which went through to the hallway and stairs causing damaged units, floor and carpet. We called our insurer but we were advised that they only repair the damaged items, even though we can't match the original items….
"I can't imagine anyone thinking it would be acceptable to have mis-matched cupboards installed in their kitchen. I saved up for a long time to have matching carpets throughout my property so to be only allowed to replace the hall, stairs and landing seems preposterous!"
So how much is it likely to cost Lucy and her husband to get their cupboards and carpets matching again?
"We are currently being offered around £1,900 where it is going to cost us in excess of £3,500 to get back to the state that we were previously in," she says, glumly.
That means her family could be £1,600 out of pocket, despite having insurance.
Matching items cover
If Lucy's story has made you wince then don't worry, you can protect yourself against such an aesthetic calamity. Some insurers will offer 'matching pairs and sets' cover for just a small amount extra a month, just ask.
However, not all insurers do offer this, so you may want to double check before you buy your policy. I called a few to ask and two of the sales assistants had to ask me what it was.
Don't worry, once you've compared home insurance policies you can still phone the insurer with any questions.
Just make sure you quote the reference we've given you, to get the same premium and avoid having to go through all your details again.
Do you need matching items cover?
As with any insurance policy extra, you should think carefully about whether or not you need it before paying more.
If your home is a joyfully chaotic jumble of different styles then perhaps you wouldn't care so much if the chairs didn't match, or the kitchen was two different styles.
Alternatively, if you have a really popular and common style of furniture or fitting and you're confident that you'll always be able to replace like for like then you probably won't be too worried.
But if you have paid for a stunning, matching set that you'd struggle to replace after the first year, it makes sense to consider protecting yourself with matching items cover.
The small print
Of course, the main lesson here is that it is essential to read the small print of any insurance documents. Many insurers apply exclusions and limitations to cover, and you don't want to find out you aren't protected only once disaster has struck.
Lucy feels her insurer has dealt unfairly with her because the clause was buried at the back of her paperwork, next to information on radiation and, er, sonic bangs. However, the information was under 'general exclusions' in her policy and it does make sense to read those carefully.
But not everyone bothers to read their insurance papers all the way through. It's easy to assume something is covered when it isn't, only to find yourself in hot water. After all, you know the old adage about 'ass - u - me'…
(MORE: Insurance assumptions that make an ass out of you and me)
The cheapest price for the best policy
Lucy's case shows how important it is to find the right insurance policy and not just the one that costs the least. "I wish I had gone for the best policy and not just the cheapest," she admits.
Saving money is all well and good, but it's important to find the best possible price for the right policy, rather than simply the cheapest premium overall.
The importance of finding the right cover for you goes for any insurance policy. For example, if you keep the cost of a car insurance policy down by increasing the voluntary excess but you can't afford to pay it, then you'll be really stuck if you have an accident.
By comparing different insurance policies policies you can almost always save money. But saving money by sacrificing cover could become an expensive mistake.
Look After My Bills Newsletter
Get the best money-saving tips, tricks and deals sent straight to your inbox every week. Make sense of your money in partnership with The Money Edit.
Felicity is a freelance print and broadcast journalist, specialising in consumer affairs and personal finance. Her work appears regularly in the Independent, Mirror, Sunday Times and on the BBC News website. She is also the personal finance reporter for BBC Radio 5 Live's Wake Up To Money show. On top of that, she is a frequent reporter and commentator for many other programmes and stations, including Radio 4's Money Box, Sky News and BBC Radio Wales.