Average home insurance premiums drop to record low - is now the time to switch?
Households get some "cost of living relief" as buildings and contents insurance prices fall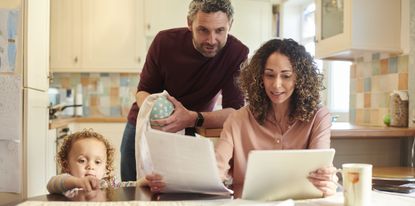 (Image credit: Getty Images)
Households struggling with the cost of living crisis have received a bit of good news at last: the price of home insurance has hit a record low.
Average contents insurance premiums fell by 11% over the past year, while the average cost of buildings insurance dropped by 7%. They now stand at £114 and £225 respectively, the cheapest average premiums since the Association of British Insurers (ABI) started tracking prices a decade ago.
The ABI said the drop will have given some "much-needed relief to many customers facing rising energy and food bills".
For combined buildings and content insurance, the average premium was £307 in the first three months of 2022, down 2% over the past year and the lowest level in four years.
Laura Hughes, the ABI's manager, general insurance, said: "Many households struggling to cope with the cost of living crisis will be reassured that the cost of protecting their home and their possessions has remained competitive, despite the increasing costs of construction materials and labour."
She added that Storms Dudley, Eunice and Franklin that hit the UK in February - causing insurers to pay an estimated £500 million to affected customers - are a "dramatic reminder of the vital financial protection home insurance provides against unexpected and costly events".
We look at some of the reasons behind the record drop in premiums, as well as how to switch your policy and cut your costs without affecting your cover.
Why have home insurance premiums fallen?
Home insurance premiums are not the only insurance prices to have fallen recently.
The average price paid by drivers for their motor insurance in the first three months of 2022 fell by 5% to its lowest level in nearly seven years, according to the ABI.
Insurers face many of the same cost pressures as other companies right now. Materials for maintenance and repair have risen 16% over the past year, according to official inflation figures. Supply chain problems, such as a shortage of semiconductors needed in cars, are pushing costs up further.
So, it may seem surprising that insurers have lowered premiums over the past 12 months.
One reason could be down to new rules introduced on 1 January, which affect the pricing of home and motor insurance.
Known as the General Insurance Pricing Practices, the aim is to ban the practice of "price walking" - also known as the "loyalty penalty" - and make it easier for customers to cancel policies set for "auto renewal". The loyalty penalty refers to new customers being given the best deal, while existing customers are expected to pay more.
The Financial Conduct Authority, which brought in the rules, estimated that someone staying with the same home insurer for more than five years paid a staggering 40% more compared with someone who shopped around and switched their policy each year.
Since the start of 2022, car and home insurers must now offer the same prices to new and existing customers.
Can I switch my home insurance?
Most home insurance policies run for a year, and it's normally straightforward to switch it when it comes to an end. Your existing insurer will usually contact you a few weeks before your renewal date, but it's also a good idea to make a note of the date when you take the policy out so you don't forget.
Due to the rules that came in on New Year's Day, your current insurer has to offer you the same quote for renewing and staying with them as it would an equivalent new customer. So you could find that the premium your current insurer quotes you sounds quite competitive, and it could be cheaper than what you paid last year.
However, you may still benefit from shopping around and switching.
As long as you're changing just before your renewal date (the new policy will start as soon as your old one ends) or within the 14 day cooling-off period after your renewal date, there shouldn't be any fee to switch.
If you want to switch early, you'll need to cancel your old policy, and could be charged a cancellation fee. The earlier you switch (for example, just three months into an annual policy), the higher the fee typically is.
How to switch home insurance
It's easy to research the cheapest premiums and switch home insurer. Use several price comparison websites, such as our sister brand GoCompare, Moneysupermarket or Comparethemarket, to compare policies. You'll need details like value of contents (for contents insurance) and rebuild value of the property, types of locks and any burglar alarms (for buildings insurance). Some insurers such as Direct Line and NFU Mutual aren't on comparison websites, so consider getting a quote from them directly.
If you find a new policy that you want to switch to, you can go ahead and do it. Just make sure your new policy starts when your old one finishes, so you don't go a few days without cover or double-insure yourself for a period of time.
Some policies renew automatically if you don't tell the insurer you don't want to renew. Make sure you tell the insurance provider you want to end your insurance before it renews.
Other ways to lower home insurance costs
Here are some tips to lower your home insurance premiums, without reducing the amount of cover you need:
Use several comparison sites to shop around. Not all providers appear on every website, and results are not always shown in the same way, so it's definitely worth spending time inputting your details into more than one comparison site.
Consider using a cashback site like Quidco and TopCashback, which pays you a cash reward if you click through them to buy home insurance. Just make sure you compare the overall price (including the cashback you receive) with the best price you could get by going direct to the insurer or via a comparison site, to see which is the better deal.
Pay annually for your insurance. If you choose to pay monthly, the insurer usually adds interest and the total premium you pay for the year could be a lot more expensive.
Only get the insurance you need. For contents insurance, check you haven't added extra things by mistake. For buildings insurance, leaseholders don't normally have to buy this, as the responsibility usually falls to the freeholder.
If you need both contents and buildings insurance, see if a combined buildings and contents policy could be cheaper - it often is.
If you're happy to pay a higher excess – the amount you have to pay in the event of a claim – this will often lower the premium.
Additional reporting by PA
Look After My Bills Newsletter
Get the best money-saving tips, tricks and deals sent straight to your inbox every week. Make sense of your money in partnership with The Money Edit.
Ruth Emery is contributing editor at The Money Edit. Ruth is passionate about helping people feel more confident about their finances. She was previously editor of Times Money Mentor, and prior to that was deputy Money editor at The Sunday Times. A multi-award winning journalist, Ruth started her career on a pensions magazine at the FT Group, and has also worked at Money Observer and Money Advice Service. Outside of work, she is a mum to two young children, a magistrate and an NHS volunteer.