Will a red weather warning void your car insurance?
Could driving in adverse weather, be it a heatwave or a storm, void your car insurance? We find out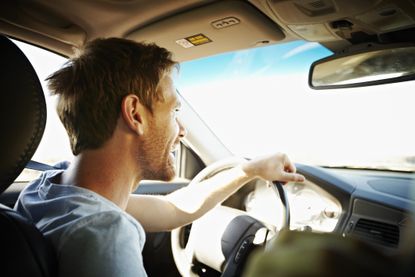 (Image credit: Getty Images)
Look After My Bills Newsletter
Get the best money-saving tips, tricks and deals sent straight to your inbox every week. Make sense of your money in partnership with The Money Edit.
Thank you for signing up to The Money Edit. You will receive a verification email shortly.
There was a problem. Please refresh the page and try again.
Ah, the weather.
Extreme weather of any sort, be it heatwaves, severe winds, heavy rain or snow, can often leave motorists completely exasperated.
Although you might be desperate to get out and about in the car, these could be very dangerous driving conditions.
So, should you risk it if there's a red weather warning in force and could your car insurance become void if you did? We find out.
What does a red weather warning mean?
Red is the highest alert the Met Office can put out. It means that it's highly likely that the weather will have a significant impact on the country.
Schools or workplaces may be shut, public transport may be cancelled or delayed and the roads may well be affected.
You should only travel if it's absolutely necessary and even then, take a lot of care while out on the road.
Drive slowly and carefully and make sure you keep your distance from other cars.
(MORE: Best cars for winter driving)
Will your car insurance be void if you travel during a red weather warning?
The short answer here is, no.
If you have comprehensive car insurance, it should still cover you for any damage caused by the treacherous road conditions.
Third party cover should also cover you in the event that you cause damage to someone else's vehicle.
However, if you're driving irresponsibly in adverse weather and this has led to a collision that was your fault, your insurer may not pay out.
Driving carefully in adverse conditions is essential to try and prevent accidents.
If your car insurance is due for renewal, make sure you're getting the best price possible buy using a comparison site, such as GoCompare, Comparethemarket or MoneySuperMarket.
What won't my insurance cover?
While your insurer will have your back in case of any accidents out on the road, they may not insure you if something happens that was due to careless actions, such as leaving the car running to start your air con blasting or to defrost your windscreen.
Leaving the car unattended while you pop back in for a cuppa could cause you serious bother if you try to claim for any theft that takes place.
If you're parked on the road, you could also be fined £20 under rule 123 of the Highway Code which states that vehicles must not be left unattended with the engine running on a public road.
Top tips for driving in adverse weather conditions
Only travel if you have to. If you can delay your journey until conditions return to normal then that is advisable
Check your route before you set off – there may be road closures as well as slow traffic ahead and it could take a lot longer to get where you're going
Slow down - driving slower give you more time to assess potential dangers
In the case of strong winds, give high-sided vehicles, such as vans, lorries and caravans lots of space in case they get blown off course
Motorbike riders can also be vulnerable in adverse weather conditions, so give them plenty of space
Sudden gusts of wind can affect handling and braking so it's essential to keep your attention on the road and avoid distractions
In the case of snow, try to stay in a higher gear as much as you can if you're driving a manual car. If you're in an automatic, select a high gear (it may be marked as 2 on your gearstick)
Take blankets and snacks, in case you get stuck in traffic
Check that your tyres are up to the journey
In the case of extreme heat, make sure your car is well ventilated to avoid drowsiness.
(MORE: Winter driving dos and don'ts)
Look After My Bills Newsletter
Get the best money-saving tips, tricks and deals sent straight to your inbox every week. Make sense of your money in partnership with The Money Edit.
Alice followed her passion for the written word by completing a Masters in Creative Writing. She is now a freelance personal finance journalist.