How to buy car insurance if you've been convicted of a driving offence
If you're convicted of a driving offence you may find it ends up being a little more difficult to get decent affordable car insurance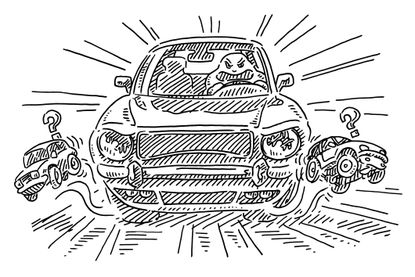 (Image credit: getty images)
Serious driving offences attract higher insurance premiums but if you get penalty points for whatever reason they could affect the cost of cover.
The Association of British Insurers reckons that people with penalty points report a higher number of driving incidents and are more likely to make a claim.
Speeding is the most common offence and since 2017 you can pick up six penalty points if you're caught speeding at 51mph – or faster – in a 30mph area.
Get caught twice and you rack up 12 points, which could mean losing your driving licence.
As well as penalties for speeding, you can be issued with six penalty points for using a handheld phone when driving.
Why and how could a driving offence affect my insurability?
"Your driving history can have a significant impact on the cost of insurance," says Martin Smith, technical claims adviser at insurer Aviva.
"It is an insight into the behaviour patterns of a driver and the potential – the risk – that they may be involved in a claim event. The higher the risk, the greater the premium."
Drug and drink-related offences, or those that involve the driver causing injury or death while driving, will stay on your driving record for 11 years and will be most notable to an insurer.
Most will ask you to declare any driving offences committed within the past five years, along with any unspent non-driving convictions.
The specific impact is has on your insurance will depend on the nature and number of offences.
Glenn Edwards, Aviva UK personal lines motor underwriting manager, explains: "We allocate motoring convictions a category based on our perception of their degree of severity, so a speeding conviction will not be viewed as harshly as a drink or drug conviction."
On top of that the more recent the date of conviction, the greater the likelihood it will be treated more seriously, he says.
(MORE: Convicted driver insurance)
Do I have to tell my insurer if I am convicted of an offence?
It is essential to tell insurers about any offences.
"If you withhold information you've been asked to provide, you might get a cheaper premium but it's probably a false economy," warns Gareth Shaw, head of money at consumer group Which?
He says if you've been dishonest about your driving history, and the insurer discovers this, they may terminate your policy and refuse to pay any claim.
"The fact that an insurer has cancelled or voided your policy can itself have significant effects on what you pay or who will cover you in the future," he adds.
If you don't disclose any convictions, it may not only invalidate your cover but you could be prosecuted for insurance fraud, a serious offence which can lead to a prison sentence.
In short, honesty remains the best policy. Even though it may prove more costly in the short-term, it is likely to leave you better off in the long-term.
Do all insurance providers cover those convicted of a driving offence?
Not all insurers will offer cover to people convicted of a driving offence.
They tend to take a risk-based approach based on the severity of the offence, explains consumer rights expert Scott Dixon of thegrumpygit.com.
"Being convicted of drink driving and using a mobile phone may result in you struggling to get any insurance at all," he warns. "Insurance companies are well within their rights to refuse cover based on this."
But points for speeding shouldn't stop you from getting cover.
Where will you be able find insurance if you have a driving offence? Price comparison sites should usually be able to offer a range of quotes, depending on your specific situation.
But if you're struggling to find affordable cover because of past convictions, your best bet is probably to try a specialist broker, advises Gareth Shaw.
Will my insurance be really expensive?
Insurance won't necessarily be expensive after a driving offence, says Scott Dixon.
"Insurers know and recognise that motorists make mistakes and the car insurance market is competitive, so shop around among different insurers, which will have their own terms and conditions on convictions and time limits on disclosure."
By shopping around you should be able to find more keenly-priced policies.
But if you really want to keep insurance costs down the best advice is to drive safely and err on the side of caution, says Mr Dixon.
Look After My Bills Newsletter
Get the best money-saving tips, tricks and deals sent straight to your inbox every week. Make sense of your money in partnership with The Money Edit.
Simon Read is a freelance personal finance journalist. He was the last personal finance editor at The Independent newspaper and now reports on finance matters for the BBC, The Evening Standard, The Daily Mirror and The Sun. He champions consumer rights and is a commentator on a range of tv and radio shows, such as Watchdog on BBC1, Sky News, Channel 5 News, Radio 5 Live, LBC and Talk Radio. He was a money expert on three series of the BBC1 TV show Right On The Money and presented a BBC Radio 4 documentary on fraud as well as battling for fair treatment from companies for two years in his Moneywise Fights For Your Rights column.