10 tips for seniors on how to save money on car insurance
Once you reach a certain age, car insurance costs start rising – use these clever tips to keep your premium down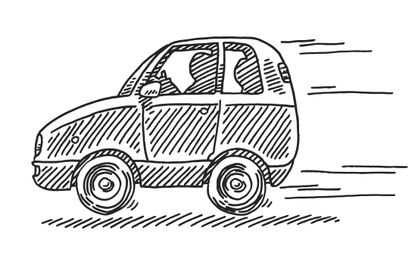 (Image credit: getty images)
If you feel like your car insurance quotes go up unfairly every year, even though you haven't had any incidents or claims, then you're not alone. Because statistics show that the older you are, the more likely you are to make a major claim on your insurance, premiums start to rise exponentially once you hit 70.
You might also find that your regular insurer no longer wants to cover you, with most UK insurers setting a maximum age on policies, which can range anywhere from 70 to 110 years old.
Once you reach 70, you also have to remember to renew your driving licence every three years. It's free and relatively simple, you just have to declare that you're in good health to drive and can read a number plate from 20 metres, which can be done with your glasses on or contact lenses in, if they're prescribed.
Luckily, if you're an older driver, there are several ways to keep your car insurance premium down. All it takes is a bit of planning and shopping around. Take a look at our 10 top tips for seniors on how to save money on car insurance.
(MORE: How to buy car insurance if you're over 70)
1. Look for an insurance company tailored to seniors
There are companies providing dedicated car insurance for people over a certain age. These policies tend to be tailored to seniors and will place more weight on things like your no-claims bonus and mileage, rather than just your age. This often leads to lower premiums than you'd get from mass-market insurers.
Try Saga car insurancefor policies for over 50s, and Age Co – formerly Age Concern – for policies for over 70s. Most of these policies also come with features that are attractive to older drivers, such as emergency driver cover, allowing anybody to drive your car home legally if you're taken ill.
2. Don't let your policy auto-renew
The worst thing you can do as an older drive is let your policy automatically renew, as the premium will invariably rise steeply each year. Instead, put a reminder in your diary for a month before your policy expires, and shop around.
You can still call insurers up individually for quotes, but an online price comparison website is the easiest way to compare quotes from lots of companies. If you use a price comparison site, you'll only need to input your details once and will get quotes from up to 140 UK insurers. There's even a dedicated section for car insurance for over 50s. If you use a price comparison site, you'll also get a handy email reminder every year when your policy is due for renewal.
GoCompare estimates that you can save up to £277 by shopping around for your car insurance.
3. Pay for your insurance in one go
Most insurers offer the option to pay for your car insurance premium monthly. But doing this is basically taking out a loan with added interest, so you'll pay more over the year that you would it you pay up front.
If you can, always pay the full premium in one instalment. If you can't afford to do this, consider using a zero per cent interest credit card to pay for the policy and then paying it off in instalments before the interest-free period ends, which can be up to a year.
4. Reduce your mileage
One of the factors used to determine your car insurance premium is how many miles you drive in a year. The reason being that the further you drive, the more likely you are to be involved in an incident that results in a claim.
So if you only drive a few thousand miles a year, then make sure you tell your potential insurer. Getting quotes that cover 10,000 miles of travel – the default amount – if you only travel 2,000, will mean you're paying over the odds.
(MORE: What is a typical annual mileage for car drivers in the UK?)
5. Increase your voluntary excess
It's a happy fact that for most of the years we spend paying out for home and car insurance, we won't actually need to make a claim. But that can make the amount we spend on premiums even more galling. One solution is to reduce your premium by increasing the voluntary excess you'd pay if you did have to make a claim.
The excess payable on insurance policies is split into 'compulsory', which is a set amount you have to pay, and then 'voluntary', which is an amount chosen by you.
Use price comparison sites to adjust the voluntary excess and see what kind of impact it has on your premium. But do remember that you can't make a claim if the value is below your total excess. So if your compulsory excess is £150 and your voluntary excess is the same, your claim would need to be above £300.
6. Try adding another driver to your policy
Adding another reliable driver to your policy used to be a great way to reduce premiums for older and younger drivers, but insurance companies have got savvy to this and it isn't always guaranteed to work. Adding an extra driver can help reduce premiums as the insurer sees the risk as being shared between drivers, so it's still worth a try.
If you're over 70, try adding one of your children to your policy – providing they have a good no-claims bonus – and see if it helps bring the premiums down. Always be honest about who is the main driver, though, or your insurance won't be valid if you do need to make a claim.
7. Use your no-claims bonus
A no-claims bonus is a discount that's given on your insurance premium for not having made a claim. Essentially, the more years of no-claims bonus you have, the lower your insurance premium should be. The maximum number of years you can accrue varies between insurers, but is normally between nine and 15 years of no-claims bonus.
Most records of no-claims bonuses are found automatically by insurers, but you may need to ask for proof of yours if you're switching insurers.
Bear in mind that the more years of no-claims bonus you have, the more you stand to lose if you do have to make a claim. If you have close to the maximum level of no-claims bonus, it may actually be worth paying for no-claims protection, which allows you to make a limited number of claims that won't impact your no-claims bonus.
8. Make sure your car is as safe as possible
The lower your risk of having your car broken into, the lower your insurance premium will be. If you have a garage, then using it to store your car each night, rather than parking your car on your drive, can help reduce your premium.
Fitting your car with an alarm, immobiliser and tracker, can also help reduce your premiums – just make sure you tell your insurer about them.
(MORE: Best cars for older drivers)
9. Consider having a black box policy
Black box car insurance policies are a great option for older and younger drivers who may have unfairly high premiums simply because their age makes them more of a risk to insurers.
A small GPS device, known as telematics or a black box, is fitted to your car. It then tracks your driving, monitoring everything from your acceleration rate and how often you brake, to the times of day you drive, and feeds back to your insurer on how well you drive.
Policies usually work by refunding you or reducing your premium for good driving, and increasing the premium for driving less safely.
10. Don't just consider price
Okay, so this list is all about saving money on your car insurance premium as a senior driver, but there are some features of a policy that may be worth spending a little more on. And that's why it's always best to consider the benefits of a policy, rather than choosing based on price alone.
For instance, if you were to have an accident, how would you get home? Some insurers offer a service that promises to get you home if the worst happens. Others, allow you emergency driver cover so that somebody else can take over driving her car home if there was a medical emergency. Both could be more valuable to you than saving a small amount of money.
Finally, always check the Defaqto rating of your potential insurer. This is an independent rating, from one to five stars, based on the quality, features and benefits of policies offered. The more stars, the better.
Look After My Bills Newsletter
Get the best money-saving tips, tricks and deals sent straight to your inbox every week. Make sense of your money in partnership with The Money Edit.
Laura Crombie is an experienced journalist, who has been writing about consumer issues for 14 years. Property is her main area of expertise and she has written on the subject for The Times, Guardian, Metro and Zoopla, amongst others.