Could car-sharing invalidate your insurance?
Lift-sharing is becoming increasingly popular in the UK. But how many drivers check their car insurance before joining a lift-sharing scheme?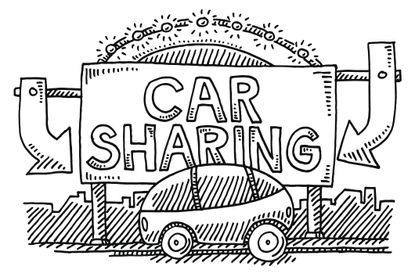 (Image credit: getty images)
Whether you're commuting with co-workers or sharing a ride on a longer journey, lift-sharing is becoming increasingly popular in the UK.
But how many drivers check their car insurance before joining a lift-sharing scheme?
A review of over 230 car insurance policies by Gocompare.com showed that 9% of policies specifically excluded cover for lift-sharing, while the rest permitted it.[1]
Drivers who lift-share are also warned that they aren't allowed to make a profit from their passengers and can only charge enough to cover petrol and other costs. If drivers make a profit insurers might class the lift-share as a taxi service, for 'hire and reward'.
"The rising cost of motoring coupled with the current financial squeeze has made lift-sharing an attractive proposition for many drivers," said Gocompare.com's motor insurance spokesman Matt Oliver.
"And, the growing number of dedicated car-sharing websites is making offering and finding lifts easier than ever.
"But, before signing-up to offer a lift, we strongly recommend that you speak to your insurer to make sure you're covered for both lift-shares and the journeys you intend to undertake, otherwise you may accidentally invalidate your cover."
The Association of Motor Insurers (ABI) states on its website that it is "supportive of car-sharing platforms", and recommends that users check the service's terms and conditions before using them.
(MORE: Car insurance is getting more expensive...so what can you do?)
Lift-sharing in Europe
In Europe, sites like BlaBlaCar and Liftshare allow drivers to advertise a journey for free in a bid to split the costs and make the drive more eco-friendly.
European countries have long embraced the idea of lift-sharing; BlaBlaCar, based in Paris, has over eight million members worldwide and in July announced plans to expand to South America.
Many drivers would question the safety of letting a stranger get into their car, and vice versa, but BlaBlaCar gives trusted drivers star ratings, and allows them to upload pictures and information. They can also offer women-only shares.
Lift share testimonials
Manon Schalke, a 22-year-old community manager from London, used BlaBlaCar in 2013 to go from Metz in France to Lausanne in Switzerland.
"I decided to car share because trains were extremely expensive, and I felt it was my best option. Obviously it took me much longer to reach my destination, but it was a great adventure! It cost me about €35 for the whole way, whereas the train would have cost about €160.
"My driver was on his way to meet a woman he met online. That's the great thing about car sharing, you meet new people and because you have to spend a certain amount of time with them, you speak about many things you would probably not say to people in other circumstances."
Holly Niblett, 25, is a web development executive at Gocompare.com and commutes daily from Bristol to Newport.
"I lift share with Sam, a colleague who doesn't live too far from me. He doesn't drive and I like driving so that works well for both of us. We drive in from Bristol every day so with the tolls and fuel it costs around £100 a week, so Sam pays me half of that – £50 a week.
"I've certainly saved money by lift sharing and we've saved each other's lives a couple of times with joint vigilance on the road. I've also made a very good friend, who I see outside of work – and it's given me the opportunity to integrate with another department.
"I'll continue lift sharing and certainly recommend it to others. I would say the only downfall is you can't sing along to the radio anymore, but Sam allows that."
Simon Lock, 30, commutes from his home in Bristol to his job at the National Trust in Swindon five days a week.
"I share a lift with Joe, who's another member of my team. It takes about 50 minutes normally and is a 75-mile round trip. We both used to get the train but that's around £300 per person a month, whereas we spend about half that on petrol.
"The car is mine so Joe gives me a bit extra towards other bits and bobs. He also keeps the glove box topped up with Jelly Babies, which passes the time when we're stuck in traffic.
"On our first drive in we were behind an articulated lorry when its tyre burst. Being new to the M4 at rush hour we panicked and longed to be back on the train, but since then it's been fine.
"Now I can't imagine going back to catching the train, waiting around on platforms, getting coughed at by strangers. It's great having someone to talk to on the journey. We normally have a proper moan on the way home, so it's like a regular post-work therapy session."
[1]On 7 October, 2014, Gocompare.com analysed the 236 fully comprehensive car insurance policies listed on the matrix of independent financial researcher Defaqto.
Look After My Bills Newsletter
Get the best money-saving tips, tricks and deals sent straight to your inbox every week. Make sense of your money in partnership with The Money Edit.
As a freelance content marketer and copywriter, Emily has over five years of experience working with household brands & start-ups alike. She writes articles on insurance, energy, travel and personal finance.