Convicted driver insurance: the ultimate guide to cover
How easy (and expensive) is it to buy convicted driver insurance? We find out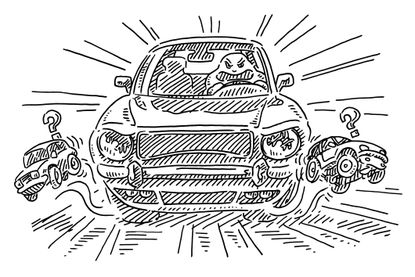 (Image credit: getty images)
Look After My Bills Newsletter
Get the best money-saving tips, tricks and deals sent straight to your inbox every week. Make sense of your money in partnership with The Money Edit.
Thank you for signing up to The Money Edit. You will receive a verification email shortly.
There was a problem. Please refresh the page and try again.
Convicted driver insurance may be harder to get than normal car insurance, in fact some insurers stay away from drivers who have driver convictions altogether.
Erin Yurday, CEO of UK consumer research company NimbleFins, said: "Around 6.5% of drivers have a conviction on their record, which means that convicted driver insurance is more common than you might think.
"However, insurance companies can really vary in how they price motor insurance for convicted drivers, making it critical to compare quotes before buying. A good way to save money on convicted driver insurance in the future is to stay under the speed limit to avoid more points - 85% of motoring convictions are for speed limit offences."
Types of driving offence
Drink driving and drug driving. Operating a vehicle under the influence of alcohol or any illegal drug
Speeding convictions. If you've been caught driving over the speed limit, you may be offered the chance to attend a speed awareness course in order to avoid getting points on your licence, a fine, and/or a driving ban
Penalty points. Different offences (including dangerous driving or careless driving, drink driving, failing to stop after an accident, or driving with faulty lights or brakes, result in different numbers of points
How to find the right provider of convicted driver insurance
Even if you have a driver-related conviction, you will still be able to get cover, even if it is more expensive, but you will have to do your research.
The first thing to do is to go online or directly to several car insurance websites which offer convicted driver insurance.
There are two categories you might fall into*:
If you're still in your rehabilitation period following a criminal conviction, your conviction is "unspent". Any custodial sentence over two and a half years stays "unspent."
If you were found guilty of a criminal offence by a court, your conviction will be considered "spent."
If you have "unspent" convictions, it is important that you declare them to your insurance provider when looking for a quote, as failure to do so might invalidate your policy, and the insurer will not pay out in the event of a claim.
If your conviction resulted in community service, it will be spent after five years. If it's a prison sentence of up to six months, you'll have seven years before you don't have to declare it to your insurer.
Up to two and a half years in prison will mean your conviction isn't spent until after ten years and any sentence longer than this results in a conviction that will never be spent.
What should I bear in mind when looking for a policy?
With all this information in mind, try and find at least five competitive quotes from a range suppliers from specialist through to mainstream. However, it is important that you are aware of the following:
Premiums. Penalty points on your driving license can affect your insurance premiums, if undeclared, will invalidate your policy.
If you have a drink driving conviction, this will see up to 11 points on your license and you'll find that any car insurance premium you're offered after this will be much higher than before.
Convicted driver car insurance gives you the same level of protection as standard car cover.
*There are three levels to choose from:
Third-party only insurance – compensates other people for injury or damage you cause. Policies don't pay to repair or replace your car if you're involved in an accident.
Third-party, fire and theft insurance – includes third-party only and compensates you if your car is stolen or damaged by fire.
Comprehensive insurance – includes third-party, fire and theft and also covers the cost of repair or replacement if your car is damaged in an accident – even if the accident is considered your fault.
You can even get temporary car insurance if you are a convicted driver. You might still pay more compared to a driver without motoring convictions but there are still specialist insurers that can provide cover.
How to keep cost of convicted driver insurance down
Even if you have to go through a specialist convicted driver insurance provider, there are steps you can take to reduce the cost of your policy.
If you own a smaller car with a small engine, then this will cost less to insure as they fall into one of the lower of the 50 groups set out by the official Group Rating Panel.
Pay for your policy upfront. This might seem a lot of money at the time but in the long run it works out cheaper, as if you pay monthly the insurance provider often adds on interest.
Increase your voluntary excess. This can lower your overall premium, but it should still be affordable because you'll need to pay it for a claim to go ahead.
Take an advanced driving course. Some insurers are willing to discount premiums if you take part in an advanced driving course.
Keep your car as secure as you can. By boosting security, for example, storing your car in your garage or private driveway or installing an immobiliser, can all play a role in reducing premiums.
Avoid modifications. The more you modify your car, the more expensive it is to repair which can increase premiums.
Compare quotes online. This is by far the easiest way to save on your car insurance as a convicted driver. There are many to choose: from niche car insurance providers Adrian Flux to Swinton.
What to do if you are struggling to find cover?
If you are point blank refused cover there is an organisation called, UNLOCK, an independent UK charity who helps people with criminal records, which you can ask for help.
The charity may be able to provide you with a list of specialist insurance brokers who can eventually get you and your vehicle insured. But it is always important to shop around once you have this list.
Look After My Bills Newsletter
Get the best money-saving tips, tricks and deals sent straight to your inbox every week. Make sense of your money in partnership with The Money Edit.
Sabuhi is a freelance journalist. She has written about finance for national newspapers, media agencies, and finance-related websites.
With two decades of experience, she has contributed to the FT, Times online, Yahoo Finance, ITN On, Guardian, Express, Daily Mail, Mail on Sunday, Independent, Independent on Sunday, and inews.
She specialises in writing about insurance, mortgages and banking.