Car insurance for the over 50s: a guide to getting the right cover
Car insurance for the over 50s can mean reduced premiums, but it's still vital that the level of cover suits your circumstances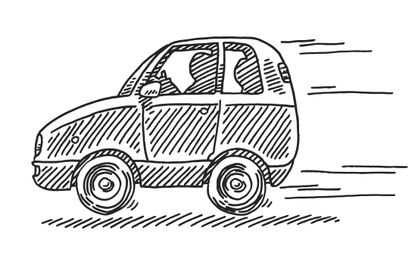 (Image credit: getty images)
Look After My Bills Newsletter
Get the best money-saving tips, tricks and deals sent straight to your inbox every week. Make sense of your money in partnership with The Money Edit.
Thank you for signing up to The Money Edit. You will receive a verification email shortly.
There was a problem. Please refresh the page and try again.
Car insurance for the over 50s is very different to car insurance you might have taken out when you first passed your driving test in your late teens or early 20s.
For one, if you are over 50, your car insurance might be cheaper as insurers might regard you as a safer and less risky driver due to the number of years you have spent driving, compared to someone who has just passed their test.
Recent figures from the Department for Transport show that around one in five new drivers are involved in a crash during their first year on the road. Young drivers between 17 and 24 are three times more likely than drivers from any other age group to be injured in a car accident.
Your premiums might be lower too because you are over 50. In this guide we explain further.
So, what features should you look for in car insurance for the over 50s?
Over 50s car insurance has the same features on offer as regular car cover. But there may be some features you wish to make a priority, for example, roadside assistance.
Erin Yurday, CEO of UK consumer research firm, NimbleFins, says: "Over 50s should look for certain features, such as emergency driver cover, roadside assistance, extended European Union (EU) cover, no claims discount (NCD) protection and a courtesy car. Many of these features can be found from specialist providers such as Age UK, Saga and Rias. Another benefit of specialist over-50s cover is no upper age limit, which makes it possible to stay with the same company over the years if you want."
In addition to these features, it might be advisable to include lost keys cover on your policy. If you don't, replacing your car key can be very expensive especially if you have a modern car.
(MORE: How to buy car insurance if you are over 70)
How to choose the right insurance provider
When it comes to choosing an over 50s car insurance provider, there is a lot of choice out there. You can perhaps opt for a specialist provider like Age UK or Saga or a more mainstream provider like Swinton Insurance or Admiral.
It is important to find five competitive quotes from a range of suppliers before you take out your policy. It is best to look at the following, when deciding:
Premiums. If you are prone to accidents, your premiums maybe higher than normal. However, if you have had only a few or no accidents in your driving lifetime, your premiums may be lower, and you may have built up several years of no-claims bonus which will help keep premiums down.
Type of cover. Will you take out comprehensive or fully comprehensive, third party car insurance policy?
Comprehensive or fully comprehensive. This is the highest level of protection, and it includes all the cover you would get with third-party fire and theft policy. It can also protect you and can cover the damage you do to your own car.
Third party. This covers you for damage you do to other people and their car.
What is the excess on your policy? Car insurance excess is the amount you'll have to pay towards a claim you make on your insurance policy. The total excess is made up of a compulsory and voluntary excess.
Do you have motor legal protection? Sometimes known as car insurance legal cover, is a common car insurance add-on, which can cover legal expenses, that may be the result of a car accident that wasn't your fault. With the right motor legal protection, you'll be able to make a claim or protect yourself against a claim from another driver.
What impact does the choice of car have on premiums?
The car make, model and year might impact upon the premiums you pay. If you have a modern car, premiums would be less than say a car of 10 years and over or a vintage car.
Paying more of an excess, in addition to your car insurer's statutory one, can reduce premiums.
On average an over 50s car insurance policy costs £468 per year compared to £851 per year compared to someone in their 20s.
Any tips?
Before taking out any car insurance in your 50s, it is important that you contact the Driver and Vehicle Licensing Agency (DVLA) if you have an existing medical condition that impairs your ability to drive and declare it to the DVLA and your insurance provider, for example, if you are partially sighted or disabled, even if this means your policy will become more expensive. If you don't, you can get a fine, be prosecuted or lose your licence if you're involved in an accident.
Once you have your over 50s car insurance, don't auto-renew i.e., let the cover roll over and renew automatically. But shop around on comparison sites or go to insurers directly for the best deal possible. Other tips include paying annually for your new policy not by monthly instalments (it works out cheaper), drive fewer miles, only buy the extras you need on your policy and keep your car in a secure place, for example a garage and fit your car with an alarm or an immobiliser.
NimbleFins' Yurday has another tip: "Over 50s might want to protect their NCD to save money on their costs of car insurance."
Overall, taking a car insurance policy in your 50s has its perks – greater trust from the insurance provider, lower premiums and the possibility of staying with the same company if many years if you want.
Most of all, it is important to get the level of cover you need, so don't buy your policy on price alone, or you could find yourself out of pocket in the future, if you choose third party cover compared to fully comprehensive cover.
Look After My Bills Newsletter
Get the best money-saving tips, tricks and deals sent straight to your inbox every week. Make sense of your money in partnership with The Money Edit.
Sabuhi is a freelance journalist. She has written about finance for national newspapers, media agencies, and finance-related websites.
With two decades of experience, she has contributed to the FT, Times online, Yahoo Finance, ITN On, Guardian, Express, Daily Mail, Mail on Sunday, Independent, Independent on Sunday, and inews.
She specialises in writing about insurance, mortgages and banking.