Best cars for winter driving
Winter weather can be unpredictable at the best of times, so make sure your car can deal with whatever comes its way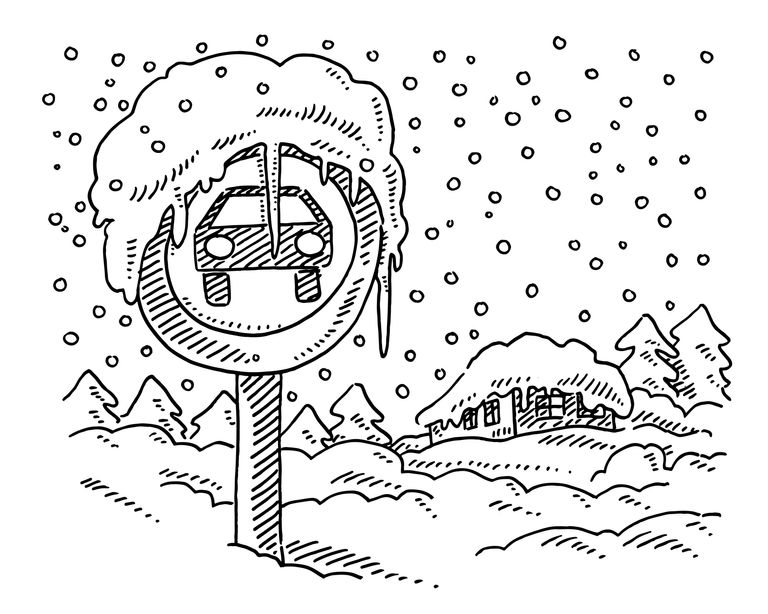 (Image credit: getty images)
Conversation about the weather is the last refuge of the unimaginative. But when a car that forecasts the weather rolls into town, that's definitely worth a gossip.
Yes, Jaguar Land Rover has applied for a Met-tastic car tech patent – a car that forecasts the weather.
In theory, the Carol Kirkwood of cars senses a cold front approaching from the east, switches off the air con and cranks up the heat.
It'll close the windows, set off the wipers, and whir the roof up if rain is on the way, shift its drivetrain settings and traction control if it threatens to snow, or if a strong wind is on the way.
This system is attuned to the local microclimate and automatically protects you from rainfall if it's five minutes away.
So, what should you look out for when choosing a car that will safely see you through the winter?
(MORE: Britain's most reliable cars)
AEB brakes
Editor of What Car?, Jim Holder, tells us to keep the shopping list simple: "You should consider the basics. Autonomous Emergency Braking (AEB) is one example.
"On premium cars, AEB's often standard, but on more mainstream vehicles it's usually an option that very few people pay for despite it being able to save your life or prevent injury," he explains.
"Essentially the system can detect a potential impact and automatically slow the car. Our view is that it is a must-have option as it helps in all weathers."
Winter tyres
"Nothing beats a set of good all-weather or winter tyres in cold and wet conditions," Jim says. "They work best below about 10 degrees (but check) so are useful from November to March at least, and bring huge grip improvements.
"A strong set will see you through winter conditions, including snow, and usually, they're a lot more useful than even four-wheel drive."
Are the UK's best-selling cars up to the challenge?
Ford Fiesta
When the weather closes in, you'll have to adjust the air conditioning manually, but it sports dazzling auto headlights and halogen projector headlamps if you're suddenly swamped in fog. At the flick of a switch, you can de-fog the door mirrors using electric heating.
You'll have crystal clear visibility, but AEB brakes are an optional extra – it's pretty good that it's there as an option though.
And, you can fit Ford winter tyres from £65. Interestingly, Ford also lets you store your summer tyres in its 'Tyre Hotel' until you're ready to switch again in spring.
The Fiesta Style is designed for your comfort, but there aren't many cosy features if you were stranded for a few hours waiting for the RAC, so remember to pack a bag of supplies including snacks, water, warm clothes and blankets before you set off on long wintery journeys.
Volkswagen Golf
The entry-level hatchback – the New Golf S – has an anti-lock braking system (ABS), electronic stability control (ESC), electronic differential lock (EDL) and traction control system (TCS) as standard. If one of your wheels starts spinning, the EDL will brake the wheel with greater power, reducing tyre wear.
You'll feel in control in difficult conditions but it doesn't have an AEB system, yet. VW has committed to making all its vehicles AEB as standard by 2022.
You'll also improve traction and grip by having winter tyres - the New Golf S comes as standard with 15" steel wheels, so if the temperatures this winter drops below seven degrees, you may want to do the old switch-a-roo.
Like the Fiesta, the New Golf has electrically heated door mirrors, and manual air conditioning. The on-board composition media system (CMS) doesn't mention the weather, but for an extra £165 you can get mirror screen technology ('Car-Net App Connect') that displays certain apps from your smartphone while driving – you may as well ask your passengers to Google the weather, but that's none of our business…
This is the cherry on top – if you've got a spare £220 to pimp your Golf, you could have heat-insulating tinted glass. How snuggly!
For another £20, VW will supply a winter car care kit containing anti-freeze, an ice scraper, de-icer and rubber care.
(MORE: Best cars for older drivers)
Best winter cars
Whether your car's a luxury motor, executive model or a functional family car, brush up on its specs and cast a glance over the winter tech – is it ready for cold weather?
"Executive cars tend to have things like automatic headlight assist, rain-detecting wipers and so on as standard," says Jim, "but they are also available as options on mainstream cars."
"These cars don't know the weather before it happens, but they react in fractions of seconds when it arrives," and that all we want really, isn't it?